Love jelly donuts, but hate the deep fryer? Our authentic Polish Paczki recipe gives you light and airy Polish Donuts that are easy to make and healthier because they're baked, not fried!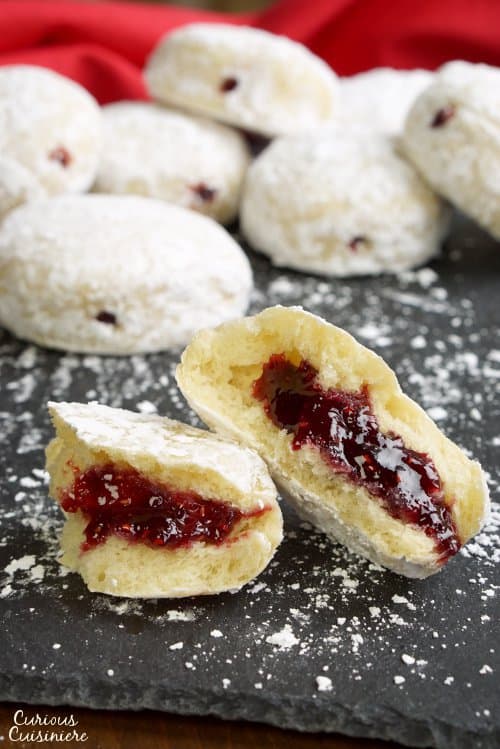 (DISCLOSURE: This post contains Amazon affiliate links. These links are provided to help you find some of the more specialty products we mention in the recipe. If you make any purchase after clicking through one of our links, we receive a small commission from Amazon, at no extra cost to you. Thank you for supporting Curious Cuisiniere!)
Polish Paczki Day
Many cultures have traditionally used the days before Ash Wednesday to celebrate and use up the last bits of sugar and butter in their kitchens before the Lenten fast.
While New Orleans celebrates with King Cakes on Fat Tuesday (Mardi Gras), the Polish traditionally celebrate with paczki on Fat Thursday, the Thursday before Ash Wednesday. 
Here in the States we tend to lump all pre-Lent celebrations together as one big Fat Tuesday party. Pazcki, King Cake, pancakes, they all happen on Tuesday. 
If you're from a part of the country with a heavy Polish influence, you've undoubtedly heard of these tasty, jelly-filled donuts. Bakeries go crazy with them and someone probably brings a box into the office.
If you're not from a Polish region, you're probably wondering… "Paz… what?"
These guys are so much more than jelly filled donuts. Let's take a look!

Polish Paczki (Not Just Polish Donuts)
Before we dive into the background, we need to get the pronunciation straight. Paczki is pronounced 'POHN-sch-ki', there's no audible 'z' in there. That's just the Polish 'czk' playing tricks with your phonetics.
These filled and powdered donuts are not your average jelly donut.
The dough for paczki is particularly rich, made with eggs, milk, butter, and a bit of alcohol. It's more like a brioche dough than a classic donut dough, making it denser and more sturdy.
Paczki can be filled with a variety of fruit jams or cremes. But, the most traditional filling is a stewed plum jam or a rose hip jam. 
In Poland, paczki are traditionally deep fried and can be small hand-sized or larger and quite impressive.
When we tasted poczki in Krakow, Poland, we were blown away by how light and airy thy were. Not overly sweet or greasy, it was dangerous, because you felt like you could eat a whole platter of these tasty jam-filled treats!
(By the way, if you want to check out what a real Polish paczki looks like, check out the picture on our About Us page!)
Our Baked Polish Paczki Recipe
We've made paczki a couple of times now, and each time we are blown away by how easy they are. Granted, we never get out the deep fryer, we always bake them. Honestly, they're much easier that way, and we don't feel as guilty reaching for another one!
Our recipe below has changed through the years, and took a big change after we tried authentic paczki in Poland. With each tweak, the recipe becomes more authentic in flavor and texture, while still maintaining it's baked donut lightness.
Making Baked Donuts
If you've ever wanted to try making donuts but hate using a deep fryer or are just scared of the process, we'd really recommend starting with baked donuts.
At their most basic, these guys are rich dinner rolls that you fill with jam and coat in powdered sugar.
There. That doesn't sound so bad now. Does it?
The big difference between these and any other bread is that the dough is rich (meaning it has a lot of fat) and it needs to be very slack.
We typically do all our bread making by hand, but when it comes to pazcki, we always break out the stand mixer. The sticky dough really needs to be kneaded into submission, and since we don't particularly enjoy being elbow-deep in a sticky mess of dough, we let the mixer do the work for us.
It's incredibly the transformation the dough goes through after one rising time: from a sticky mess to a roll-able dough that can be cut into rounds and baked.

How to Fill Homemade Jelly Donuts
One final word about making your own jelly donuts.
You need a way to get that jelly in there.
We have tried MANY different ways, and finally we broke down and bought a $5 specialty tip for our piping bag. It's called a Bismarck Tip, and it is extra long, to make filling donuts and eclairs super simple.
It definitely does it's job!
After the right tip, the most important thing about filling paczki is to fill them while they are still warm.
Once the donuts cool completely, the dough doesn't like to move out of the way for the delicious filling you're trying to introduce into its center. But, when they're still warm, the dough is still supple and happily accepts a jammy room-mate.
Baked Polish Paczki
Yield: 2 dozen (3") paczki
Ingredients
1 ½

c

warm milk

(100F)

1 ½

Tbsp

active dry yeast

1/3

c

unsalted butter,

softened

¼

c

sugar

2

eggs

4

egg yolks

2

Tbsp

brandy

1

tsp

salt

1

c

smooth jam,

pastry cream, or lemon curd (to fill)

1

c

powdered sugar

or granulated sugar (to coat fi)
Instructions
Making the Dough
Place the warm milk in a small bowl. Sprinkle the yeast over top of the milk and set it aside for 5 minutes, for the yeast to soften and become foamy.

In an electric mixer fitted with a paddle attachment, cream the butter and sugar, until pale and fluffy.

Add the eggs, yolks, brandy and salt. Beat until combined and fluffy.

With the mixer on a low speed, add the milk mixture in three additions, alternating with flour until you reach 5 cups. (Switch from the paddle attachment to dough hooks as the dough starts to come together.) Mix on medium low speed until the dough comes together, adding more flour as needed. (Dough should be soft and sticky, but not runny.)

Increase the mixer's speed to medium and knead the dough for 5 minutes, until it is smooth and glossy.

Remove the dough hooks and cover the dough in the bowl with a damp tea towel. Let the dough rise in a warm, draft-free place until doubled in bulk, 1 -1 ½ hours.
Cutting the Paczki
When dough has risen, turn it out onto a well-floured surface and knead it a few times.

Roll the dough out to ½ inch thick.

Using a 3" circular cookie cutter, cut out circles of dough. Re-roll and cut as necessary, until all the dough has been cut.

Transfer rounds onto a parchment-lined baking sheet. Lightly cover the rounds with your damp tea towel and let them rise until puffy and nearly doubled, 30-45 minutes.
Baking the Paczki
Near the end of the rising time, heat your oven to 375F.

Uncover the risen rounds and bake them in the preheated oven for 7-9 minutes, until a toothpick inserted in the center of one of the donuts in the middle of the baking sheet comes out clean.
Filling the Paczki
Let the donuts cool for 2-3 min on the baking sheet before transferring them to a wire rack.

If you are filling your paczki, you will want to do so as soon as they are cool enough to handle, after about 5 minutes.

Fit a pastry bag with a Bismarck tip, and fill it with your desired jam or custard filling.

Insert the tip as far as it will go into the center of the paczki.

Squeeze the pastry bag gently as you slowly withdraw the tip from the donut. (You will feel the paczki get heavier as you fill each with approximately 1-2 Tbsp of filling.)
Sugaring the Paczki
If you are using granulated sugar to sugar your donuts, you will want to roll them in the sugar while they are still warm, so that the sugar sticks.

If you are using powdered sugar to sugar your donuts, you want to wait until they are completely cool before rolling them in powdered sugar. (If you roll them in powdered sugar while they are still warm, the sugar will dissolve into a glaze.) If you plan to store your paczki, wait and powdered sugar them just before serving.
Serving and Storing Paczki
Paczki are best if eaten within 48 hours of baking. Store them in a paper bag on the counter or loosely cover them.

They can be stored in an airtight container on the counter for up to 4 days. (If stored in an airtight container, the powdered sugar will dissolve and need to be reapplied before serving.)
Notes
NOTE: This recipe was updated February 2017. We made a few tweaks to make the pazcki even better. Enjoy!
---
This is one of the recipes from the early days of Curious Cuisiniere. We've updated our pictures since we first made it, but we've left the original images here as a fun throwback and shout out to how far we've come. Enjoy!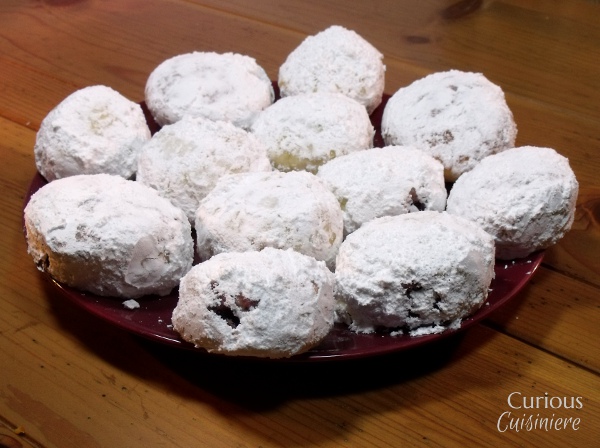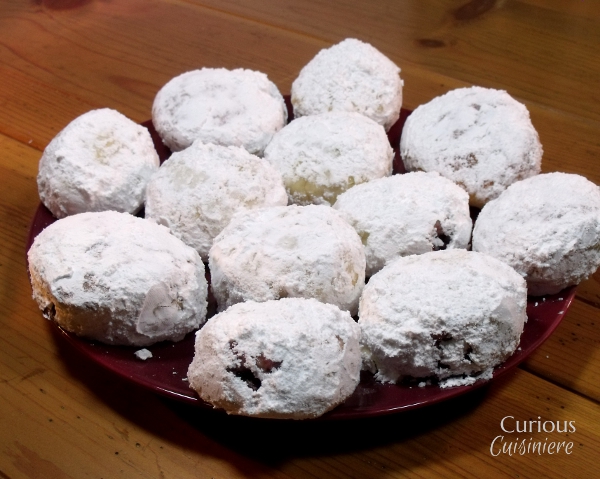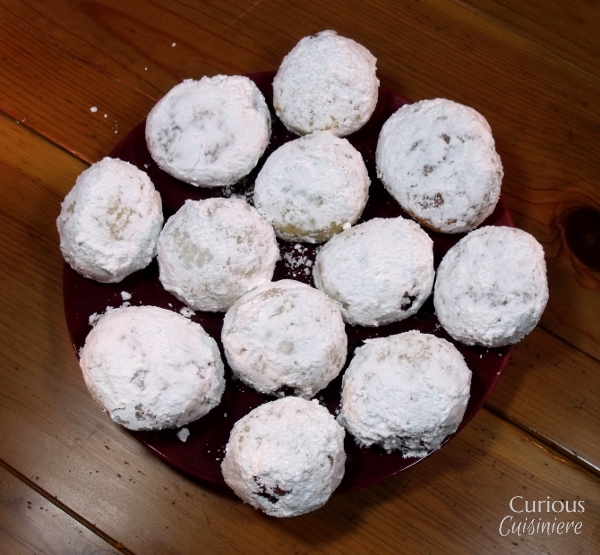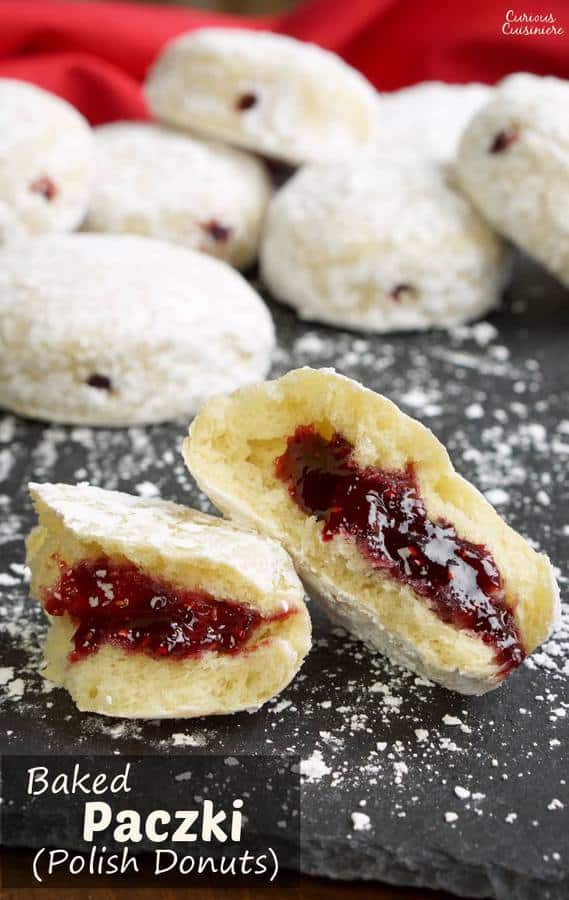 If you liked this recipe, here are some similar dishes you may enjoy!