Our Kapusta recipe transforms simple cabbage into a flavorful Polish side dish that is studded with bacon! 
Kapusta: Cabbage
Kapusta (pronounced kah-POOS-tah) is not so much the name of a dish as it is the name of the main ingredient. You see, in Polish, 'kapusta' means 'cabbage'.
So, to say there is only one way to prepare authentic, Polish kapusta, would be like saying that there is only one way to prepare black eyed peas in the Southern United States. Or, like saying there is only one way to prepare green peas in England.
It's just silly.
The many faces of Kapusta
Kapusta can be thick, like mashed potatoes, or runny, like a soup. It could be thickened with flour, or not. It could be seasoned with paprika, or bay, or dill, or sugar, or just simply salt and pepper. It could include tomatoes, potatoes, mushrooms, onions, or some form of pork.
You're starting to get the picture.
Kapusta doesn't even have to start off with cabbage. Well, it doesn't actually have to start off with fresh cabbage. Some cooks use sauerkraut as the base for their kapusta, while others use a mixture of half sauerkraut and half fresh cabbage.
The real confusion comes in because, while each of these preparations may have their own proper (long) name, (kapusta kiszona, for example, is the actual Polish term for sauerkraut), it is quite common to hear all of them simply referred to as 'kapusta'.
Our Polish Kapusta recipe
When we traveled in Poland, the kapusta that we encountered was more often savory, rather that sweet or tart. While some restaurants may have blended fresh cabbage and sauerkraut, many of them lacked that sour tang, making us think that they were using entirely fresh cabbage. These versions that were served alongside pierogies, sausages, pork chops, you name it, were what we simply considered a cabbage side dish, rather than something closer to a German sauerkraut.
So, it is a recipe for that savory version of kapusta that we are sharing with you today.
It is such an incredibly simple dish, you might find yourself wondering where all the flavor comes from.
One word.
BACON!
A simple braising with bacon and onions, and a little salt and pepper is all that a nice head of cabbage needs to be transformed into something super flavorful and comforting.
Will you give it a try?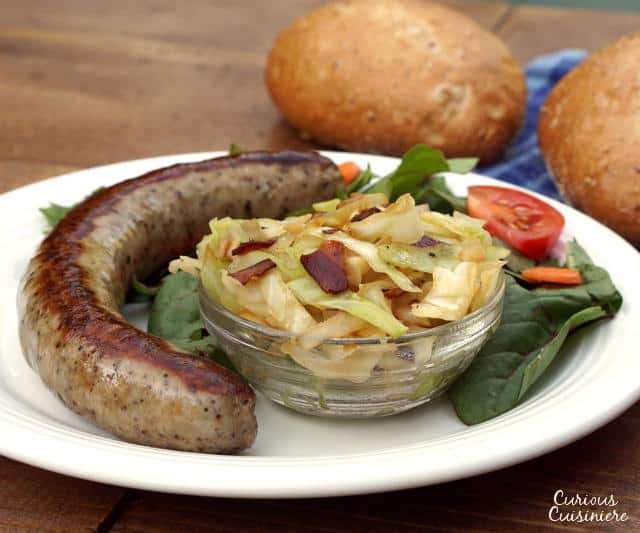 We're curious! If your family is Polish, what kind of kapusta did you grow up with? Leave us a comment, and tell us about it!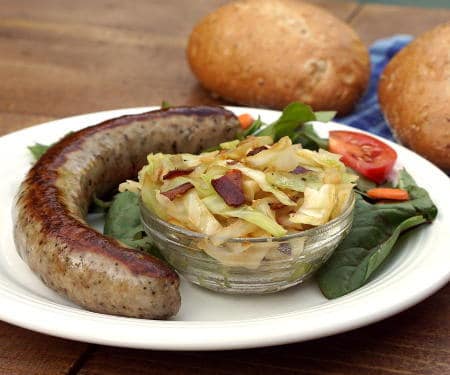 Kapusta (Polish Braised Cabbage)
This classic Polish cabbage side dish is easy to prepare and super tasty!
---
Ingredients
2

oz (3-4 strips)

bacon,

diced

1

onion,

diced

1

garlic clove,

minced

½

small

head cabbage

(roughly 1 lb), shredded

2

Tbsp

water

¼

tsp

salt

⅛

tsp

ground black pepper
Instructions
Sauté the diced bacon in a medium sauté pan with a lid, over medium high heat, 2-3 min.

Add the diced onions. Sauté for 3-5 minutes, until the bacon is crispy and the onions are golden. (At this point, if there is a lot of fat in the pan from the bacon, drain some off, leaving just enough bacon grease to lightly coat the bottom of the pan.)

Add the garlic and continue to sauté for 1-2 minutes, until fragrant.

Add the shredded cabbage and water. Cover the pot and simmer for 7-10 minutes, until the cabbage has softened.

Remove the pan from the heat and stir in the salt and pepper. Taste your kapusta, and adjust the seasonings as desired.
---

If you liked this recipe, here are some similar dishes you may enjoy!