A classic British side dish, Mushy Peas really do bring a whole new dimension to those plain old peas. 
British Mushy Peas
I have to be honest here.
When we first traveled to London and were offered the choice of "regular peas or mushy?" with our fish and chips, we were a bit taken aback.
Mushy peas?
Honestly, it didn't sound that appealing. And, we had no idea what we would be getting ourselves into.
With sadness, I have to admit, that we opted for the "regular" peas, and missed our chance to try mushy peas in London.
But, now that we know about mushy peas and how much of a British staple they are, the next time we find ourselves in Britain, we will be seeking out this classic side dish.
What Are Mushy Peas?
Traditionally, mushy peas are made with mature marrowfat peas, that have been left out in the field to dry. (These are the same type of peas used to make wasabi peas. But, that's another story.)
Marrowfat peas are soaked overnight in water and baking soda. Then they are rinsed and simmered with butter until a nice, mushy consistency is reached.
Then, they are seasoned with lemon, mint, salt, and pepper to create a pea side dish unlike any other peas you have ever tasted.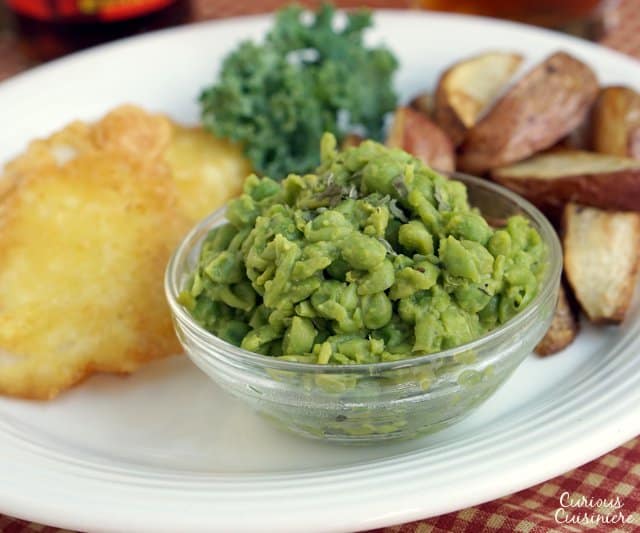 How To Make Our Mushy Peas Recipe
While dried marrowfat peas are traditional for making mushy peas, it is just as acceptable nowadays to use a bag of frozen peas, which is what we have done to simplify our recipe.
These frozen peas are first simmered with butter until they reach quite the overcooked state, so that they are easily mash-able.
Then comes the lemon and mint, giving this side dish its characteristic bright flavors.
Seriously. If you've been on the fence about these peas, you need to give them a chance.
Have you tried mushy peas? What did you think of them?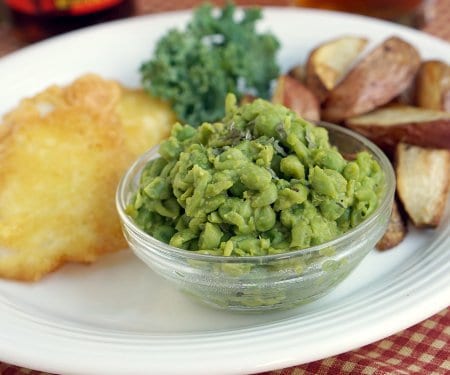 Mushy Peas
A classic British side dish, Mushy Peas really do bring a whole new dimension to those plain old peas.
Yield: 1 1/2 c of peas
---
Ingredients
2

c

peas

(thawed if frozen)

¼

c

water

1

Tbsp

unsalted butter,

softened

2

tsp

lemon juice

½

tsp

salt

¼

tsp

dried mint

(or ¾ tsp fresh mint, chopped)

¼

tsp

ground black pepper
Instructions
Simmer the peas with water and butter for 10 min.

Remove the well-cooked peas from the heat and mash coarsely with a potato masher.

Add the lemon juice, salt, mint, and pepper. Taste and adjust salt and pepper as desired.
---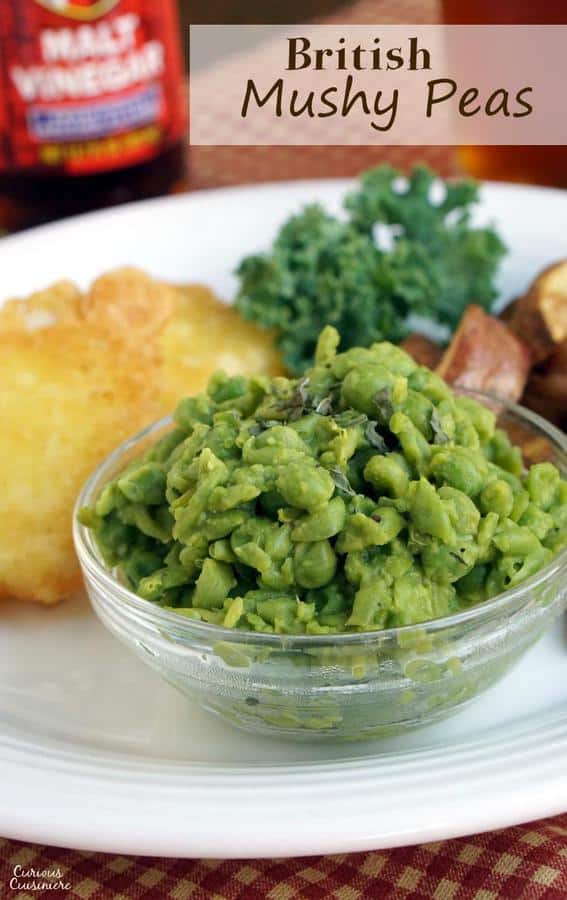 Save
If you liked this recipe, here are some similar dishes you may enjoy!