How can you resist rice with black eyed peas and bacon? Not only is Hoppin' John a comforting, traditional Southern soul food recipe, it is said to bring good luck for the New Year. 
South Carolina Hoppin' John
"Peas for pennies, greens for dollars, and cornbread for gold." So goes the old Southern expression.
Come New Year's Eve and Day, many regions of the world have a tradition of eating foods that are symbols of good fortune for the year ahead. Not necessarily a decadent ingredient, Black Eyed Peas are thought to bring good luck in that they are a common and easily available food.
Like another Southern saying goes, "Eat poor on New Year's, and eat fat the rest of the year." The humility of eating a simple dish on New Year's Day will set the tone for good fortune for the year ahead.
Black Eyed Peas: A Simple New Year's Dish
Hoppin' Johns might not be the classiest of dishes to ring in the New Year, but it is a big bowl of comfort food, rich with flavor, full of nutrition from rice and beans, and balanced out with a good dose of bacon. What more could you really want to start off the New Year on the right foot than a big, hearty bowl of black eyed peas and bacon?
While Hoppin' John is a common dish to be found across all the southern Unites States, it originates from the Carolinas, particularly the cluster of islands along the coast of South Carolina, called the Sea Islands. It is a fusion dish that combines southern American rice pilaf with African ingredients and cooking methods.
Black Eyed Peas and Bacon
There's just something about cooking black eyed peas and bacon that brings out the best flavor in those cute little beans. This is such a simple dish, it might even seem too minimal on the seasonings, but the flavor all comes straight from the ingredients themselves. To us, it is a comforting bowl that just screams 'soul food'.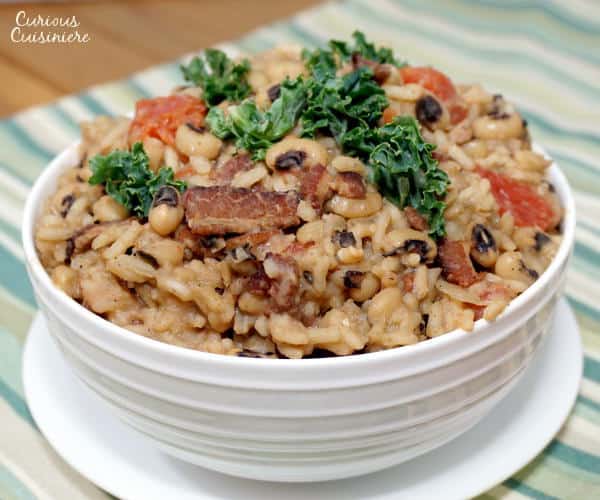 Like many traditional dishes, there are many ways to cook up this dish that first appeared in the mid 1800's. Just bacon or bacon and smoked sausage. Rice cooked with the beans or separate. Tomatoes or none. (But, tomatoes represent health, so why would you want to leave them out?) These are just a few of the variations you will find. But, however you craft your Hoppin' John, a traditional Southern New Year's Day meal should always include cornbread to represent gold and collard greens to signify money and hope for the New Year.
For the best luck in the New Year, a bowl of Hoppin' John should be eaten first thing to ring in the New Year. (Many families will even serve it after the stroke of midnight, for maximum luck!)
Save Some For Later
You don't have to feel bad about not finishing your bowl either. Tradition has it that if you leave just three black-eyed peas in your bowl, then your New Year will be filled with the trio of luck, good fortune, and romance!
Be sure to make enough Hoppin' John for leftovers too, because on January 2 Hoppin' John becomes Skippin' Jenny. And, eating Skippin' Jenny after the first of the year  symbolizes frugality and further extends your chances of prosperity in the New Year.
Hoppin' John (South Carolina Black Eyed Peas and Bacon)
Give your New Year good luck with this classic South Carolina dish.
Ingredients
½

lb

lean bacon,

diced large

2

onions,

chopped

4

garlic cloves,

minced

2

c

black-eyed peas,

dry and un-soaked

½

tsp

ground black pepper

½

tsp

crushed red pepper flakes

4

c

water

(32 oz)

4

c

chicken broth

(32 oz)

2

c

long-grain white rice,

dry

2

tomatoes,

diced

2

c

torn collard green leaves

(kale, Swiss chard, or mustard greens), optional
Instructions
In a large soup pot, saute bacon over medium-high heat, until crispy, 3-4 minutes. Remove the cooked bacon, and leave 1 Tbsp of bacon grease in the pot. Reduce the heat to medium and add the onions and garlic. Saute until soft and golden, 2-3 minutes.

Add the bacon back to the pan along with the black-eyed peas, pepper and red pepper flakes. Add the water and chicken broth and bring the mixture to a boil. Reduce the heat to medium-low to maintain just a bare simmer. Simmer, covered, for 30- 40 min until the black-eyed peas are nearly tender.

Add the rice and cook, covered,15-20 minutes, until the rice is mostly tender and liquid is nearly all absorbed. Remove the pot from the heat, and mix in the diced tomatoes and torn collard greens (if using). Then let the pot sit, covered for 10 minutes, to let the rice finish steaming and the greens wilt.

Taste and adjust salt and pepper as necessary.

Serve with collard greens and cornbread.
If you liked this recipe, here are some similar dishes you may enjoy!