If you're sick of the same old corn side dish, try this recipe for Southern Corn Pudding. This dish, with Native American origins, is like a cross between creamed corn and an eggy custard. 
Corn pudding?
Yes, you read that right. This tasty sweet corn side dish is popular in the Southern United States and in some places along the East Coast. The starch from the corn thickens a savory custard mixture of eggs and milk, creating a satisfyingly creamy, sweet-yet-savory twist on your same old way of serving corn.
Native American Roots
Corn pudding was most likely a simple Native American dish, created from a mixture of fresh sweet corn, grated off of the cob, water, and the milky liquid that ran from the kernels as they were grated. As the ingredients baked, the starches from the corn thickened the mixture into a custard-like pudding.
When European settlers came to America, they experienced Native American foods and began adapting them to their tastes and ways of cooking. It was probably those settlers who added other, richer ingredients to the pudding like eggs, milk, and butter, bringing it closer to an European savory custard (or British pudding).
The many variations of Southern Corn Pudding
As with any dish that has a long history, you can find many variations on corn pudding. Some include cheese or other flavorings like onions or bacon. Some bring heat with jalapenos. And still others add a bit of color with green chilies or diced sweet red pepper. It is possible to find corn puddings in varying consistencies as well: from loose and nearly runny, like creamed corn, to thick and fork-ready, like a well-set custard.
And the variations go on. It is a fun dish, because you can take the concept and adjust it to whatever you have on hand or to whatever texture and style you are feeling at the moment.
Our Southern Corn Pudding Recipe
Our recipe for corn pudding creates a fairly firm and well-set custard that is studded with kernels of sweet corn. Since fresh corn is only available for a short season where we live, we used frozen sweet corn to make our pudding. By pulsing half of the corn in the food processor before adding it to the custard mixture, you release some of the corn's juices and create a similar texture to what you would get from grating fresh corn off of the cob.
The result is a creamy and eggy dish that bursts with the flavor of sweet corn.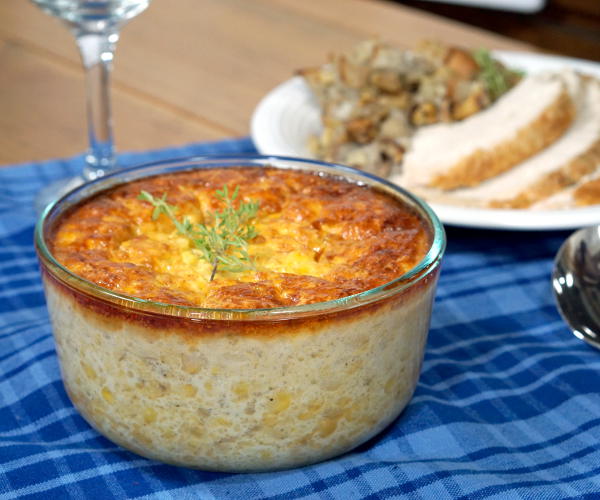 Southern Corn Pudding
Yield: 4 cups of corn pudding
---
Ingredients
1

Tbsp

butter,

unsalted, softned

1

onion,

diced

1

Tbsp

unbleached all purpose flour

3

cups

sweet corn,

thawed

½

tsp

salt

½

tsp

nutmeg

3

eggs,

lightly beaten

1

cup

milk
Instructions
Preheat your oven to 350F.

Heat butter in a large sauté pan. Add diced onions and sauté until soft, 2-3 minutes. Remove the pan from the heat and mix in the flour until it is completely moistened.

Place 1 ½ c of corn in the bowl of your food processor and pulse for a few seconds at a time until the corn is coarsely chopped and is just starting to release juices. Add the processed corn and the remaining 1 ½ c of whole kernels to a large bowl. Add the sautéed onions, salt, and nutmeg. Mix well. Add the beaten eggs and milk. Mix until combined.

Pour the corn mixture into a greased 4 cup baking dish.

Bake for 1 hour 30 min, until puffy and golden.

Remove the corn pudding from the oven and cool on a wire rack. Serve warm.
---
If you liked this recipe, here are some similar dishes you may enjoy!