Kernels of sweet corn stud this sweet and flavorful Mealie Bread, a South African sweetcorn bread that is sure to delight any cornbread fan.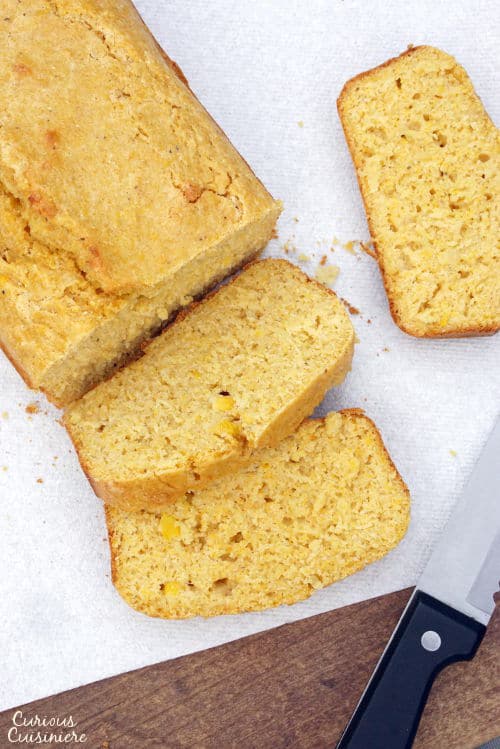 Mealie bread is a traditional South African quick bread made from mealie, known in other parts of the world as maize, or corn.
Maize was first grown for food in indigenous Mexico, and it is thought that the Portuguese were the first to bring maize from the Americas to Africa. It became quite popular in many parts of Africa where it was (and is) used to make a number of pudding and bread dishes.
A steamed mealie bread
Mealie bread was traditionally made by steaming rather than baking.
A large pot of boiling water would have been put on the stove (or campfire) with a can, or something similar, inside to act as a platform for the bread pan. Then, the loaf pan with the bread batter was placed into the boiling water so the water came about halfway up the sides of the pan. The pot was then covered and the bread steamed.
Steaming is a gentle cooking process that cooks the corn slowly, creating a very tender consistency. The resulting bread is very moist, more like a cross between a thick, cooked pudding and a quickbread.
This traditional, moist and dense mealie bread is still very popular today. But, while we were in South Africa, we were served mealie bread that had a a dry crust from baking and a slightly more crumbly texture, more similar to the Southern US cornbreads we are familiar with. It is this version that we used as the model for today's mealie bread.
Sweetcorn bread
This bread is definitely more of a sweetcorn bread than a traditional American cornbread, because it uses whole corn kernels in the batter. The sweet corn kernels are partially ground, giving the bread a moist texture and a fun pop of flavor as you bite into the whole kernels.
There's nothing like fresh sweet corn, and this sweetcorn bread really captures the essence of the sweet corn harvest in a delicious and comforting loaf!
UPDATE NOTE: We had readers emailing us that this cornbread was too crumbly for their liking, so we re-tested the recipe and made a few adjustments to make it more of happy medium between the cornbread we had on safari and traditional steamed mealie bread.
Mealie Bread (South African Sweetcorn Bread)
Kernels of sweet corn stud this sweet and flavorful Mealie Bread, a South African sweetcorn bread that is sure to delight any cornbread fan.
Yield: 1 (9x5) loaf of delicious cornbread
Ingredients
½

c

milk

2

Tbsp

salted butter,

melted

2

eggs

2

c

sweet corn kernels

(thawed if frozen, cut off of the cob if fresh), divided

2

Tbsp

cornmeal

2

Tbsp

sugar

2

tsp

baking powder

1

tsp

salt

½

tsp

paprika
Instructions
Preheat your oven to 350F. Butter a 8 ½ x 4 ½ loaf tin.

Place the milk, melted butter, eggs, and 1 cup of corn into your blender and blend until evenly mixes and the corn is nicely pureed.

Add the flour, cornmeal, sugar, baking powder, salt, and paprika to the blender. Blend until a smooth batter forms.

Add the remaining 1 cup of corn and blend just enough to chop the kernels coarsely and mix them well into the batter.

Pour the batter into the prepared pan.

Bake the mealie bread for 45-50 min. Until a toothpick inserted into the center comes out clean.

Cool the bread in the pan for 5 minutes before turning the bread out onto a wire rack to continue cooling.

Serve warm.
Notes
This recipe was updated in November 2018. We made the bread a bit sturdier and more of a cross between the crumbly bread we had on safari and the traditional steamed version. Enjoy!

Save
Save
If you liked this recipe, here are some similar dishes you may enjoy!