Sweet, sticky, and nutty, this recipe for Southern Pecan Pie Without Corn Syrup is just the way the dessert should be.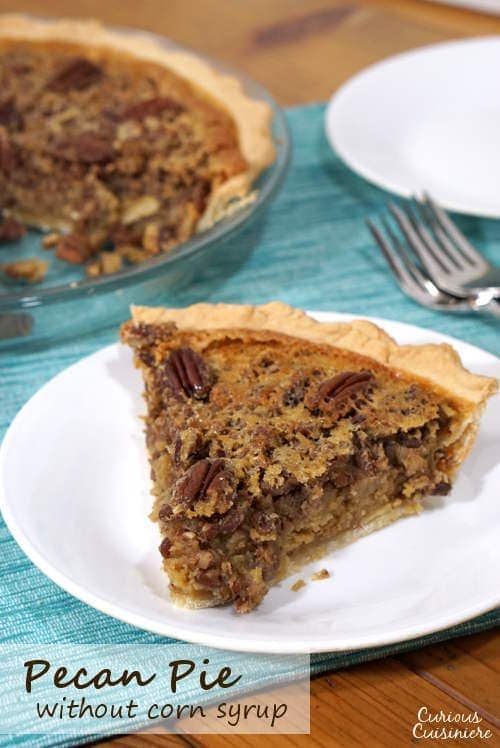 Did you ever notice that there is more than one way to say the word pecan? Do you say it pee-KAN or pu-KAHN? Or maybe a cross between the two?
Old Fashioned Southern Pecan Pie
Many believe that this sticky-sweet, classic southern dessert was first crafted by French settlers in New Orleans after the Native Americans introduced them to the pecan, which is native to Mexico and the southern regions of America. 
On the other hand, the corn syrup company Karo claims that the first pecan pie was made by the wife of one of their employees in the early 1900's. The scales of truth seem to tip slightly in the favor of the corn syrup company, because pecan pie didn't start appearing in cookbooks until the 1920's, And, if you take a look at any collection of pecan pie recipes, you'll find that the majority of them call for Karo corn syrup. Meaning, at least, that it was Karo's promotion that popularized the pie.
Pecan pie vs chess pie
What you do find prior to the 1900's, however, is the Southern American tradition of chess pie, a sweet and eggy custard pie. These pies, also known as brown sugar pies can be traced back to the 17th century.  So, it is possible the first pecan pies were simply chess pie with pecans tossed in.
I guess we'll never know.
Pecan Pie without corn syrup
Whether you want to believe that pecan pie was an invention of a corn syrup company or not, we are here today to tell you that pecan pie DOES NOT have to be made with corn syrup.
Any mixture of sugars or sugar syrups would do to make pecan pie without corn syrup, but today we're sharing a recipe for a pecan pie made predominately with brown sugar. We picked brown sugar because the deep, molasses-caramel flavor of brown sugar is the exact deep and caramel-y flavor that we search for in a good pecan pie.
How do you like your pecan pie?
The sugary custard that makes up the filling of pecan pie can be executed a number of ways. Some people like their pecan pie gooey and sticky, while others like their pecan pie firm and nutty.
We fall in the latter camp.
Don't give us a pecan pie that oozes from the crust, sticks to your teeth, and tastes only of sugar. We prefer a well-set pecan pie that is just sweet enough to be decadent and boasts an extremely pronounced nuttiness.
So, that is the pie we are sharing with you today: lightly sweet, wonderfully nutty, truly satisfying. 
Paring beer with pecan pie
And because we like to step outside of the box, we decided we wanted to attempt to pair today's pie with a craft brew. We were glad when our friend Bryan from Sonoma Cellars was quite excited by the challenge, and he came up with a pairing that knocked our socks off. 
While we initially thought to pair the sweet and nutty pie with a thick and rich porter. Bryan took another direction that created a beautiful, complementary pairing that accentuated both the pie and the beer with the Sierra Nevada Bigfoot Barleywine. In his words:
Sierra Nevada Bigfoot Barleywine is definitely what you could call a winter-warmer, clocking in at 9.6%! But it can also be your cold weather companion, your holiday cheer, and the filling to your pie! This beer greets you with a beautiful off-white foamy head resting on top of a ruby-hued amber body, with aromas of citrusy floral hops, caramel, biscuits,  and nuttiness accompanying the noticeable alcohol level. But don't be afraid, Bigfoot is your friend. Sipping on this brew, you are hit with the hop-bitterness instantly, but shortly after this sensation, the malty sweetness pleases, distracts, and prepares the palate for more. With the hop-bitterness to cut through the sweetness of the pie, and the malty-sweetness of the beer to prepare you for the next bite, this beer is sure to go great with any pecan pie."
Whatever you eat for dinner, make sure that you save room for a glass of Sierra Nevada Bigfoot Barleywine and a big slice of this pecan pie!
Note: The instructions in this recipe were updated in November 2016 to make the pie even better! Enjoy!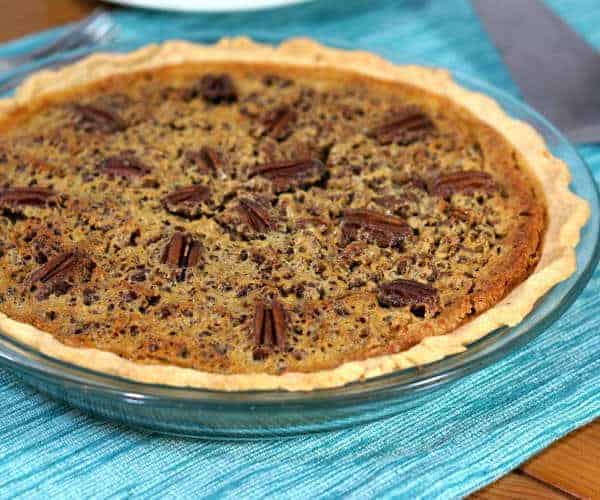 Southern Pecan Pie Without Corn Syrup
When working with pie crust, it is important to make sure it stays chilled. That is why we have two periods of chilling time in our crust recipe for this pie.
Yield: 1 (9 inch) pie
---
Ingredients
For the Crust
3/4

tsp

salt

8

Tbsp (1 stick)

butter,

unsalted, cold, cubed

4-5

Tbsp

ice cold water
For the Filing
3

eggs

1

c

brown sugar

¼

c

white sugar

4

Tbsp

butter,

unsalted, melted and cooled

¼

c

milk

3

Tbsp

unbleached all purpose flour

¼

tsp

salt

1 ½

c

chopped pecans

(plus extra whole pecans to decorate the pie)
Instructions
For the Crust
Place the flour, salt and butter in the bowl of your food processor. Pulse the mixture until it resembles evenly sized crumbs.

Transfer the mixture to a bowl and mix in 2 Tbsp of ice cold water. Stir the mixture until the dough starts to clump together. If it does not want to clump together, continuing adding water, 1 Tbsp at a time, until it does. Once the dough starts to come together, knead it a few times with your hands to form a firm, but smooth, ball.

Preheat your oven to 400F.

Roll the crust into a circle, 12-13 inches in diameter on a lightly floured surface. Transfer the crust to a greased 9 inch pie dish.

Trim the edges of the crust or tuck them under. Flute the edges as desired (a fork works well to create a nice design).

Place the crust in the freezer for 15-20 minutes, until solid.

Remove the crust form the freezer. Lightly butter a piece of parchment paper (or aluminum foil) and place it, buttered side down on top of your crust. Fill the parchment paper with pie weights, dry rice, or dry beans.

Bake the crust for 20 min, until the edges are just starting to turn golden.
For the Filling
While the crust is baking, make the filling. In a large bowl, beat eggs and sugars with an electric mixer on medium to medium-high speed, until the mixture becomes fluffy and starts to thicken, 3-4 min.

Add the melted butter and milk. Continue beating on low speed to combine.

Sift the flour and salt into the sugar mixture and beat on low speed until combined and smooth.
Putting It All Together
When the crust has finished baking, remove it from the oven and place it on a wire rack to cool slightly.

Reduce your oven's heat to 350F.

Carefully remove the pie weights and parchment paper from the crust. (Let these cool on a plate. They can be stored and used for pie weights again later.)

Distribute 1 ½ c chopped pecans evenly over the crust.

Slowly pour the filling over the pecans.

Gently, decorate the top of the custard mixture with pecan halves, if desired.

Bake the pie for 30 min, tented loosely with aluminum foil.

After 30 minutes, remove the aluminum foil and continue to bake the pie for 13-17 min, until it firm to the center. (It should not jiggle when wiggled slightly.)

Remove the pie from the oven and let it cool completely on a wire rack.
---
Recipe Notes
*The pie can be made up to 2-3 days ahead of time and refrigerated, covered, until you are ready to eat it. Remove the pie from the refrigerator 1 hour before you would like to eat it so that it can come to room temperature.
If you liked this recipe, here are some similar dishes you may enjoy!