Crunchy and tangy this homemade German sauerkraut recipe is easy to make in small batches on your kitchen counter!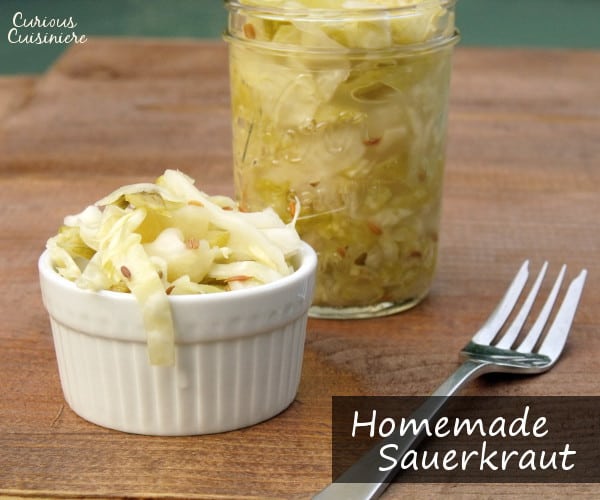 Homemade sauerkraut isn't like what you buy from the store. Yes, it still has that pleasantly tart/sour flavor. But, it's crunchy! That's the way sauerkraut is supposed to be!
Is Homemade Sauerkraut Difficult To Make?
NO!
We have put off making our own sauerkraut until now because we were under the impression that you needed a special crock to ferment the cabbage in, and we were afraid that one batch of sauerkraut would make enough to feed an army for the next year. Even though we're in Wisconsin, we can only go through so much at a time!
But, when we found out that you can make a small batch of sauerkraut in a mason jar. We were all in.
If we had realized just how easy sauerkraut is to make in small batches, I guarantee we would have been doing it sooner.
All you need is cabbage and salt. Yes. That's it. And, it's the perfect way to use up that quarter head of cabbage that we can never seem to finish before it goes bad.
How It Works
Sauerkraut (German for sour cabbage) is made by an age-old fermentation process called lactofermentation.
Lactobacillus is a good bacteria found on the surface of many fruits and vegetables, even in yogurt.
As the cabbage is submerged in a salt brine, the lactobacillus begins to convert the sugars of the cabbage to lactic acid, which is a natural preservative.
Healthy Homemade Sauerkraut
Not only is lactofermentation a great way to preserve the cabbage, since it is one of the same strains of beneficial bacteria that is found in yogurt, lactofermented cabbage also contains some of the beneficial probiotics that you find in yogurt.
As the lactobacilius multiply, they enhance the digestibility and nutrition of the food that is fermenting.
So, homemade sauerkraut is not only crunchy and tasty, it also provides your gut with extra healthy nutrients!
Just Salt and Cabbage: A Simple Sauerkraut Recipe
You really can't get more simple than the ingredients for this sauerkraut recipe.
Salt and cabbage!
As one of the two necessary ingredients, salt is an essential element in lactofermentation. It keeps unwanted bacteria from growing and helps the cabbage stay crisp, by drawing out moisture. As the salt starts to break down the cabbage, it creates the brine that will ferment the cabbage.
It is important to keep the cabbage completely submerged in its own juices during the fermentation process. Any cabbage bits that are exposed to air will be more likely to start to mold.
The Key to Successful Homemade Sauerkraut
The problem is, once the cabbage starts to release its juices, the little shredded bits like to float to the top. So, we need to put something on top of the cabbage to keep it submerged.
Some people like to do this by covering the shredded cabbage with one larger cabbage leaf, and then nestling a smaller jar inside the mouth of your fermentation jar.
While this way works well, we have found that an incredibly easy way to keep everything submerged is to insert a Ziploc bag into the jar over the shredded and salted cabbage. Then, we fill the bag with water. (Just be sure to test the bag first for any leaks!) The water filled bag acts as a weight and keeps everything well covered.
We typically don't have issues with mold in our sauerkraut. But, if you do find something forming on the top of your sauerkraut, take a look at it. If it's whiteish and thin you can scrape it off and continue fermenting. If it's fuzzy or colorful, then something went wrong with your batch. Throw it away and start over. (As always, use you best judgement on these things! All we can give is recommendations based on our experiences.)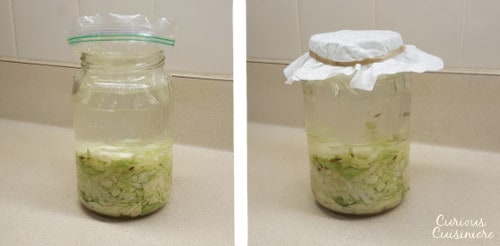 Finally, the whole jar needs to be covered so that we don't get any unwelcome visitors in our sauerkraut. This can be done with a clean towel, cheesecloth, or (our favorite method) a coffee filter.
How Long Does It Take To Make Our Homemade Sauerkraut Recipe?
It can take anywhere from 1-3 weeks to achieve a nice sour tartness in your sauerkraut.
In the cool temperatures of winter, it will take longer, and in the warm days of summer it will go more quickly.
Taste your sauerkraut every few days until it reaches your desired flavor. Once it gets there, remove the weights and cover the jar with an airtight lid and store it in the refrigerator.
How To Use Homemade Sauerkraut
It also makes a great filling for pierogi and goes great in a sausage and potato hash!
How do you like to serve sauerkraut?
Yield: 2 c sauerkraut
Homemade German Sauerkraut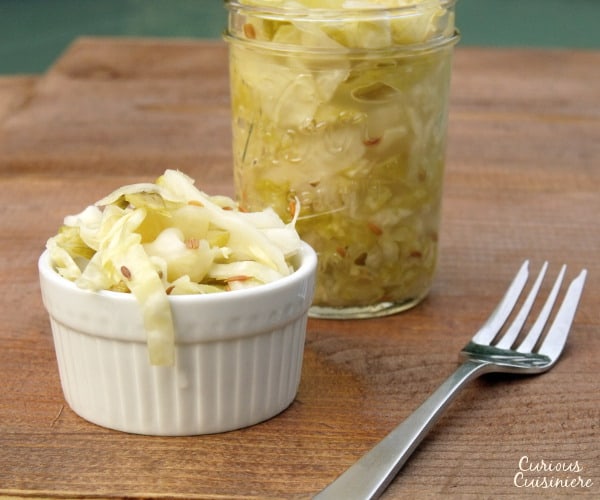 To make a batch of sauerkraut, it will take 1-3 weeks to ferment on your counter. Plan ahead!
Ingredients
½ small head cabbage, shredded (roughly 4 cups or 11 oz)
2 tsp Kosher salt
1 tsp caraway seeds, (optional)
Instructions
In a large bowl, mix the shredded cabbage with the salt and caraway seeds (if using). Let the mixture rest for 15-20 minutes to let the salt start drawing moisture out of the cabbage. (To speed up the process, you can get in there with your hands and massage the cabbage and salt together for 5-10 minutes.)
Wash a quart mason jar well with hot soapy water. Pack the salted cabbage mixture (and any juices) into the clean jar. Pound the cabbage with the back end of a wooden spoon to pack it tightly and remove any air pockets.
Place a quart-sized Ziploc bag into the jar (use one that you know holds a tight seal). Fill the bag with water and seal the bag. This will act as a weight and help to keep all the cabbage submerged. Cover the jar with a towel, cheesecloth, or coffee filter.
Check the sauerkraut after 24 hours. If the cabbage is not entirely submerged in brine, add a saltwater mixture of 1 tsp salt to 1 cup water to the cabbage, just until it is submerged.
Place the jar somewhere out of the way, away from direct sunlight, to ferment. Fermentation can take 1-3 weeks, depending on the temperature and your desired flavor of sauerkraut. Taste your sauerkraut every few days, and once you like the flavor, remove the bag of water and cover it with an airtight lid. Store the sauerkraut in the refrigerator.
Notes
While the sauerkraut is fermenting, you may notice it bubbling and foaming. This is normal and can be skimmed off before you refrigerate your sauerkraut.
If at any point your sauerkraut starts to turn a strange color or get fuzzy, your preparation probably was not as clean as you thought. You'll need to throw away this batch and start over.
Nutrition Information:
Yield:
8
Serving Size:
1/4 c
Amount Per Serving:
Calories:

3
If you liked this recipe, here are some similar dishes you may enjoy!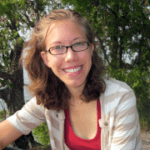 Sarah is one of Curious Cuisiniere's founding duo. Her love for cultural cuisines was instilled early by her French Canadian Grandmother. Her experience in the kitchen and in recipe development comes from years working in professional kitchens. She has traveled extensively and enjoys bringing the flavors of her travels back to create easy-to-make recipes.