Polish Sausage and Sauerkraut are a match made in heaven. Add some potatoes and onions, and you have yourself a full meal!
Polish Sausage: Kielbasa, but not Kielbasa
Polish sausage. Don't let the pre-cooked grocery store kielbasa fool you.
When many people in the States hear "Polish sausage," they automatically think of the pre-cooked and shrink-wrapped kielbasa from the grocery store.
In actuality, kielbasa is the general Polish word for sausage, but the Polish, like the German, have many types of sausage.
If you've ever had any other type of Polish sausage, you'll know why it is so sad that we Americans are, for the most part, only familiar with one type.
I'll admit, I am a sucker for American store-bought kielbasa, and I'm sure I'll always be.
But, when I tasted the smooth and herby goodness of Polish sausage of a different kind, I learned, as Tim put it, about the subtle differences that only come from a country that knows their sausage well.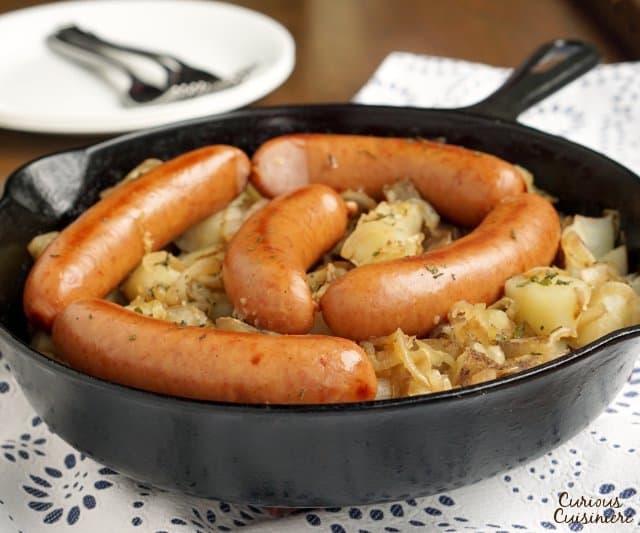 Types of Polish Sausage
There are actually MANY MANY types of Polish sausage. So many, that it would just get confusing to talk about them all here.
Here are just a few common types of Polish sausage.:
Zwyczajna – A 'regular' sausage, most popular for grilling or pan-frying. It is great with bread and mustard!
Kabanosy – A thin and dry, often spicy appetizer sausage. (Think beef stick, but made with pork.)
Kielbasa Krakowska – This sausage from Krakow is thick in diameter and eaten cold on sandwiches or salads.
White Sausage (Biała Kiełbasa) – Is pale in color because it has been boiled rather than smoked. It's the kind you'll find traditionally in Polish white borscht and is often served with horseradish sauce.
Black sausage – Also known as blood sausage, is made using pig's blood, offal, and buckwheat. It is traditionally fried or grilled with onions and potatoes.
For the most part sausage in Poland is made of pork, although you will find regional variations using beef or even turkey or lamb.
The types we listed are just a primer, as each region has their own and it's often said that no one really could name all the different types of Polish sausage because there are too many!
Polish Sausage and Sauerkraut!
And, what goes better with sausage than sauerkraut?!
For this recipe, we tossed sauerkraut into a potato hash, creating a perfect bed for serving these beautiful Polish sausages.
The potatoes and onions mellow the tart flavors of the sauerkraut, leaving its distinct flavor intact, but much more mild than if you were to simply top the sausage with kraut.
(It's the perfect intro dish for someone who's not sure how they feel about sauerkraut.)
All we know, it it's delicious!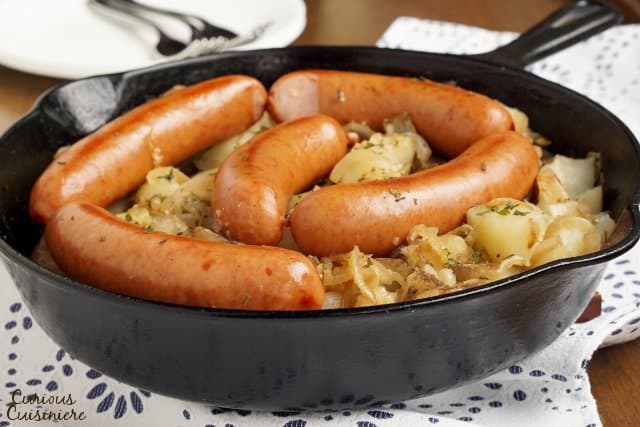 Yield: 3 - 4 servings
Polish Sausage and Sauerkraut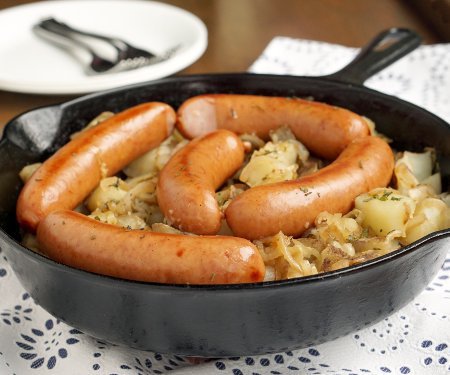 Polish Sausage and Sauerkraut are a match made in heaven. Add some potatoes and onions, and you have yourself a full meal that is great for breakfast or dinner!
Ingredients
1 1/2 lbs (about 2 large) russet potatoes, cleaned and cut into ½" cubes
1 lb Polish sausage, smoked or fresh
1 onion, sliced and cut into 1" pieces
1 Tbsp unsalted butter
½ tsp ground black pepper
¼ tsp salt
Instructions
In a large saucepan, cover the potato cubes with water and boil until just slightly tender, 5-7 minutes. Drain the potatoes and set aside.
In a large, non-stick skillet, add the Polish sausages and 1/2 cup of water. Cook the sausages over medium heat until the water evaporates. Then pan-fry the sausage until golden. (7-10 minutes total) Remove the sausages from pan.
If the sausages did not release much grease, heat 1 tsp of butter in the pan.
Add the onions and sauerkraut and saute until dry and golden, 3-5 minutes. Push onion mixture to one side of the pan.
Add the remaining 2 tsp of butter to the empty side of the pan and add the boiled potatoes. Gently toss the potatoes in the hot butter before mixing all the ingredients in the pan together.
Let mixture fry, stirring every 1-2 minutes, until the potatoes are golden and begin to crisp, 4-5 minutes.
Taste the hash and season with salt and pepper, as desired.
Return sausage to the pan and heat for 1-2 minutes. Serve hot!
Nutrition Information:
Yield:
4
Serving Size:
1/4 of recipe
Amount Per Serving:
Calories:

353
---
This is one of the recipes from the early days of Curious Cuisiniere. We've updated our pictures since we first made it, but we've left the original images here as a fun throwback and shout out to how far we've come. Enjoy!

If you liked this recipe, here are some similar dishes you may enjoy!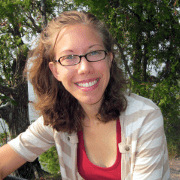 Sarah is one of Curious Cuisiniere's founding duo. Her love for cultural cuisines was instilled early by her French Canadian Grandmother. Her experience in the kitchen and in recipe development comes from years working in professional kitchens. She has traveled extensively and enjoys bringing the flavors of her travels back to create easy-to-make recipes.