White Borscht is a tasty Polish Easter soup that is full of ingredients carrying religious symbolism. 
White Borscht: A Polish Easter Soup
White borscht (or Bialy Barszcz in Polish) is a classic Polish dish eaten on Easter Sunday morning.
Traditionally this soup is made with items in the basket of food Polish families take to Church on Holy Saturday to have blessed.
Polish Easter Baskets
We never realized that blessing baskets of food on Holy Saturday was a tradition in many cultures. In the States, we're used to Easter baskets for the kids on Easter Sunday, but this tradition must have some root in the baskets that entire families would bring to Church to have blessed as a sign of a blessed and bountiful year to come.
In Poland, the practice dates back to the early 15th century. The basket is lined and covered with a white linen cloth, representing the shroud of Christ, and each of the foods in the Easter basket has a special significance.
Bacon is a symbol of the abundance of God's mercy.
Easter bread symbolizes Christ, the Bread of Life.
Butter or other dairy products celebrate the end of Lent and the richness of salvation.
A candle, while not edible, symbolizes Jesus, the light of the World.
Cheese reminds Christians of moderation.
Hard cooked eggs are signs of hope in new life.
Ham or other meats symbolize the abundance of the celebration of the Resurrection.
Sausage links represent the chains of death that were broken by Christ's resurrection.
Horseradish is a reminder of the bitterness of the Passion and the sour wine given to Christ at the Crucifixion.
Salt preserves us from corruption and speaks to the Bible passage "You are the salt of the earth."
Now, that's a lot of food!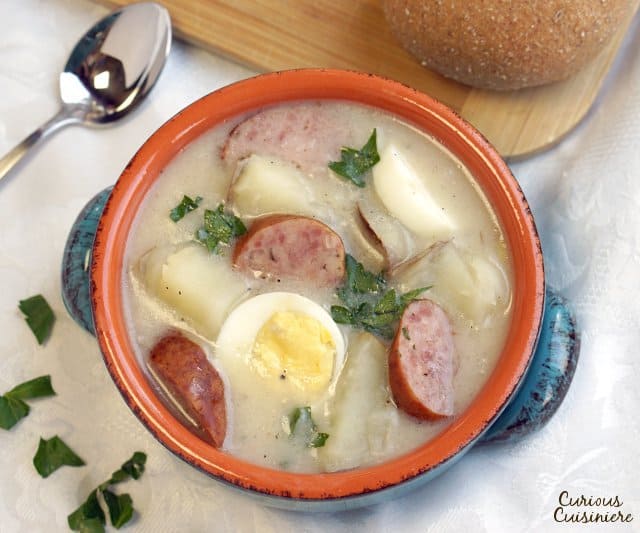 Ingredients for the Family Meal
Not every basket has to contain all of these items, but the important things is that every family member has a bite of blessed food from the basket. So, mothers typically include foods that they will be using at Easter breakfast or dinner, and a few daily staples.
You will notice that many of the basket items appear in this soup: sausage, butter, hard cooked eggs, and salt.
Red Borscht vs White Borscht
Like the Red Borscht, ingredients in White Borscht vary greatly by region and family, with meats ranging from Polish sausage, to ham and bacon, and add ins including sour cream, buttermilk, vinegar and sugar. The two elements that do not change are the sausage-water base and some type of sour (kwas) used to flavor the soups.
Using a Sour Starter
Kwas (pronounced kvas) is a sour starter (similar to a sourdough starter) made by fermenting rye bread, a technique which is popular in many Slavic countries. In Poland you will find another soup, very similar to Bialy Barszcz, called Zur or Zurek. The only difference is that Zurek uses the Kwas rye sour starter, while the Bialy Barszcz uses a wheat starter. 
Tim was a bit skeptical about using fermented bread as a base for the soup, so we went a more non-traditional route and used a mixture of sour cream and flour to give a sour taste and thicken the soup.
Our White Borscht
The result is a creamy soup with a mildly sour flavor.
While flavor of this soup is slightly different than if you would use the traditional sour bread starter, we found the flavors of the soup to be incredibly similar to the Bialy Barszcz that we tasted during our trip to Poland. It made us happy to discover that sour cream does work quite well as an easy adaptation to stand in for the more traditional ingredients.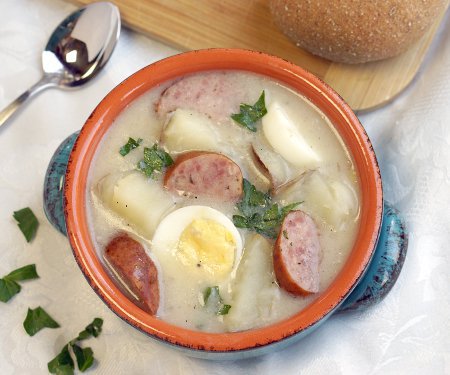 Polish White Borscht (Bialy Barszcz)
White Borscht is a tasty Polish Easter soup that is full of ingredients carrying religious symbolism.
Yield: 10 cups of soup
---
Ingredients
4

hard boiled eggs*

1

lb

Polish kielbasa

(smoked)

6

c

water

1

tsp

salted butter

4

garlic cloves,

diced

1

onion,

diced

2

lbs

potatoes,

diced

1

bay leaf

¾

tsp

salt

¼

tsp

pepper

1

c

sour cream
Instructions
Bring keilbassa and water to a boil in a large dutch oven or heavy bottomed soup pot. Boil 25 minutes. Remove keilbassa to a plate and set aside. Leave the broth in the dutch oven.

In a medium, non-stick skillet, saute garlic and onion with a tsp of butter until soft, 5 min.

Add onion mixture to kielbassa broth. Add diced potatoes, bay, salt, and pepper. Cook until potatoes are tender, 15-20 min.

In a small bowl, whisk flour and sour cream together until smooth. Add ½ c of the soup broth to the sour cream mixture and whisk until smooth and thin. Pour mixture into the soup, stirring constantly. Simmer, stirring often, until thickened, 10 min.

Cut the kielbasas into 1/2 inch slices, chop the hard boiled eggs. Add both to the soup. Taste the soup and adjust the salt an pepper as desired. Cook 1-2 minutes to heat through.
---
Recipe Notes
*To hard boil eggs: Place eggs in a medium pot. Cover with water and add 1 Tbsp salt (to make peeling the eggs easier). Bring the pot to a boil over medium heat (20 mintues). Turn off the heat and let the eggs stand in the hot water for 3-5 minutes, depending on how firm you like your eggs. Remove the eggs and place them in a bowl of ice water to cool.
---
This is one of the recipes from the early days of Curious Cuisiniere. We've updated our pictures since we first made it, but we've left the original images here as a fun throwback and shout out to how far we've come. Enjoy!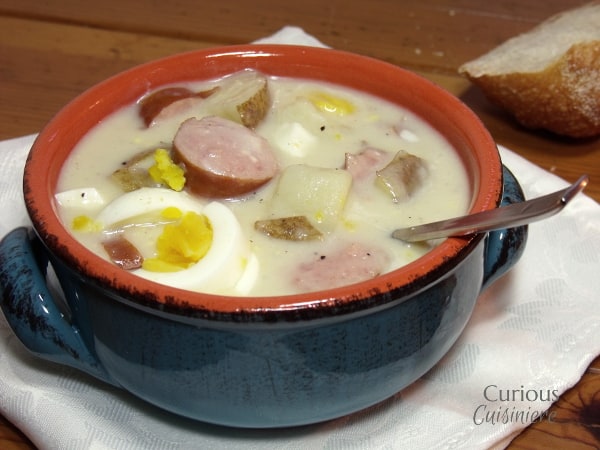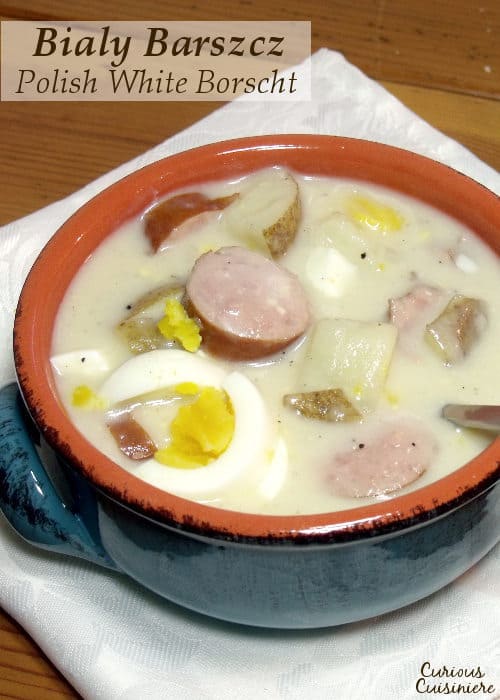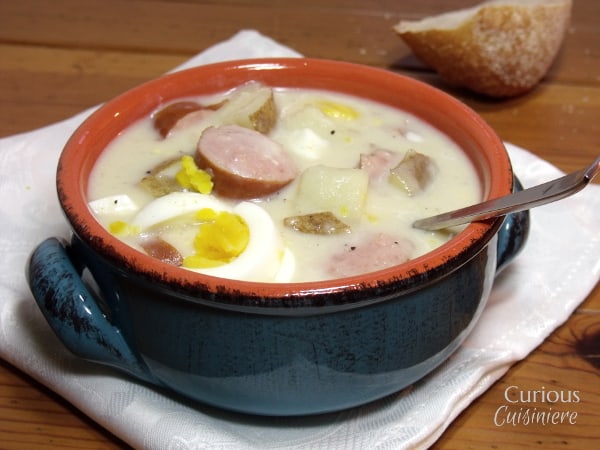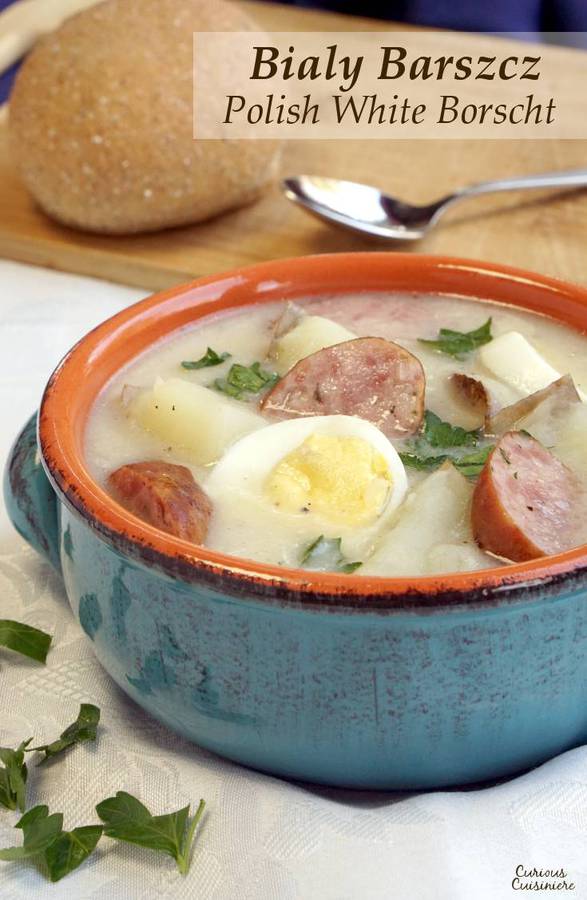 If you liked this recipe, here are some similar dishes you may enjoy!