Torta Pasqualina is a traditional Italian Easter Pie with layers of flaky pastry, filled with a mixture of greens, and studded with hard cooked eggs.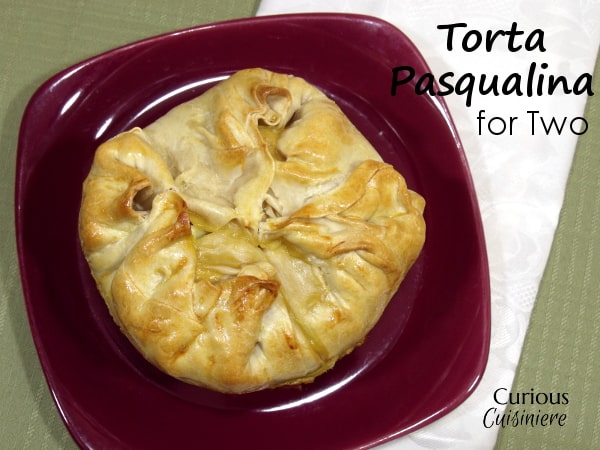 Torta Pasqualina: An Easter Show Stopper
This savory Easter pie from Liguria, Italy makes quite a stunning presentation, and the symbolism of the different elements in the pie give it as many layers of Easter significance as there are layers of dough in the crust.
The traditional Torta Pasqualina, which can be traced back to the 16th century, is made with layers upon layers of thinly rolled pastry which create a flaky bottom crust and a beautifully fanned top. Up to 33 layers would have been used in the most traditional Italian homes, representing the 33 years of Christ's life.
The interior of the pie is no less impressive.
Italian Easter Pie Filling
The deep green filling of Torta Pasqualina is made up of a mixture of spinach, Swiss chard, arugula, and/or beet greens mixed with ricotta. This bed of springtime green is studded with pockets of eggs that start out raw and bake firm, producing the unusual, yet very tasty, effect of hard-cooked whole eggs encased in the pie.
It is typical for the larger Tortas to have up to 12 whole eggs, standing for the 12 Apostles.
Torta Pasqualina Around The World
You will find versions of this Italian Easter pie in Argentinian households as well, brought from Italian immigrants to South America.
Tarta Pascualina, as it is known in Argentina and Uruguay, differs slightly from the Italian version in that it typically has a crust made from a simple empanada dough, rather than layers of thinly rolled pastry.
We also found that many Argentinian recipes called for the addition of red peppers and a pinch of nutmeg to season the greens. (We liked the nutmeg and did steal that from the Argentinian version for our Torta Pasqualina recipe today.)
Italian Easter Pie For A Crowd
While we would have loved the challenge of creating a full-sized pie, a 10-inch round of layered pasty, spinach, eggs and ricotta goodness would have been a bit much for the two of us, even for leftovers.
So, we scaled the pie down and made mini Torta Pasqualina, using 6″ souffle dishes to bake out each individual-serving pie.
The resulting Italian Easter pies turned out better than we could have expected.
The mini pies were so tasty with a crisp crust and a creamy, flavorful spinach filling.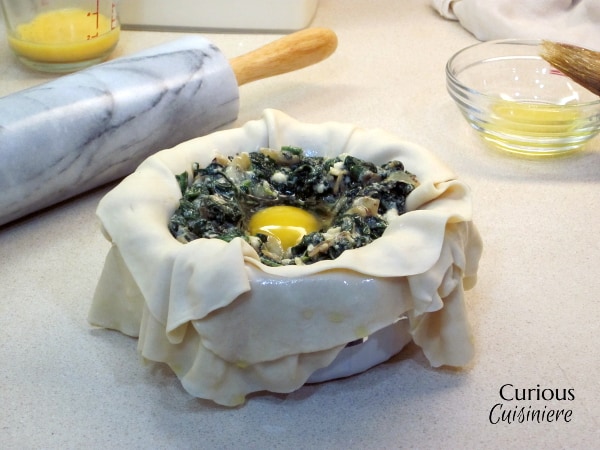 Celebrating Good Friday
Today we celebrate Good Friday. The day remembering Christ's crucifixion and death.
It may seem odd to call such a day "good," but even in the midst of the sorrow of the crucifixion, it is good and holy, because it leads to the resurrection and the gift of new life brought to believers at Easter.
Without Good Friday, there would be no Easter to celebrate.
Lent Is A Preparation.. For Life
Our Lenten fasting and sacrificing allows us to be more acutely aware of the enormity of the sacrifice of the Cross. You could say that our Lenten practices make the joy of Easter even more real, because we have endured. We ourselves feel a sense of new birth with all the transformations our time of Lent has opened us up to.
But, it is easy to think that all of our Lenten reflections and fasting have been leading us to this one point. Here we are at the 'finish line,' we might say. No more denying ourselves chocolate, TV, bad words, whatever your fast was from. And, while the official time of fasting is over, Easter really doesn't call us to end our Lenten practices. It calls us to be made a new person through those practices, so that come Easter morning we feel ready to start life with a new vigor.
Our priest recently gave a great analogy, if you're a sports fan, comparing Lent to the pre-season. It's training, so that the real season, our daily lives outside of the structure of Lent, can reflect the training we have received.
Does that mean you have to give up chocolate forever?
I'm the first to shout out a big "NO!" to that one.
But, now that we know we're strong enough to say no to a piece of candy, we can be confident that we can work at discipline in other areas of our lives and be successful.
Making Good Habits Stick
If you gave up TV or limited social media time during Lent, what positive things were you able to fill your time with? New hobbies, service work, deepened relationships? These positives can continue in the 'real season' of our lives.
I know for me, I find it so easy to get to Good Friday with a sigh of relief. Lent is over. Easter preparations start with vigor. And, then Spring and Summer 'real life' kick in. I get busy, and I tend to forget that I am supposed to be living in a new Spring. I forget the lessons of Lent, and slip back into life in the 'off season.'
This year, I'm challenging myself to see Spring as my Spring, a chance to put into practice what this Lent has taught me about myself and about who I want to be.
What's one thing that you can commit to remembering and/or putting into practice as we move into the 'regular season,' of daily life after Easter?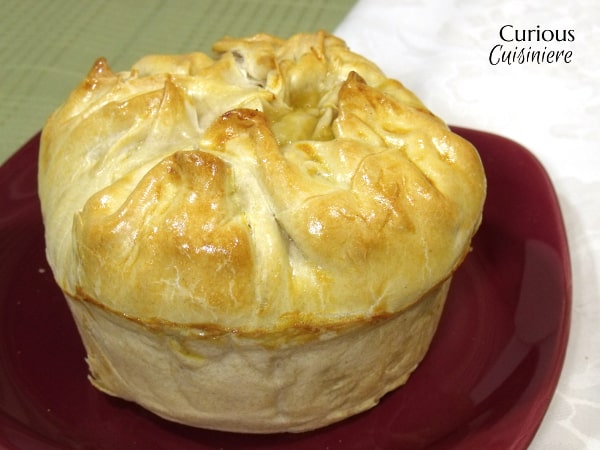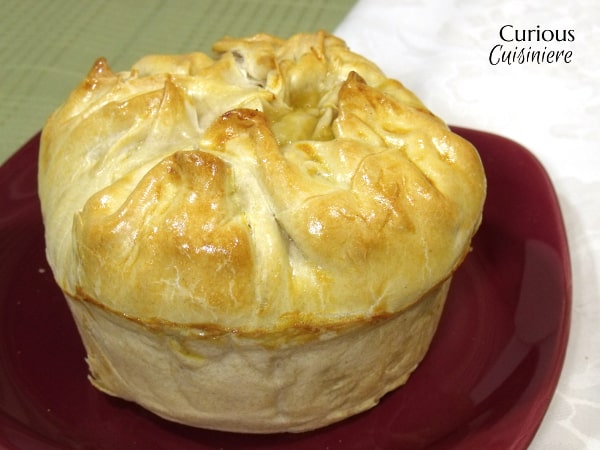 Torta Pasqualina (Italian Easter Pie) for Two
Torta Pasqualina is a traditional Italian Easter Pie with layers of flaky pastry, filled with a mixture of greens, and studded with hard cooked eggs.
Yield: 2 (5 inch) individual serving pies
---
Ingredients
For the Crust
½

tsp

salt

½

c + 2 Tbsp

water

1

Tbsp

olive oil

(plus more for brushing)
For the Filling
½

onion,

diced

½

lb

fresh spinach

¾

oz

Parmesan cheese,

fresh grated

¼

c

ricotta cheese

½

tsp

salt

1/8

tsp

ground black pepper

dash

nutmeg

3

eggs
Instructions
For the Crust
In a medium bowl, mix together flour and salt. Add ½ c water and oil. Mix well. Add additional water 1 Tbsp at a time as needed until the dough comes together. Turn out onto a lightly floured surface and knead for 5-7 minutes, until the dough becomes smooth and pliable.

Shape the dough into a ball and wrap with plastic wrap. Let rest for 45 minutes.
For the Filling
While the dough is resting, make the filling.

In a large, non-stick sauté pan, sauté onion with a splash of water over medium-high until they begin to soften, 2-3 min. Add chopped spinach and sauté 2-3 minutes, until it wilts. Transfer mixture to a paper towel-lined plate to soak any extra moisture from the spinach.

In a large bowl, combine ricotta, Parmesan, spinach mixture, salt, pepper, and nutmeg.

Lightly beat one egg and add all but 1 teaspoon of the beaten egg to the cheese mixture. Mix well. (Set aside the remaining teaspoon of beaten egg. You will use this to brush the top of the crust before baking.)
Putting It All Together
Line two, 2 cup, ramekins with aluminum foil, leaving 2-3 inches of foil overhanging the edges. (This will be the 'sling' to remove your Torta from the dish for serving.) Grease the foil well.

Divide the crust dough into 6, roughly even, pieces. Roll each piece into a 12-14 inch diameter circle.

Place one rolled circle of dough in each lined and greased ramekin, leaving enough dough overhanging the sides so that you can cover the top of the pie. Brush the dough with a thin layer of oil. Top with another circle of dough. Brush with more oil. Top with a third circle of dough.

Divide the filling between the two ramekins.

Using a spoon, create an indentation in the center of the filling in each Torta. Crack an egg into each indentation.

Fold the overhanging crust dough over the top of the filling and raw egg.

Brush the crust with the remainder of the beaten egg from the filling.

Using a sharp knife, cut a few steam vents into the top crust.

Bake 55-65 minutes, until golden and puffy. (If the crust seems to be browning too fast, tent loosely with aluminum foil for the last 10 minutes of baking time.)

Remove from the oven and let stand 5-10 minutes.

Remove each Torta from the baking dishes using the foil sling.

Serve immediately with a fruit salad.
---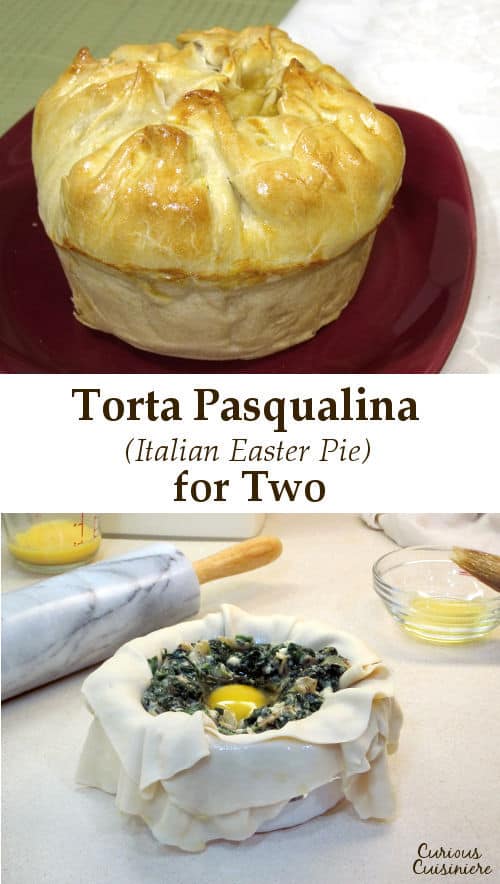 If you liked this recipe, here are some similar dishes you may enjoy!