What is mincemeat? We're here to break down the confusion behind this boozy fruit concoction and share a recipe to make your own homemade mincemeat.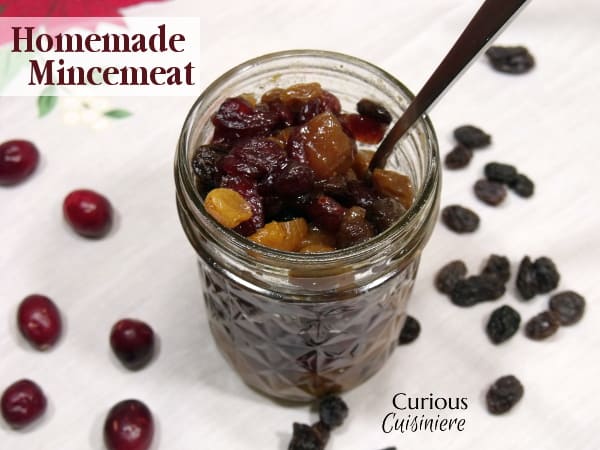 What do you think of when you hear the word 'mincemeat'?
Does it conjure images of an old-school British pie?
But, what's inside that pie?
If you're from the States, that pie is probably filled with lots of confusion.
So, let's back up.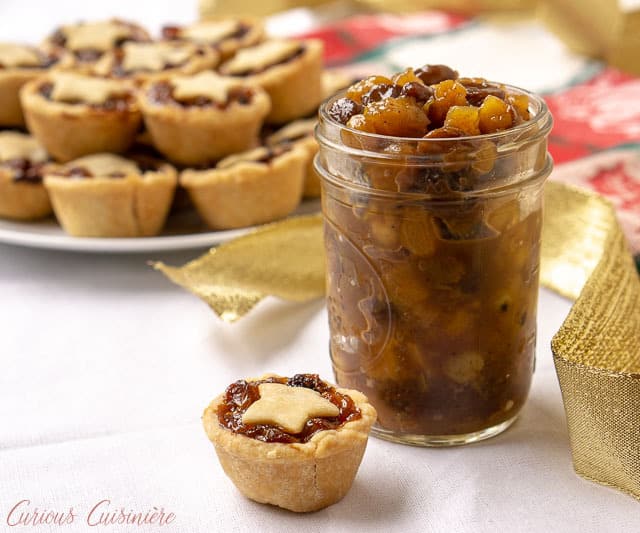 Traditionally, what is Mincemeat?
Mincemeat developed as a way of preserving meat. Traditional mincemeat from the 15th -17th centuries contained a mixture of meat and fruits with vinegar or wine that was used as a preservative.
In the 18th century, liquor such as brandy or rum began to be used instead of the vinegar or wine.
And, over time it evolved to contain suet (beef or mutton fat) instead of meat.
What is mincemeat today?
Today, mincemeat is almost better known as "fruitmince" since it typically only contains dried fruits such as raisins, currants, cherries, apricots or candied citrus peel, along with cinnamon, nutmeg, and cloves (or allspice).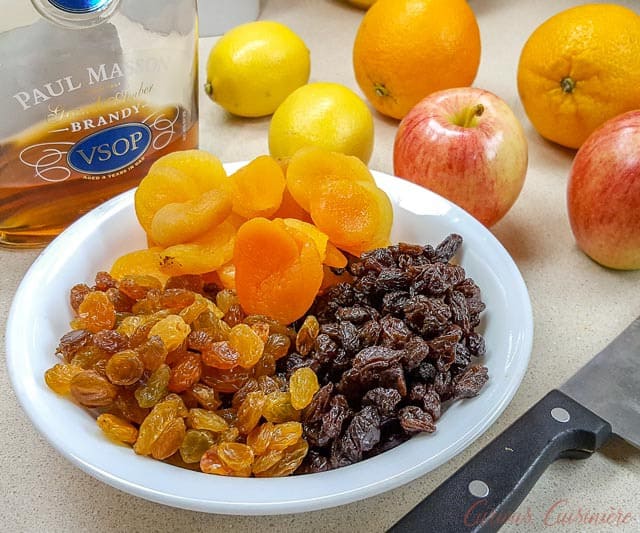 This mixture is then aged with brandy or rum, to deepen the flavors and activate the preserving effect of alcohol, which, over time will break down the proteins and change the texture of the mixture.
Since we make our mincemeat only a month or two before we'll be using it, the texture doesn't have time to change all that much.
But, the liquor does have time to really get into all the ingredients. Making it quite tasty.
How to make Mincemeat
Making mincemeat is so incredibly simple.
Your fruit (dried and fresh) is all chopped to roughly the same size, to make sure the alcohol can evenly penetrate the pieces.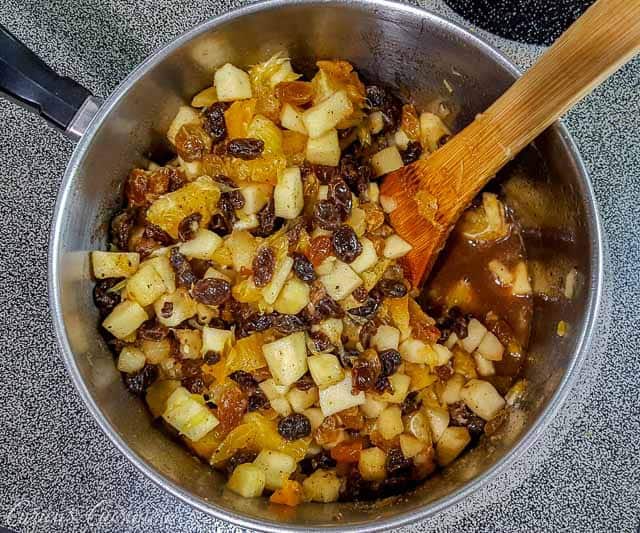 The fruit is then simmered to break down the fresh fruit and soften the whole mixture.
Then the alcohol is added. (We do it after simmering, so that we don't cook off the alcohol.)
Finally, your mincemeat just needs to be aged for a month or two, to let the flavors really come together so that it can be used in your favorite holiday treat!
Homemade Mincemeat without alcohol
If you'd like to give mincemeat a try, but are looking for it to be a bit more kid-friendly, you have a couple of options.
If you want the liquor flavor, without the alcohol, you can add the liquor while the mixture is simmering and cook off the alcohol.
Or, since we're just using the liquor as a flavoring and not a preservative, you could simply use apple cider in place of the liquor.

Stir for good luck!
Do be careful to only stir your mincemeat mixture clockwise while cooking, because tradition has it, that stirring counterclockwise is bad luck for the coming year.
If you'd like to make Mince Pie with your mincemeat, be sure to check out our recipe HERE.
For a fun twist to your holiday cookie platter, try our Mincemeat Cookies. And, if you're looking for a unique breakfast idea, try making Mincemeat Muffins!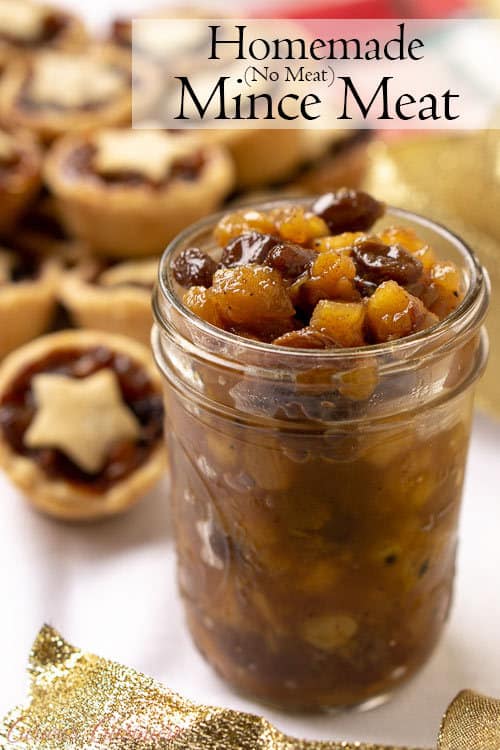 As a side note: We make this mincemeat nearly every year, the lighting is what makes some of the pictures look darker than others. Enjoy!
Yield: 2 c (roughly 24 oz by weight) of mincemeat
Homemade Fruit Mincemeat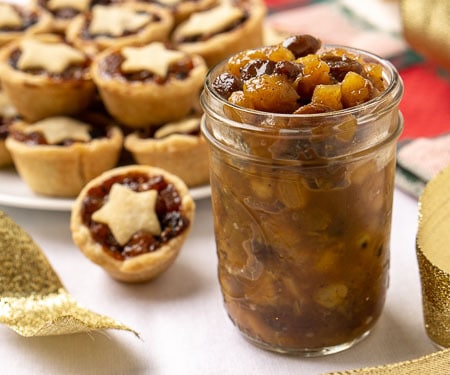 Sweet and boozy this fruit mincemeat will have you looking for new ways to use it this Holiday season!
Ingredients
2 large sweet apples, peeled, cored and diced
1 large orange, zested, peeled and diced
1 c raisins
½ c golden raisins
½ c dried apricots, chopped
1/3 c dark brown sugar
¼ c lemon juice
½ tsp cinnamon
½ tsp nutmeg
½ tsp allspice
½ c brandy*, (bottom shelf is fine)
Instructions
In a medium saucepan, mix diced apples, orange zest, diced orange fruit, and remaining ingredients except the brandy. Stir and simmer over medium heat, stirring occasionally for 30 minutes.
Remove the mixture from the heat and stir in the brandy.*
Place the mixture in an air-tight container and store in the refrigerator for at least 2 weeks before using, to let the flavors meld.
This will keep in the fridge 2-3 months.
Notes
*If you do not want alcohol in your finished mincemeat, you can either heat the brandy with the fruit mixture to a good simmer, to cook off the alcohol, or use fresh apple cider instead.
Nutrition Information:
Yield:
8
Serving Size:
1/8 of recipe
Amount Per Serving:
Calories:

113
If you liked this recipe, here are some similar dishes you may enjoy!