These Thumbprint Mincemeat Cookies use homemade fruit mincemeat to bring a fun new twist to your holiday cookie platter. 
Do you have a favorite Christmas cookie?
Do you go for the classics, maybe a frosted sugar cookie or gingerbread? Or, do you reach for whatever you don't recognize, and start out on a sweet Christmas adventure?
Tim loves anything that looks chocolate, but if a dark gingerbread is mistaken for chocolate, well, it's a fun surprise. I love finding things that I don't recognize and being surprised by the flavors that result.
Our Thumbprint Mincemeat Cookies
Speaking of surprises, these Thumbprint Mincemeat Cookies bring quite the surprise to your cookie platter.
Not your classic jam-filled thumbprints, these are filled with that sweet (and slightly boozy) homemade mincemeat. After softening a few days in liquor, the dried fruit pieces of the mincemeat are soft enough to stand in for jam in these cookies. And, the sweet, spiced flavor gives the cookies a unique, holiday flair.
Honestly, we loved these dunked in a steaming cup of coffee. But, they'd be just as good dipped in hot chocolate or cold milk.
Not that you have to dunk them. The cookie is crisp on the outside, with just enough softness on the inside to give a satisfying crumble.
Paired with the warming, sweet mince mixture, these are a winning cookie combination that make a great way to re-introduce (or introduce) your family to the classic mincemeat. (You don't even have to tell them that's what you filled the cookies with. We won't tell!)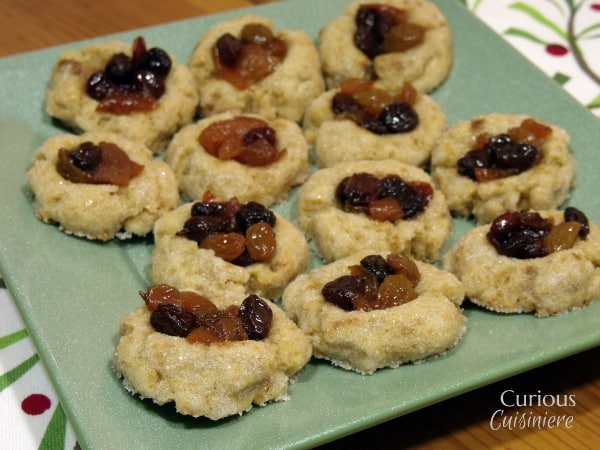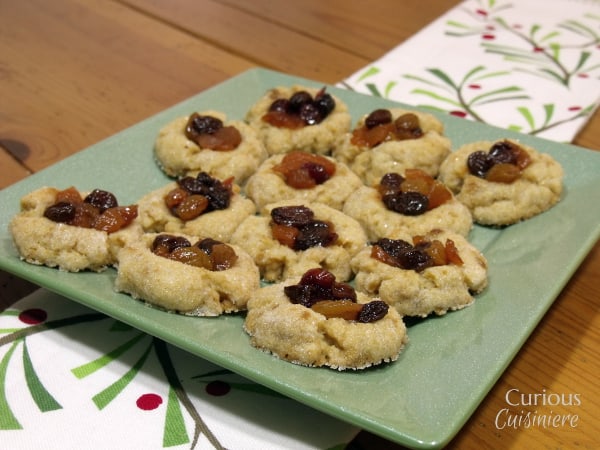 Thumbprint Mincemeat Cookies
These Thumbprint Mincemeat Cookies use
homemade fruit mincemeat
to bring a fun new twist to your holiday cookie platter.
Yield: 1 1/2 dozen (1.5 inch) cookies
---
Ingredients
½

c (1 stick)

salted butter,

softened

¼

c

brown sugar

1

egg yolk

½

tsp

pure vanilla extract

¼

tsp

salt

1/8

tsp

baking soda

¼

c

sugar

1/3

c

mincemeat
Instructions
Preheat oven to 350F.

In a large bowl, cream together butter, sugar, egg yolk, and vanilla.

In a separate bowl, mix together flour, salt, and baking soda. Add to wet ingredients.

Roll dough into 1" balls.

Place ¼ c sugar in a small bowl and coat each ball of dough in sugar. Place 1" apart on an un-greased baking sheet.

Press your thumb into each ball to create an indent in the center of the cookies. Bake 10 minutes. Remove the cookies from the baking sheet to cool on a wire rack.

While the cookies are still hot, fill each cookie with ¼ tsp mincemeat. Let cool completely on a wire rack before storing in an airtight container.
---
If you liked this recipe, here are some similar dishes you may enjoy!