If you like this dish, sign up for our newsletter to get tasty, cultural inspiration straight to your inbox. Where will you travel this week?
These melt in your mouth Thumbprint Mincemeat Cookies use homemade fruit mincemeat to bring a burst of festive flavor a fun new twist to your Christmas cookie platter. 
Do you have a favorite Christmas cookie?
Do you go for the classics, maybe a frosted sugar cookie or gingerbread?
Or, do you reach for whatever you don't recognize, and start out on a sweet Christmas adventure?
Tim loves anything that looks chocolate, but if a dark gingerbread is mistaken for chocolate, well, it's a fun surprise.
I love finding things that I don't recognize and being surprised by the flavors that result.
Our Thumbprint Mincemeat Cookies
Speaking of surprises, these Thumbprint Mincemeat Cookies bring quite the surprise to your cookie platter.
Not your classic jam-filled thumbprints, these melt in your mouth thumbprint cookies are filled with that sweet (and slightly boozy) homemade mincemeat.
After softening  in liquor, the dried fruit pieces in the mincemeat are soft enough to stand in for jam in these cookies.
And, their sweet, spiced flavor gives the cookies a unique, holiday flair.
Honestly, we loved these dunked in a steaming cup of coffee. But, they'd be just as good dipped in hot chocolate or cold milk.
Not that you have to dunk them, because these cookies have a delightful melt in your mouth texture. They have a slight crispness on the outside, and then look out, because you'll be craving another and another!
The light and crumbly cookie, paired with the warming and intensely flavorful, sweet mince mixture, makes these a winning cookie combination.
You know, these would make a great way to re-introduce (or introduce) your family to the British mincemeat. (You don't even have to tell them that's what you filled the cookies with. We won't tell!)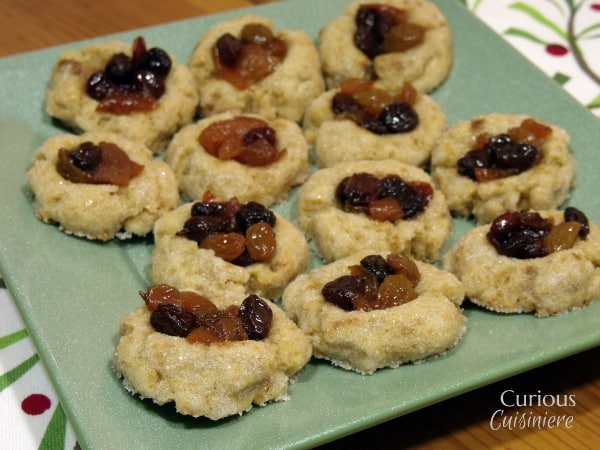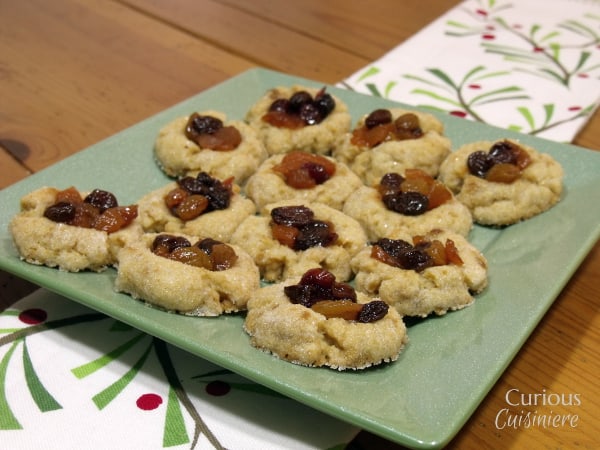 Thumbprint Mincemeat Cookies
These Thumbprint Mincemeat Cookies use
homemade fruit mincemeat
to bring a fun new twist to your holiday cookie platter.
Yield: 16-18 (1.5 inch) cookies
---
Ingredients
½

c (1 stick)

salted butter,

softened

¼

c

brown sugar

1

egg yolk

½

tsp

pure vanilla extract

¼

tsp

salt

1/8

tsp

baking soda

2

Tbsp

sugar

(to coat the cookie dough)

1/3

c

mincemeat

(for topping)
Instructions
Preheat your oven to 350F.

In a large bowl, cream together butter, brown sugar, egg yolk, and vanilla.

In a separate bowl, mix together flour, salt, and baking soda. Add to wet ingredients and mix until a smooth dough forms. (The dough may seem a bit dry at first, just keep mixing until everything is moistened and holds together nicely.)

Roll the dough into 1" balls.

Place 2 Tbsp white sugar into a small bowl and coat each ball of dough in sugar. Place the sugared dough balls 1" apart on an un-greased baking sheet.

Press your thumb into each ball to create an indent in the center of the cookies.

Remove the cookies from the oven and, while the cookies are still hot, top each cookie with approximately 1 tsp of mincemeat.

After the cookies have had 5-10 minutes to cool on the baking sheet, remove them from the baking sheet to cool completely on a wire rack. Once cool, store in an airtight container.
---
If you liked this recipe, here are some similar dishes you may enjoy!