Our Mincemeat Pie recipe without meat is filled with Homemade Fruit Mincemeat, making it the perfect introduction to the traditional English Christmas dessert. 
Traditional Mince Pies
When I first suggested to Tim that we make Mincemeat Pie, he gave me a look. "What kind of meat is in there?" He asked cautiously.
For some reason, the idea of liquor, fruit, and sweet spices, blended with meat, tends to send many of us Americans way outside of our comfort zones.
Traditional, British mince pie evolved from a medieval pastry called "chewette," made with chopped meat, liver, boiled eggs, ginger, and dried fruit. In the 17th century, the meat was replaced by suet (beef or mutton fat). And, by the 19th century, most pies in Great Britain and America no longer contained meat. Although, you can still find pies that use suet.
Making our Mincemeat Pie recipe without meat
Once you make your mincemeat (you can find our fruit mincemeat recipe HERE),  it is good to let it set for a day, up to a few weeks, in the refrigerator to let the flavors develop as the dried fruits absorb the moisture.
Once the mincemeat is made, the pies are as simple to put together as whipping up some crust!
What do Mincemeat Pies taste like?
The flavor of these pies was unlike anything we have tasted.
The juiciness of the fruit paired with the crunch of the crust provide the perfect contrast in textures. While the brandied fruit gave us faint hints of fruitcake, the fruit sweetness mellowed the brandy flavor, and when eaten warm, the spices and the flavor of the apple in the mincemeat really shine through.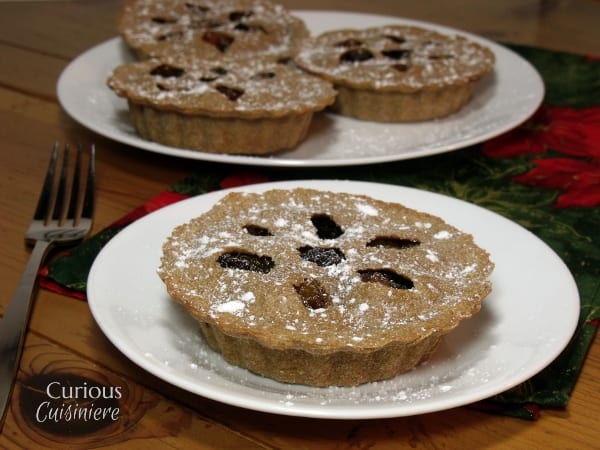 Mincemeat Pie (Without Meat)
Our Mincemeat Pie recipe without meat is filled with Homemade Fruit Mincemeat, making it the perfect introduction to the traditional English Christmas dessert.
Yield: 8 (4 inch) pies
Ingredients
1 ¼

c

whole wheat flour

1

tsp

sugar

1/2

tsp

salt

6

Tbsp

unsalted salted butter,

cut into 1" chunks

1

egg

beaten

2-3

Tbsp

ice cold water

2 1/2

c

Mincemeat

Milk

(for topping)
Instructions
In the bowl of a food processor, mix flour, sugar, salt, and butter. Pulse until the mixture resembles wet sand. Add beaten egg, and pulse to combine.

Add water, 1 Tbsp at a time until the dough comes together, but isn't sticky.

Remove dough from the food processor, wrap in plastic wrap, and chill 15 min to an hour.

When you are ready to make your pies, preheat the oven to 350F.

Roll crust to roughly 1/16th inch thick. Cut rounds to fit your pie pans. Place bottom crust in the greased pie tins, pressing to remove any air that might be trapped under the crust.

Fill the tins 2/3 full with the prepared mincemeat.

Cut circles for the tops of the crust. Moisten the edges of the bottom crust with milk and crimp together to seal the edges. Cut a few small slits in the top crust for steam to escape.

Bake 20 min, or until fruit is bubbly and the crust is golden. (We made mini, 4 inch diameter, pies here. If you are baking a full-sized pie you may need to add up to another 20 minutes to the baking time and cover the outside edge with foil so the the crust doesn't get too dark.)
Notes
These pies can also be baked and frozen. Just remove them from the freezer to thaw before reheating in a 300F oven for 4-5 min before serving.
Nutrition
Calories:
338
kcal
|
Carbohydrates:
53.4
g
|
Protein:
4
g
|
Fat:
8.2
g
|
Saturated Fat:
4.9
g
|
Cholesterol:
40
mg
|
Sodium:
86
mg
|
Fiber:
3.3
g
|
Sugar:
30.5
g
If you liked this recipe, here are some similar dishes you may enjoy!