This spring asparagus frittata is easy to make and perfect to enjoy for breakfast, lunch or dinner. Plus it's a great dish to get the kids involved in cooking and learning about different cultures along the way.
Spring asparagus frittata for Easter
Omelette, frittata, tortilla. These are only a few of the names for the relatively simple egg-based dish that is so popular in many cultures.
It's easy to understand why as it's quick and easy to make. Plus, you can easily adapt the filling and scale it up or down.
Enjoying a frittata as part of Easter celebrations is very common in Italy.
While there are many variations, this asparagus frittata is an easy and delicious version that's easy to enjoy at home. It's also a great dish to get kids in the kitchen to both learn to cook and learn about other cultures along the way.
What is a frittata?
A frittata is a fried egg dish that can have different fillings. Fritatta derives from the Italian "friggere" meaning fried and, according to Wikipedia, has historically meant anything from a fried egg to a deep, Spanish-style tortilla, as long as it was cooked in a skillet.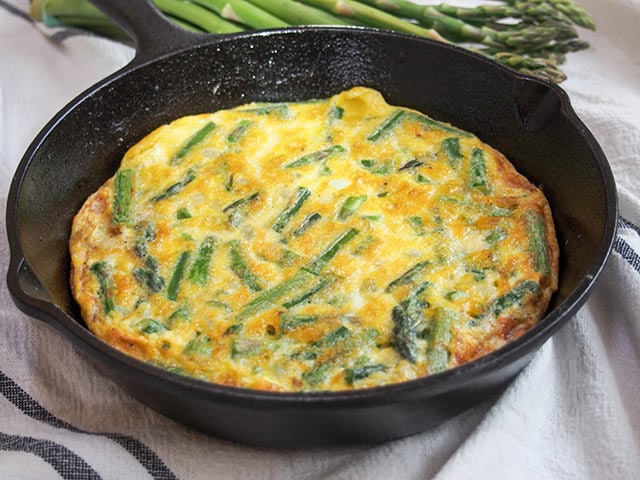 Outside of Italy, frittata used to be seen as just another name for an omelette.
However more recently, it has been generally recognized as a particular style with a few distinctions.
What's the difference between a frittata and an omelette?
While similar in concept, there are some definite differences between a frittata and an omelette.
A frittata is what you'd call an open-faced omelette. A classic French omelette is often folded over, while a frittata is not.
You typically mix any fillings for a frittata with the beaten, raw eggs rather than adding them part way through cooking.
A frittata is cooked more slowly than an omelette, over a low heat.
Frittata are also often thicker than omelettes.
The top of a frittata is cooked either by turning it over or finishing it off under a broiler.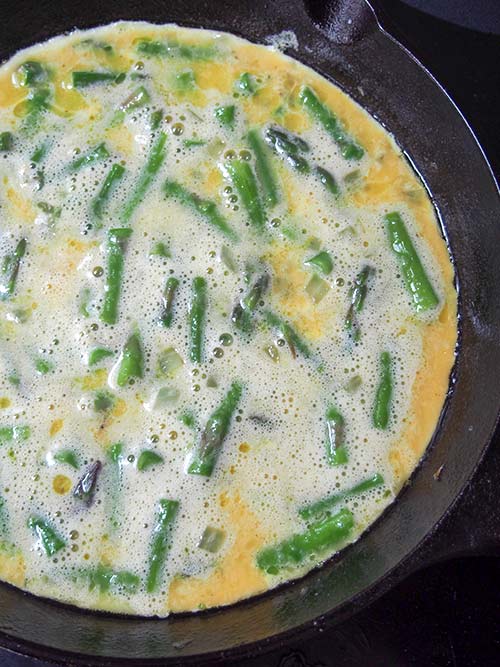 What can kids do to help make a frittata?
One of the great things about this dish is it's easy to make and there are lots of things kids, even young ones, can do to help.
Even very young kids can snap the asparagus to remove the base of the stem and break it into pieces.
Older kids can cut the asparagus into chunks if you'd like neater pieces.
Most kids can crack the eggs into a bowl and beat them with a whisk.
Depending on your grater, most children can grate the cheese.
Slightly older kids can pour the mixture into the skillet and keep an eye on it as it cooks.
As well as making the dish, elementary age kids can practice shapes and fractions as they cut the frittata up to eat!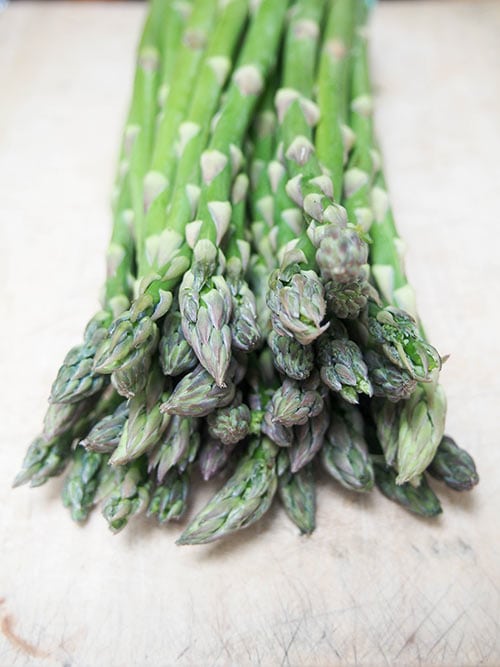 Why are frittatas eaten at Easter?
Eggs are highly symbolic for Easter. The shape is believed to represent the stone covering Christ's tomb, so eating eggs is celebrating His return to life. They are also one of the foods typically abstained from during Lent, and so they are often enjoyed again at Easter as a result.
Asparagus is a spring crop and in Italy, it is common to incorporate spring vegetables like asparagus, fava beans, and artichokes into the Easter frittata as it is also a celebration of spring. Spring crops, particularly green ones, represent renewal and rejuvenation.
Here I have added a little onion and pecorino cheese to add additional flavor to the frittata, but you can leave these out if you prefer. While pecorino is a common pairing, you can experiment with other cheeses, and leeks also work well instead of onion.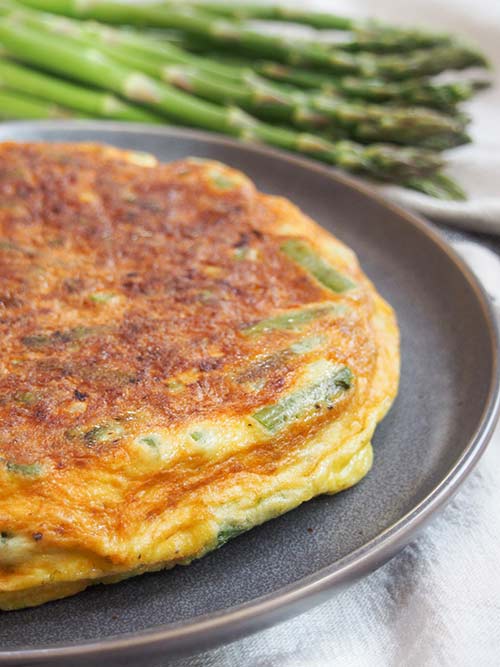 What other similar cultural dishes could you try?
If your family enjoys frittatas, why not try some other similar dishes from other cultures:
A classic French omelette, cooked over a high heat and folded over, often made with fine herbs.
A Spanish tortilla which is thicker and classically made with potatoes.
Japanese tamagoyaki, seasoned with mirin and soy sauce and cooked in a special rectangular pan.
Persian kuku, such as kuku sabzi densely filled with herbs.
Arab eggah, often made with herbs and spices.
Masala omelette, a popular Indian variation with plenty of spices, common for breakfast.
Tortang Giniling, a Filipino ground beef and vegetable omelette.
This asparagus frittata is easy to make, with plenty that kids can help with and learn as they go.
It's a great introduction to cultural cooking, as well as being delicious to eat!
Yield: 1 (8 inch) frittata
Italian Asparagus Frittata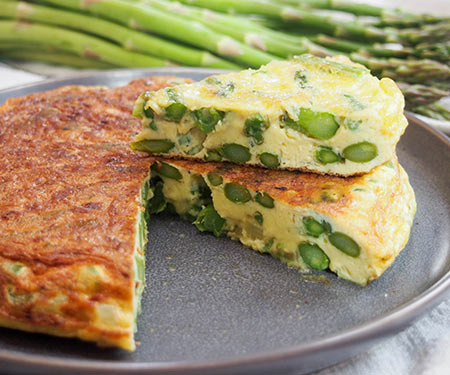 This asparagus frittata is a delicious taste of spring. Easy to make and perfect for brunch or any meal.
Ingredients
8 oz asparagus
4 eggs
1/4 small onion
1 1/2 Tbsp olive oil
Salt and pepper, (to taste)
Instructions
Snap the ends off the asparagus where they naturally break to remove any woody ends. Cut the rest of the asparagus into approximately 1 inch pieces.
Peel and finely chop the onion/shallot.
Crack the eggs into a medium bowl and whisk them until the white is broken up and they are lightly fluffy. Add the cheese and salt and pepper to taste. Mix until combined.
Warm 1 tbsp of oil in an 8 inch oven safe skillet over a medium heat. Add the asparagus and onion and cook for a couple minutes until the onion becomes translucent and the asparagus is tender to a knife-point.
Tip the asparagus and onions into the eggs and mix through.
Add the remaining oil to the skillet, reduce the heat slightly and tip the egg mixture into the skillet. Spread the asparagus out evenly, as needed, so the pieces are evenly distributed across the skillet and not sticking out from the eggs.
Cook for around 5 minutes until the edges are starting to cook but the inside is still runny. As it is cooking, warm the broiler.
Put the frittata under the broiler to finish cooking the top, keeping a close eye on it so it doesn't cook too much. You want it to be set but not get too brown.
Serve warm or room temperature.
Recommended Products
As an Amazon Associate and member of other affiliate programs, I earn from qualifying purchases.
Nutrition Information:
Yield:
2
Serving Size:
1/2 a fritatta
Amount Per Serving:
Calories:

300
If you liked this recipe, here are some similar dishes you may enjoy!