Spinach, olives, and feta cheese bring an infusion of savory flavor to this easy, make ahead, Overnight Greek Breakfast strata recipe.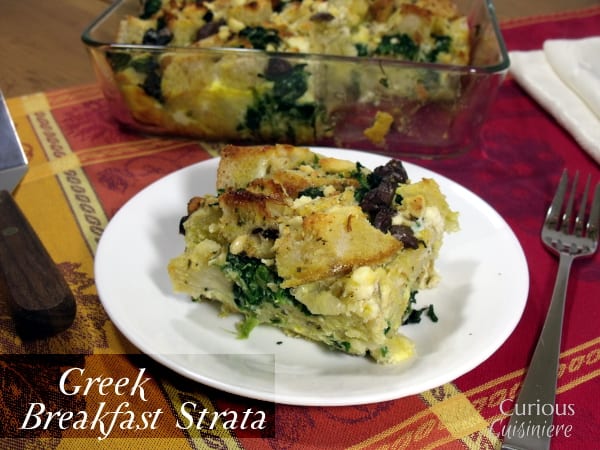 What To Call A Baked Breakfast Dish?
There are a lot of tasty egg-based brunch dishes out there, and we have yet to meet one that we haven't thoroughly enjoyed.
But, I often find myself a little confused over what to call the dish we're making for breakfast or brunch.
Is it a strata?
A frittata?
A quiche?
And, don't even get me started on the confusion savory bread pudding adds to the mix!
Maybe I should just do like the rest of my family does and call any of them a "brunch bake".
Or, maybe they're all just breakfast casseroles?
Breaking Down Breakfast Dishes
Unfortunately, my curiosity won't let me go down that route. So, I did a bit of research to clear up my confusion.
What Is A Frittata? 
When you think frittata, think omelet.
A frittata is a flat, Italian omelet that is typically prepared in a cast iron skillet.
Beaten eggs are cooked in the skillet with vegetables and meats until the eggs begin to set. The egg mixture is then topped with cheese and finished off by baking in the oven.
(This is very similar to a Spanish Omelet, called a Tortilla, which is also flat, but traditionally contains potatoes and is fried on both sides in the skillet. And, very different from a French Omelette, where the egg base is cooked alone before adding other ingredients and folding half of the cooked egg over them.)
What Is A Quiche?
When you think quiche, think breakfast pie.
A quiche is a French savory pie that is filled with a custard (eggs beaten with milk). Quiche can contain added ingredients like cheese, meats, and/or vegetable.
We love making quiche because it is so versatile. You can add crazy things like Tuna and Rice, or mix it up with a Potato Crust instead of the classic pastry crust.
What Is A Strata? What Is Savory Bread Pudding?
When you think strata, think savory bread pudding.
That's right. These two are one in the same!
I'll just let that blow your mind for a second. Because, it totally blew mine.
In the American strata (or savory bread pudding), ingredients such as cheese, veggies, and meat are layered with cubed, stale bread (particularly the crusty variety). A custard mixture of 1 part eggs to 2 parts milk, up to equal parts of each, is blended with seasonings and poured over the layers.
The dish is let stand for a while before baking, so that the bread can absorb the liquid. Then, it is baked to eggy, crispy-topped perfection.
And Finally, What Is A Breakfast Casserole?
While "breakfast casserole" tends to end up as a catch-all term, it is most often used to refer to American, baked breakfast dishes that do not contain bread.
Instead, they include potatoes or hash browns with a custard mixture and other ingredients such as vegetables, meats, and cheeses. These are then baked to resemble something similar to a crust-less quiche… with potatoes.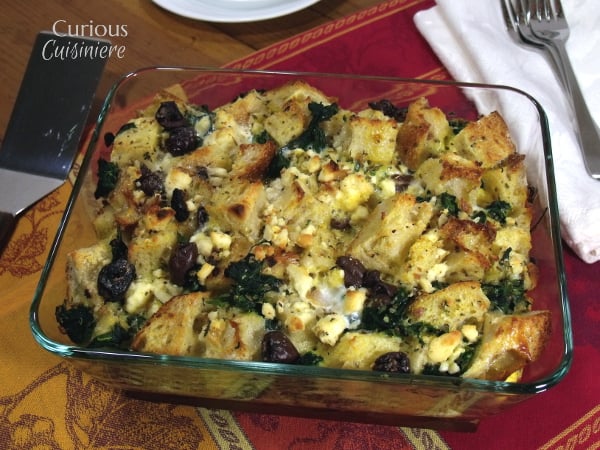 Our Overnight Green Breakfast Strata Recipe
Today, we're talking about bread and eggs.
So, today's dish falls into the strata (or savory bread pudding) category.
But, if you love the flavors of Kalamata olives and feta cheese as much as we do, they you'll probably just call it delicious!
What we really love about this dish is that all the work is done ahead of time. The dish is left to soak overnight, so that, in the morning, all you have to do is pop it into the oven.
We love brunch dishes that are easy and don't require any hassle or mess day of. Don't you?
And A Mother's Day Note
Today's post wouldn't be complete without a Mother's Day shout out to my wonderful Mom. She taught me to cook very patiently in her kitchen, inspired my fascination with cultural foods and how things were done in days past with the stories of my grandmother's life, and encourages me daily even if we don't have time to connect.
Overnight Greek Breakfast Strata
Spinach, olives, and feta cheese bring an infusion of savory flavor to this easy, make ahead, Overnight Greek Breakfast strata recipe.
Yield: 1 (3 quart) casserole dish
Ingredients
1

onion,

diced

1

tsp

salted butter

8

eggs

1 ½

c

milk

2

tsp

oregano

½

tsp

basil

½

tsp

salt

1

c

frozen spinach,

thawed and chopped,

2/3

c

Kalamata olives,

pitted and drained

½

c

feta cheese,

crumbled

8

c

sourdough bread,

cubed
Instructions
Preparing the Strata
In a small, non-stick frying pan, sauté onions with 1 tsp butter until soft.

In a large bowl, whisk together eggs, milk, and seasonings. Add spinach, olives, cheese and sauteed onions. Mix well.

Cut bread into 1" cubes. Add cubes to egg mixture and toss to coat.

Pour mixture into a greased, shallow, 3 qt baking dish. Cover with aluminum foil and refrigerate overnight.
Baking the Strata
The next morning, place the covered strata in the cool oven. Heat the oven to 375F.

Bake the strata, covered, for 30 minutes. Remove the foil covering and bake an additional 20 minutes, until the strata is puffed and does not jiggle when shaken.

Remove the strata from the oven and let stand 5 minutes before serving.
Nutrition
Calories:
343
kcal
|
Carbohydrates:
45.8
g
|
Protein:
17.1
g
|
Fat:
10.4
g
|
Saturated Fat:
3.9
g
|
Cholesterol:
176
mg
|
Sodium:
896
mg
|
Fiber:
2.7
g
|
Sugar:
5.4
g
If you liked this recipe, here are some similar dishes you may enjoy!