Our Salmon en Croute recipe brings salmon together with flaky pastry and asparagus. Lemon and rosemary give an extra burst of spring flavor to this dish!
What is En Croute?
The French term "en croute" (pronounced on-KROOT) speaks to food that has been wrapped in a pastry dough and then baked.
That's it.
It could be wrapped in pie crust or puff pastry.
It could be baked in a casserole dish or baked stand alone.
As long as it involves something baked inside of a pastry crust, it's "en croute".
(So Beef Wellington, is technically an "en croute" preparation.)
Our Salmon En Croute Recipe
Salmon en Croute is one of the more popular French "en croute" preparations. A thick filet of salmon (or even a whole salmon) is cooked inside of a pie crust.
It's like one seriously epic salmon pie.
Some recipes will have you top with salmon with other aromatics or vegetables, making the salmon en croute a full meal in itself.
We've topped our salmon with a slightly creamy and very springy mixture of asparagus, lemon juice, and rosemary.
We just love those flavors with salmon, and inside this salmon en croute, they definitely don't disappoint!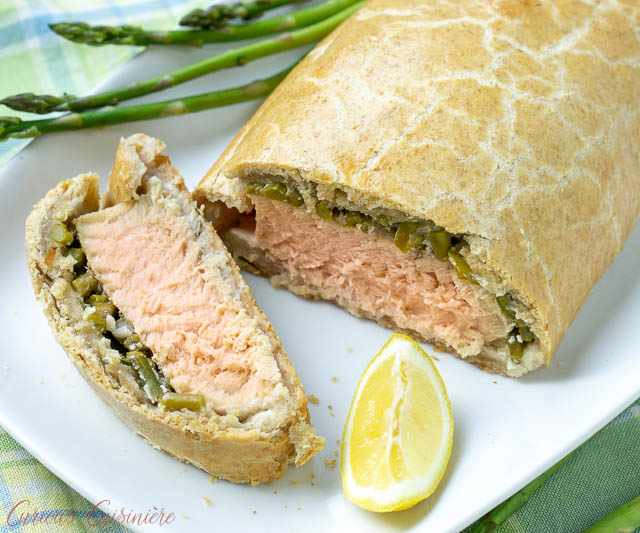 Can Salmon en Croute Be Made Ahead?
If you're looking to make salmon en croute ahead of time, you have a couple of options.
Our personal recommendation would be to prepare your pie crust and asparagus mixture ahead of time. Then you can put everything together immediately before baking.
This way helps ensure that the bottom crust doesn't get too soggy from having wet ingredients on it for too long.
The other option would be to construct your salmon en croute and freeze it. Wrapped in plastic wrap, you should be able to keep the salmon en croute frozen for 2-3 months.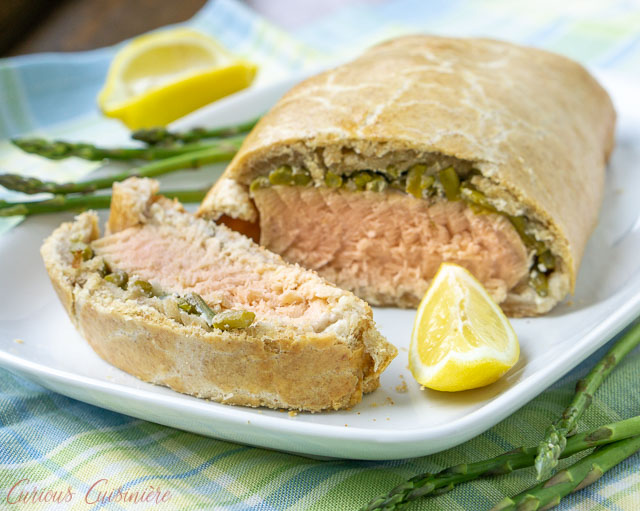 How To Cook Salmon en Croute From Frozen
If freezing your salmon en croute, you will want to bake it from frozen when you, are ready for it.
To bake from frozen, we would recommend reducing your oven temperature to 350F. Keep in mind, the salmon will take longer to cook.
Depending on the thickness of your salmon filet, it should take around an hour to an hour and a half. If the pastry starts to get too dark, you can tent it with aluminum foil for the last part of the cooking time.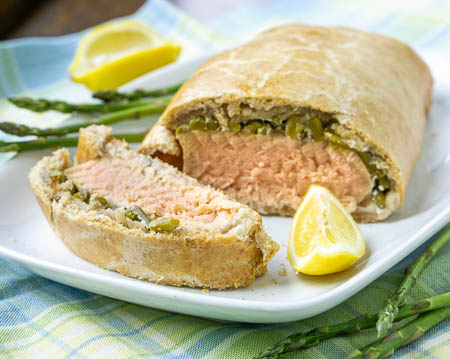 Salmon en Croute
Add your favorite protein, this quick and easy Pad Thai recipe makes this Thai street food simple to make at home!
---
Ingredients
½

lb

asparagus,

2

Tbsp

sour cream

or plain yogurt

1

tsp

lemon juice

1

clove

garlic,

minced

½

tsp

rosemary

½

tsp

salt

1

lb

salmon filet,

de-boned and skinned
For the Crust
1

tsp

salt

10

Tbsp

unsalted butter,

soft

6

Tbsp cold

water

1

egg,

beaten (to use as egg wash)
Instructions
Prep The Asparagus
Bring a 3 qt pot of water to a boil. Cut the stiff and woody ends off of the stalks of asparagus. When the water is boiling, drop the asparagus into the water and cook for 2 minutes. Remove the asparagus and immediately plunge into a bowl of ice-cold water (to stop them from cooking any further).

Pat the asparagus dry with a towel and slice into rounds. Mix the asparagus pieces with sour cream (or plain yogurt), lemon juice, garlic, and rosemary. Set aside.
Make Your Pie Crust
In a large bowl, mix together flours and salt.

Mix in the butter with your fingers until the mixture is crumbly and resembles wet sand.


Add 5-6 Tbsp of cold water and continue to mix until the dough comes together, adding additional water if needed for the dough to stick together. Knead the dough briefly into a ball.
Put It All Together
Preheat the oven to 400F.

Roll the dough out on a well-floured surface into a rectangle twice the length and twice the width of your salmon fillet. Gently transfer the rolled dough onto a baking sheet lined with aluminum foil.

Brush the rolled dough with some egg wash and place the salmon fillet onto the dough. Spread an even layer of the asparagus mixture over the salmon.

Gently fold the crust over top of the salmon, moistening the edges with water and pressing together to seal. (Cut off any over-excess if you have it and use to decorate the top.) Cut a few steam slits in the top crust and brush it with egg wash.

Bake for 40-50 minutes (depending on the thickness of your salmon fillet), until fragrant and golden.

Serve immediately.
---
Recipe Notes
This recipe from 2013 was updated in 2018. We made the salmon en croute even better. Enjoy!
If you liked this recipe, here are some similar dishes you may enjoy!