Creamy, mustard-y deviled eggs just make us think of Easter and spring. You might not believe it, but deviled eggs' history is quite ancient!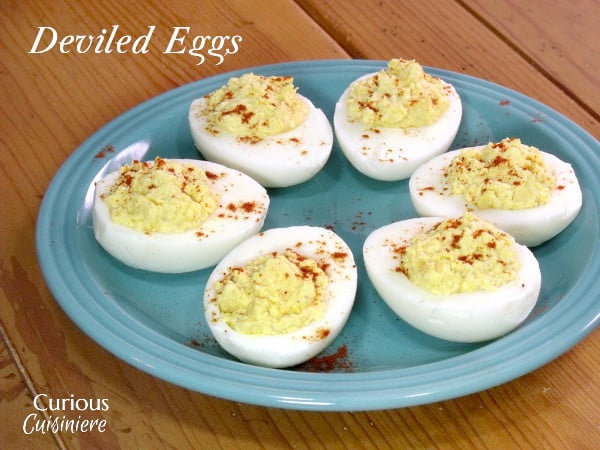 Deviled Eggs' History
The roots of the modern-day deviled egg can be traced back to ancient Rome, where boiled eggs were served with spicy sauces as a first course. The Romans actually had a saying, "ab ova usque ad mala" which literally meas "from eggs to apples," meaning from the beginning of a meal to the end.
This dates our deviled friends back the the first century AD!
The mashing of yolks to create a stuffing for the eggs was first seen in the 13th century in Spain. By the 15th century, deviled eggs, closer to what we know them as, were commonly found across Europe.
Why Are Deviled Eggs Called Deviled?
While widely popular across Europe by the 15th century, they weren't yet known as 'deviled.'
It wasn't until the 18th and 19th centuries when the word 'deviling' became widely used to describe the process of making a food spicy. And, many cultures still use other words "mimosa eggs," "dressed eggs," "salad eggs," and "stuffed eggs" to avoid associating this appetizer with Satan.
Making Lightened Up Deviled Eggs
Mayonnaise is now a common binder for the egg yolks, but plain yogurt or sour cream also work nicely, particularly if you are looking to lighten things up a bit. We do find that if we use sour cream or yogurt, we need to use a little extra vinegar to make up for the mayo tang that we do love in our deviled eggs.
This recipe reflects our preference for deviled eggs with a bit of a kick from the mustard, a bit of vinegar tang, and a slight sweetness. Feel free to play with the quantities of mustard and seasonings until you find your perfect combo!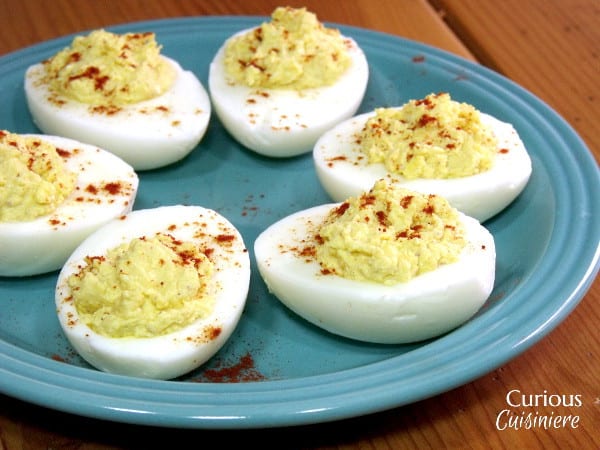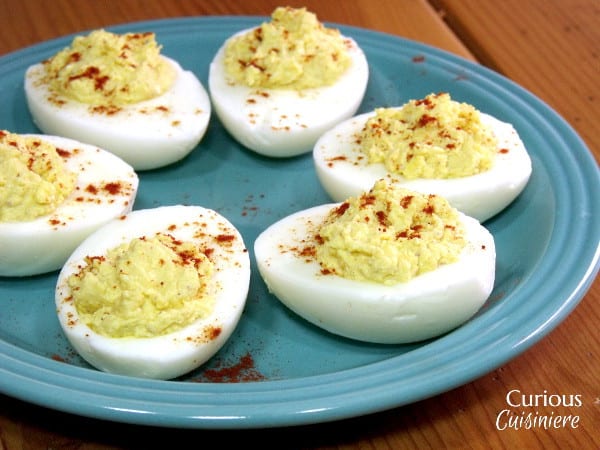 Deviled Eggs
Creamy, mustard-y deviled eggs just make us think of Easter and spring.
Yield: 8 deviled eggs
---
Ingredients
4

hard boiled eggs,

peeled *

2

Tbsp

mayonnaise,

sour cream, or plain yogurt

1

Tbsp

mustard

(choose your favorite)

¼

tsp

salt

¼

tsp

sugar

1/8

tsp

ground white pepper

½

tsp

white vinegar

(optional)

Paprika to garnish
Instructions
Cut the hard boiled eggs in half and place the yolks in a medium bowl. Set the whites aside.

Add remaining ingredients (except the vinegar) to the yolks and mash together until smooth. Taste and add the vinegar if desired.

Fill each egg white with roughly 1 tsp of mashed yolk.

Sprinkle paprika over top as a garnish.
---
Recipe Notes
*To Hard Boil Eggs: Place the eggs into a pot or saucepan that they fit nicely in a single layer. Add 1 Tbsp of salt. Cover the eggs with 1 inch of cold water. Cover the eggs and heat them over medium heat until they come to a rolling boil (10-15 minutes). Remove the pan from the heat and let the eggs stand for 3 minutes. Drain the eggs and fill the pot with changes of cold water, until the eggs are cooled. Remove the eggs from the water and let them dry. Store deviled eggs in the refrigerator for up to 1 week. 
If you liked this recipe, here are some similar dishes you may enjoy!