Avgolemono is a light, Greek soup that combines chicken, rice, and lemon in a perfectly refreshing meal or starter.  
Avgolemono
While we're talking about avgolemono as a soup today, it is actually a family of sauces and soups that are thickened with an egg and lemon mixture.
As a soup, avgolemono is quite simple. Starting with a chicken base, rice (or sometimes orzo) is added for substance. And, the soup is seasoned with only salt, pepper, and a few herbs.
It really is a simple soup, but so refreshing for a spring day.
Using Egg As A Soup Thickener
When using eggs as a soup thickener, it is important that the eggs are tempered (slowly raised in temperature). This will ensure that you don't wind up with bits of cooked egg in your soup.
We temper the eggs by adding hot soup broth slowly to the beaten egg and lemon mixture. This warms the egg mixture slowly, before pouring it into the soup, where it will do its thickening magic.
Our Greek Avgolemono Recipe
For our version of avgolemono, we are starting the traditional way, with chicken breast and water. By cooking the chicken breast first, we create our own mild chicken stock that will become the broth base for the soup.
After cooking the chicken, it is removed and chopped, while the rice is cooked in the fresh broth.
This is a wonderfully light soup with the bright flavor of lemon and herbs that is great as a light spring lunch or as a starter to a dinner meal.
Avgolemono (Greek Egg and Lemon Soup)
Avgolemono is a light, Greek soup that combines chicken, rice, and lemon in a perfectly refreshing meal or starter.
Ingredients
1 ½

lbs

chicken breast

1

onion,

halved

1

carrot,

cut into 1 inch chunks

1

bay leaf

4

c

water

1

c

rice,

dry

½

- 1 tsp

salt

½

- 1 tsp

ground black pepper

2

eggs,

room temperature

1 ½

lemons,

juiced (roughly 1/4 c juice)

fresh parsley

(for serving)
Instructions
In a medium soup pot, place the chicken, onion, carrot, and bay leaf. Cover with water. Cover the pot and bring the mixture to a boil. Reduce the heat to medium low and simmer for 15 minutes until the chicken is cooked.


Remove the chicken from the cooking liquid and set aside. Remove the onion, carrot, and bay leaf. Discard.


Add the rice to the cooking liquid in the pot. Bring the mixture back to a simmer and simmer, covered, 9-10 minutes, until the rice is cooked.


Shred or cut the chicken and add it to the broth once the rice is cooked. Taste and add the salt and pepper as desired.


Beat the egg in a medium bowl. Add the lemon juice and whisk until combined. Slowly pour 2-3 ladles of the hot soup broth into the egg and lemon mixture, mixing constantly.


Pour this warmed egg mixture into the soup pot while stirring constantly. Cook over low heat, stirring, until slightly thickened, 3-4 min.


Top with chopped parsley for serving, if desired.

Notes
This recipe from 2013 was updated April 2017. We made the soup even more authentic and tasty! Enjoy!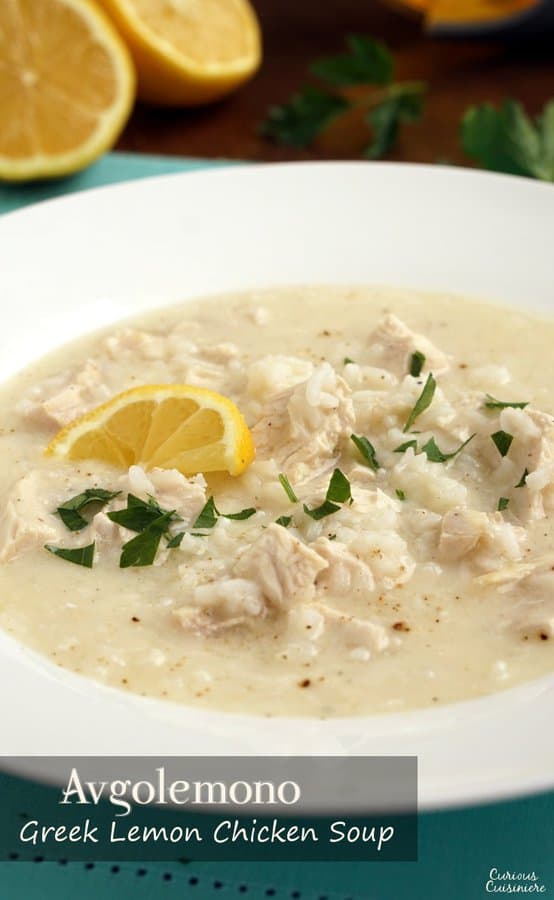 ---
This is one of the recipes from the early days of Curious Cuisiniere. We've updated our pictures since we first made it, but we've left the original images here as a fun throwback and shout out to how far we've come. Enjoy!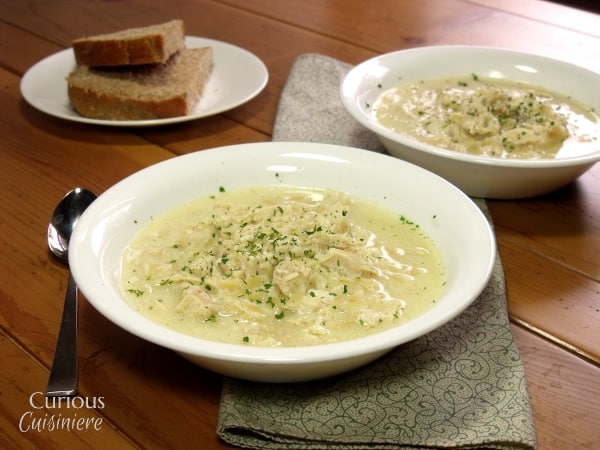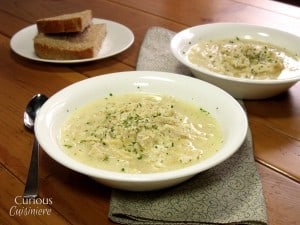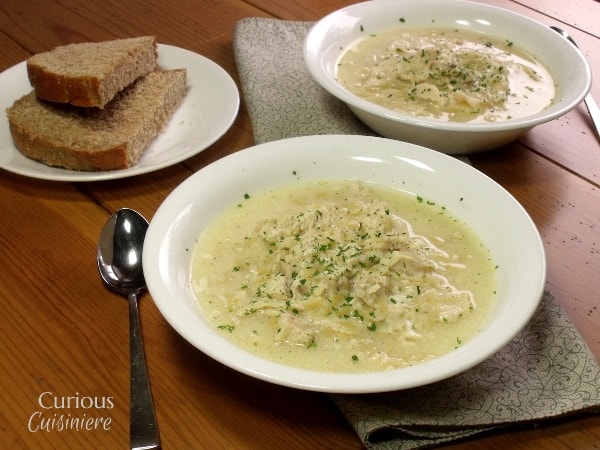 If you liked this recipe, here are some similar dishes you may enjoy!