Fasolakia is a traditional recipe for Greek green beans that involves simmering the beans in an oil and tomato sauce. The simple flavors are fresh and delicious, perfect served as both a side and a main.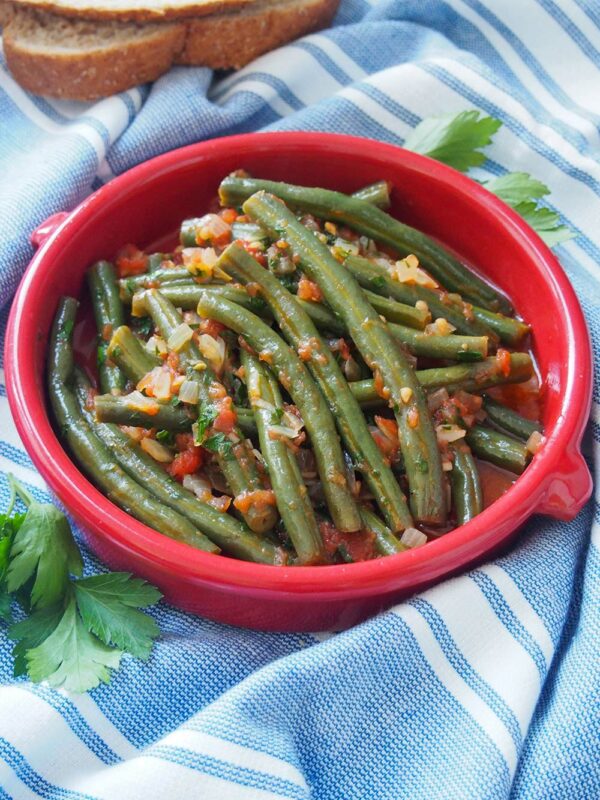 Green beans might be something that you imagine either simply steamed or made into a Southern casserole, but many cultures have different ways of preparing them.
In Germany and Austria, you will find them with speck (a smoked ham) as speckbohnen. In China you'll find them in various stir fries, sometimes with added spice.
In Greece, the classic preparation is simmered in an oil and tomato sauce. It's simple, comforting and delicious.
Lathera dishes
Fasolakia is part of a family of Greek dishes known as "lathera" or ladera. All dishes in this style are cooked in olive oil, often with tomatoes as well. (Like this recipe for Greek stuffed tomatoes.)
The seasonings are simple, but with plenty of flavor. The oil really adds to the end flavor of the dish.
"Lathera" means "ones with oil" coming from the Greek word "lathi" for oil. Lathera dishes are predominantly vegetarian and it's a style of cooking that evolved from peasant cooking.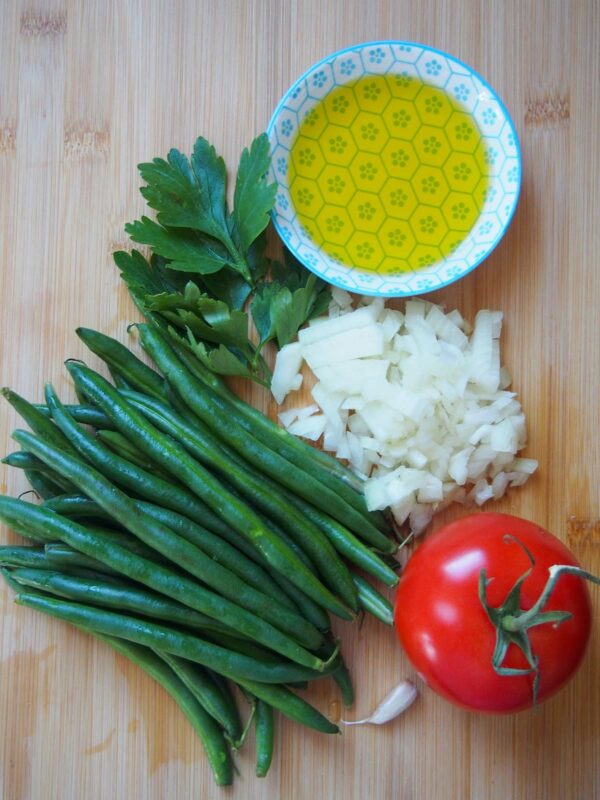 Originally, the vegetables were cooked just with oil and water.
As tomatoes were introduced to Greece in the 17th century and gradually became popular more in the 19th century, they were added to many lathera dishes as well.
For this dish, oil and tomatoes is now considered the typical way to cook it.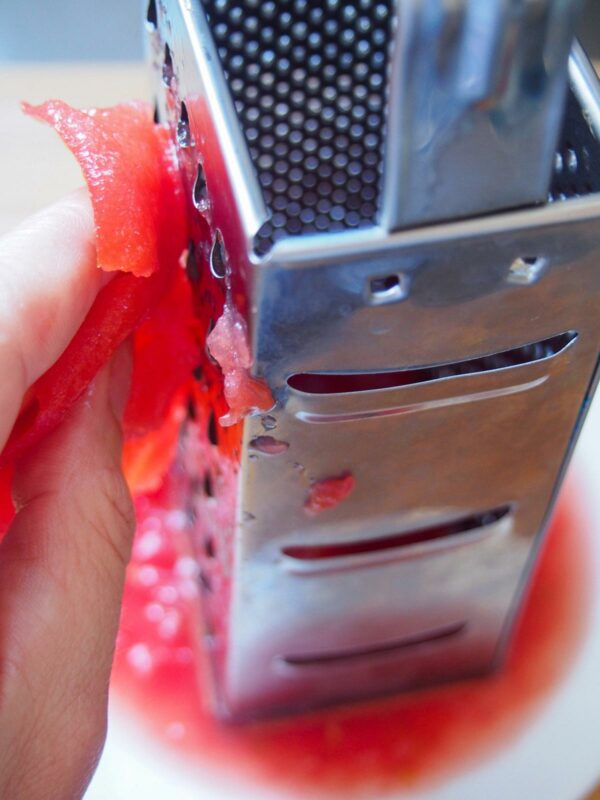 Olives in Greek cooking
Olives have been grown for many centuries in Greece and the country remains one of the larger producers in the world (in the top three). In fact, some of the earliest records of olive growing are from Crete under the Late Minoan period in 1500BC, but they are believed to go back further.
Olives were important to the Ancient Greeks, and they helped in spreading the cultivation of olives around the Mediterranean region.
They considered eating olives important to your health, and it is still considered part of what makes the Mediterranean style of diet healthy.
Olive oil is the main fat used to cook the majority of foods in Greek cooking, both for shallow frying and roasting. It is also used as a seasoning, in marinades as well as simply to dip bread into.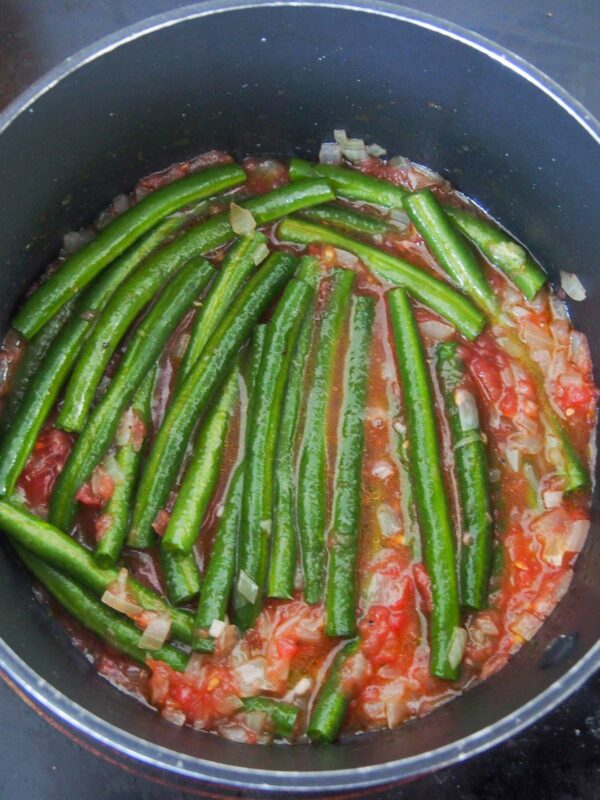 When would you eat fasolakia?
This dish is very versatile and can be served as part of a meze platter alongside a range of other dishes. This appetizer spread often includes both cold items such as hummus, tzatziki and baba ghanoush as well as warm dishes like saganaki, meat dishes and vegetables like these beans.
Most traditionally, though, this dish is served as a vegetarian main dish, with bread on the side. This is true into modern times particularly during Lent, when many abstain from meat.
Lent in the Greek Orthodox church
The Greek Orthodox church follows the Eastern timetable for calculating Easter (Pascha) so the date is typically later than the date under the Western calendar.
Lent (often called Great Lent) is still 40 days, but the Orthodox timeline includes Sundays in the calculation. (Western tradition does not, so Lent ends up being 46 days from Ash Wednesday to Easter.)
Great Lent is the most important fasting period in the Orthodox church. Traditionally, meat and dairy are abstained from the whole time. Oil and wine are allowed only on Saturdays, Sundays and some feast days. Fish is only allowed on Palm Sunday.
As such, vegetable dishes, which are a core part of the Greek diet in general, take on a particular importance during this period.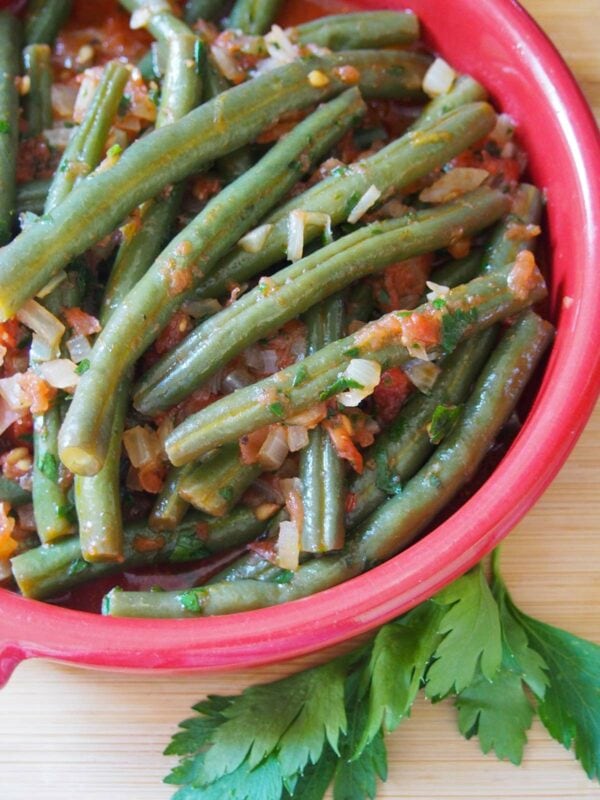 Whatever the reason or timing, fasolakia is an easy and tasty dish that is delicious both as a side or principle dish.
It's a simple combination of flavors that lets them all really shine. And a great way to use some green beans in a different way.
Yield: 2 servings as a main (4 as a generous side/meze)
Fasolakia (Greek Green Beans)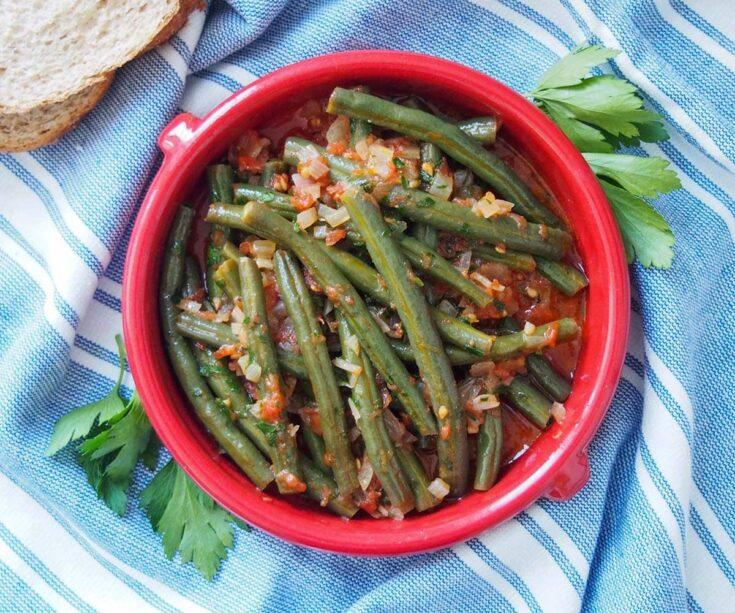 Fasolakia is a traditional recipe for Greek green beans that involves simmering the beans in an oil and tomato sauce.
Ingredients
12 oz green beans
1/2 med-large onion
1 med-small clove garlic
8 oz tomatoes (around 2 medium-large)
1/4 cup olive oil
1 pinch sugar
1/8 tsp salt (or to taste)
1/8 tsp pepper (or to taste)
2 Tbsp chopped parsley
Instructions
Trim the ends off the beans and set aside. Finely chop the onion and garlic.
Cut the tomatoes in half through the middle and grate them into a bowl/deep plate to catch all of the flesh and juices. To grate, hold the tomato half by the end and grate the inside edge so that you are left holding the skin. Discard the skins.
Warm roughly half of the oil in a medium-small pot over a medium heat then add the onion. Cook the onion for a few minutes to soften it then add the rest of the oil and the garlic.
Stir to mix then add the tomatoes, sugar, salt and pepper. Cook the mixture for a minute or two to warm through then add the beans.
Stir to try to get all of the beans under the liquid, then cover the pot. Reduce the heat and simmer for around 30-40 minutes. Keep an eye on the liquid level, particularly towards the end. If it looks dry, add a little water.
Sprinkle in the parsley, stir this through, and cook a minute more before serving.
Served as a side dish, appetizer, or as a main with bread and feta cheese.
Nutrition Information:
Yield:
2
Serving Size:
1/2 of recipe
Amount Per Serving:
Calories:

333
If you liked this recipe, here are some similar dishes you may enjoy!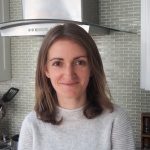 Caroline lived and traveled various places before settling in Cambridge, MA. She still fits in some travel with her family, but often settles for traveling through food instead. She shares her recipes at CarolinesCooking.com, where there's plenty of international inspiration using seasonal ingredients, as well as creative recipes for all to enjoy. Caroline is originally from Scotland, where she grew up hiking and skiing, both things she still loves to do when her two young boys give her a chance. You can follow along with her cooking adventures on Facebook, Instagram, Twitter, and Pinterest.