Traditional hummus combines just a few simple ingredients for a silky smooth and slightly nutty dip.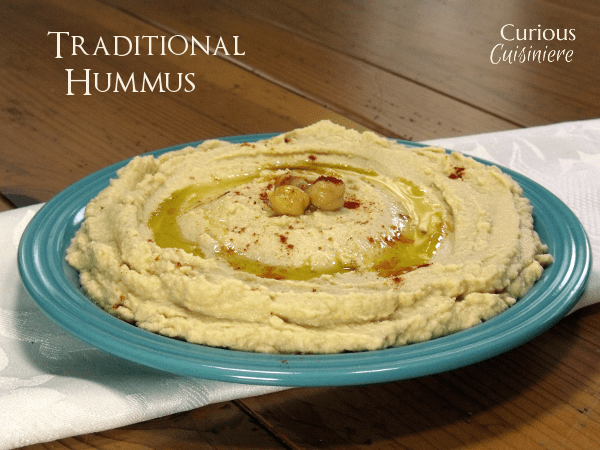 Traditional Hummus
Hummus is a dish traditional in the eastern Mediterranean region including Greece and many parts of the Middle East and North Africa. In this part of the world, hummus, the Arabic word for chickpea, is more than just a dip (like we view it in the States). It is a daily, nourishing staple often served for breakfast and light dinners with pita bread and as a starter for the larger noon meal.
Due to the high nutrition content of both chickpeas and tahini, it is a wonderful way to get a good does of fiber, protein, iron and vitamin C. So, why not eat it often?
In the States, we see so many different variations on hummus. We've seen cultural fusion variations like pesto hummus, jalapeno hummus, chipotle hummus. We even shared a cumin-scented Oregano Hummus a while back. And, don't get us wrong, that hummus is deliciously herby and smoky. But, today we wanted to share a traditional hummus with you that is closer to the 'real deal' authentic Middle Eastern hummus.
Traditional hummus is a thing of beauty. It is smooth, silky, and light in texture. It uses simple, contrasting and complementary ingredients for subtle flavors that come together in a delicate balance. It might surprise you, if you have never tasted a supper light hummus before. But, it is a surprise that is well worth experiencing.
The Ingredients In Hummus
Chickpeas – Cook your chickpeas from dried beans. Period. You will get better flavor (and a lower salt content) in your finished hummus if you cook the beans yourself. And. it's not difficult. The beans do their thing on the stove while you do yours around the house. If you're like us and use a lot of chickpeas, cook up a huge batch and freeze the cooked chickpeas for later.
You will know the chickpeas are done and ready for the hummus when you start to notice the skins falling off in the boiling water. The chickpeas will be soft all the way through. So soft, in fact, that you could mash them with your fingers. (If you are boiling a big batch of chickpeas for later and you want some that aren't quite at the mash-able state, just remove what you want from the boiling liquid a little before your hummus chickpeas are done. Then, you can freeze these to use in salads or other dishes.)
Tahini – This wonderful, nutty paste (similar in style to American peanut butter), helps create that smooth consistency and gives the hummus a slightly nutty flavor. Do yourself (and your hummus) a favor and make your own tahini using THIS RECIPE. Your hummus will thank you.
Lemon juice – Again, fresh ingredients really make a difference here. Use fresh squeezed lemon juice for that bright, fresh citrus burst that will cut through all those good fats in the tahini and chickpeas, creating the perfect balance of acidity levels on your tongue. Plus, don't you want that natural vitamin C?
Garlic – A must for hummus, but don't go overboard. We do love garlic, but when it comes to hummus, we want the hummus that is flavored with garlic, not a garlic dip.
Oil – Olive oil is traditionally for drizzling over top of the hummus. Many recipes will call for olive oil in the hummus, and yes, that will help create a smooth consistency, but it will also weigh down your hummus. Smooth, light, and full of flavor is what we are looking for. Not a hummus that has been diluted with oil. The drizzle on the top gives just enough of an added boost of creaminess, plus the health benefits of the olive oil.
Is There A Substitute For Tahini?
If you don't have tahini and don't feel like making your own, we'll let you in on a little (seriously unauthentic) tahini substitute that we've used in a pinch: peanut butter and sesame oil.
Yes, it sounds strange but 1 Tbsp of a good quality (not too sweet), creamy peanut butter and 1 tsp of sesame oil (the kind that we keep on hand for Asian stir fries) acts wonderfully to mimic the flavor and texture that tahini adds to hummus.
It's not a 100% replacement, but it's great in a pinch!
Working With Chickpeas
The starches in the chickpeas will cause your hummus to thicken slightly as it sets. If you are making your hummus ahead of time, make it a bit thinner than you ultimately want it, to allow for some thickening. If you can't wait to eat your hummus (we never can), then just save a little of the cooking liquid to stir into the hummus a few hours after making it to rejuvenate the smooth consistency.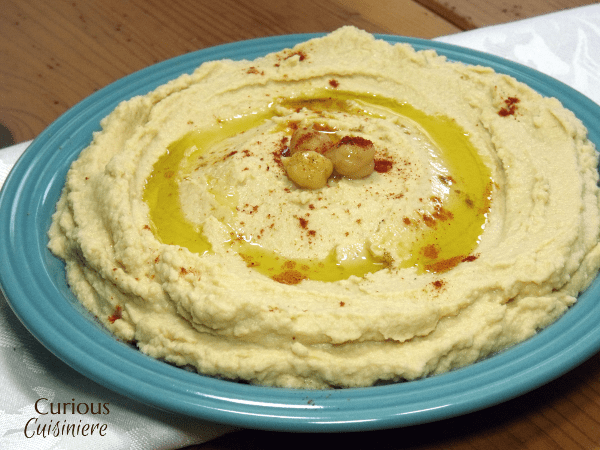 Traditional Hummus
Traditional hummus combines just a few simple ingredients for a silky smooth and slightly nutty dip.
Yield: 2 c
Ingredients
¾

c

chickpeas,

dry, soaked overnight (or 2 c cooked chickpeas*)

½

small

lemon,

juiced (roughly 1 Tbsp juice)

2

garlic cloves

2

Tbsp

tahini

1

tsp

salt

¼ - ½

c

chickpea cooking liquid

or water
Instructions
Place soaked and drained chickpeas in a saucepan and cover with 1 inch of water. Cover the saucepan and boil chickpeas until extremely tender, roughly 1 hour.

Drain the cooked chickpeas, reserving a cup of the boiling liquid.

Transfer the drained beans to a food processor with the lemon juice, garlic, tahini, and salt. Process until the mixture is well blended. Add the reserved chickpea cooking liquid (or water, if you forgot to reserve the liquid) a little at a time, blending after each addition, until your hummus reaches a silky smooth consistency.
Notes
*If you'd like to use canned chickpeas, you will need 2 cans for this recipe. Drain the chickpeas before adding them to the food processor, but reserve the liquid to use in thinning out your hummus, as needed. 
This recipe was updated in December 2016. We made the hummus even more flavorful! Enjoy!
Nutrition
Serving:
1
g
|
Calories:
67
kcal
|
Carbohydrates:
12.6
g
|
Protein:
3.8
g
|
Fat:
4.2
g
|
Saturated Fat:
0.6
g
|
Sodium:
305
mg
|
Fiber:
5.8
g
|
Sugar:
0.6
g
If you liked this recipe, here are some similar dishes you may enjoy!