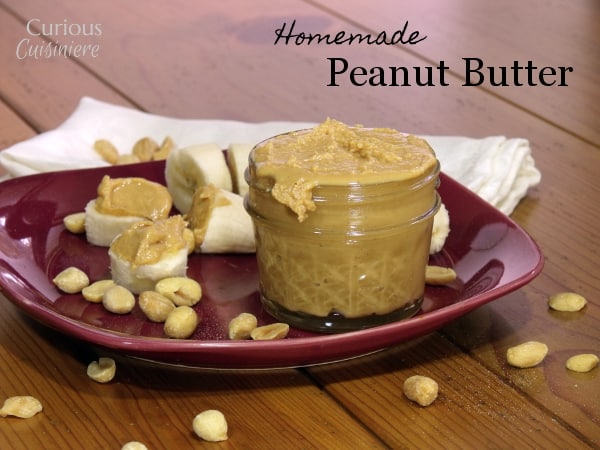 A love of peanut butter has been passed down through my mom and her mother. All three of us have been known to slather the stuff on practically any breakfast, devour it for lunch and even sneak a spoonful for a snack.
I will put peanut butter on nearly everything: bananas, carrots, celery, raisins, oatmeal. I've even been known to slip it into a turkey sandwich. (It's WAY better than you would think!) And, I have it from a fellow peanut-butter fiend that it is fantastic on a burger as well. But, that one, I have yet to try.
Nuts and nut butters are a great source of protein, fiber and vitamins. While peanut butter does contain 160-220 calories and a relatively high fat content per each 2 Tbsp serving, it is incredibly nutrient dense, and the fiber and protein in those calories fill you up and keep you feeling full for longer, making peanut butter a great, healthy snack (eaten in moderation).
The problem with peanut butter comes in when you don't read the label.
Many store-bought versions fill their jars with added hydrogenated oils, salt and sugar. So, if you're buying store bought, make sure to check the ingredients. They should be very straightforward. All you really need to make peanut butter is nuts. A little oil and salt and/or sweeteners can boost the flavor, but even those flavor enhancers aren't really necessary.
With so few necessary ingredients, it's a wonder more people don't make it at home.
It's true. Once you start making your peanut butter from scratch, you might not be able to go back.
Don't say I didn't warn you!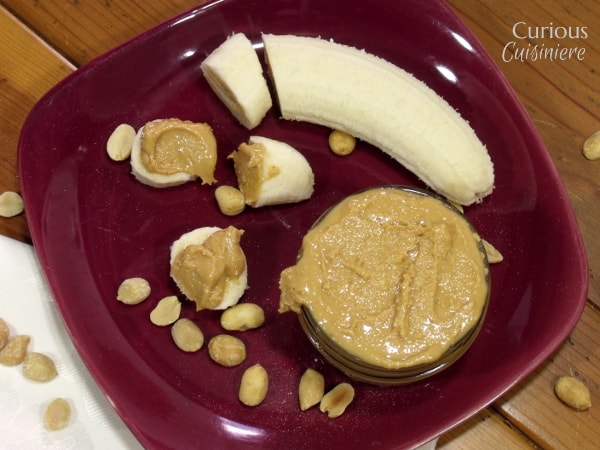 Homemade peanut butter tastes more like a roasted nut, and you can change the flavor to your family's preference: if Jif is your favorite brand, try adding a pinch of sugar and a smidge of molasses to your homemade butter.
We have also found that since switching to homemade peanut butter, the silky smooth texture of store bought butters just feels fake and gummy. Homemade butter has a more natural consistency with fine bits of nut strewn throughout.
To make our peanut butter, we like to start with unsalted peanuts. Unsalted lets us control the saltiness of our peanut butter. It doesn't matter if they are dry roasted or not, we'll be re-roasting them again anyway to give a deeper flavor and get the oils softening.
After the nuts have been roasted (it takes less than 10 minutes), they go into the food processor. As you process you will see the nuts break apart into a crumbly mess, but keep going. As you watch, the crumbs will start to clump together, and after a minute, you will have a thick paste.
Keep going.
It's easy to get impatient when making nut butters and think you have to add oil too soon. Just remember that nuts have a lot of oil in them, and let them do their thing.
After another minute or two, the paste will start to thin out and resemble the peanut butter you are used to. At this point you can add a little oil (peanut or other) if you like your peanut butter very creamy. Add salt, if you like it a bit salty, or a sweetener, if you like some sweetness. Then, process some more, until it reaches a consistency and flavor you like.
Just remember, homemade peanut butter will never reach that Skippy-like smoothness. (Unless, maybe, you have a blender with super, duper power.) But, for us, that's not a problem.
If you like your peanut butter extra crunchy, just lightly pulse some nuts to chop them, and set them aside before making the peanut butter. Then, after you have your creamy base, you can stir the 'crunch' into your butter.

Homemade Peanut Butter
Author:
Sarah | Curious Cuisiniere
Ingredients
2 c peanuts (dry roasted, unsalted if possible)
1-4 tsp peanut oil (or other neutral oil, like canola)
½ tsp honey
¼ tsp molasses (optional, if you like the Jiff sweetness)
⅛-1/4 tsp salt (if your nuts are un-salted)
Instructions
Preheat your oven to 400F.
Spread the peanuts onto a rimmed baking sheet and roast for 6-7 minutes. Remove the nuts from the oven when they have become fragrant and have darkened a shade or two from their original color.
Place the warm nuts in the bowl of your food processor and process until a paste forms, 1-3 minutes. Add oil, 1 tsp at a time, while you are processing or processing in between each addition, until the peanut butter becomes smooth, 1-2 minutes. (If you have very oily nuts, you may not need any oil. If your butter starts to smooth out within the first 3 minutes, just let it keep going without the oil.)
Taste the peanut butter and add in your sweeteners and salt, if you are using them. Always add in small measures and taste as you go. You can always add more, until you reach the peanut butter goodness you are looking for.
Notes
If you would like extra crunchy peanut butter, process ⅓ c of the peanuts first, until they are coarsely chopped. Remove them from the processor and process the remaining nuts as noted above. When your base is as smooth as you would like it, place the peanut butter in a small bowl and stir in the chopped nuts.
Nutrition Information
Serving size:
2 Tbsp (Nutrition Information based in 1 tsp peanut oil, ¼ tsp honey and ⅛ tsp salt)
Calories:
171
Fat:
14.8g
Saturated fat:
2.1g
Carbohydrates:
5g
Sugar:
1.4g
Sodium:
36mg
Fiber:
2.5g
Protein:
7.5g
If you liked this recipe, here are some similar dishes you may enjoy!