Crisp and buttery with a nutty, almond flavor, this recipe for delicate Vanillekipferl, or Austrian Vanilla Crescent Cookies, creates cookies that look pretty on a platter and are sure to be a hit at your holiday party. 
Christmas Traditions In Austria
In Austria, the weeks leading up to Christmas are counted down on an Advent wreath that is made from evergreen boughs and decorated with candles that are typically all the same color (which differs from the pink and purple ones that we find typically in the States).
Austrian children get a visit from St. Nicholas on December 6th, who brings them chocolates, nuts, and oranges.
If they are good, more presents come on Christmas Eve with a visit from Christkind (a cherub angel representing the Christ child).
Christmas Eve is the main day of Christmas celebration in Austria, starting with decorating the Christmas tree with candles and sweets while singing Christmas carols.
(Did you know that the carol Silent Night (Stille Nacht) comes from the early 1800s in Austria?)
The Christmas Eve meal in Austria often includes fried carp because traditionally Christmas Eve was a day of fasting from meat. Roast apples and braised cabbage are other dishes that may be found on the dinner table, along with Christmas cookies and often a special Christmas cake.
Vanillekipferl: Vanilla Crescent
The name Vanillekipferl (pronounced VAN-el-eu-KIP-fuhl) literally means "vanilla crescent" or "vanilla moon."
These crescent-shaped cookies originate from Vienna, Austria, where they are a much-loved, traditional Christmas cookie. They are also quite common throughout Europe, particularly in Germany, Hungary, Slovakia, and the Czech Republic.
Legend has it that their shape was created to resemble the Turkish crescent moon, to celebrate one of the victories of the Hungarian army over the Turkish army.
Working With Ground Almonds
Ground almonds give these cookies a crumbly texture, but they can also make the dough a bit difficult to work with.
We refrigerate the dough to keep the butter firm, and the dough will crumble as you first start to work with it, but when it reaches that magical place where it is just soft enough from the heat of your hands, you know you're in business and the shaping of the cookies will go quickly and smoothly.
Precise Baking For Our Almond and Vanilla Crescent Cookies
Be careful not to over bake these cookies, or they will be very fragile.
By baking them just until the tips start to turn golden brown, they don't hit that too-crumbly point.
Leaving them on the baking sheet to cool for a few minutes lets them firm up and cool just enough to be easier to handle as you coat them with powdered sugar.
What is Vanilla Sugar?
Vanilla sugar adds a distinct flavor to these cookies.
As simple as it sounds, vanilla sugar is just sugar that has been flavored with vanilla.
It is common in many European baking recipes, and can be found in little packets in the stores. However, in the States, it isn't common to find those little packets of vanilla sugar.
The good news is, it is easy to make yourself.
How to make easy Vanilla Sugar
You can make vanilla sugar simply by mixing 1 cup of sugar with the seeds of 1 vanilla pod.
However, if you don't have a vanilla pod laying around, you can also make vanilla sugar using pure vanilla extract.
To make your own vanilla sugar using vanilla extract, place ½ tsp pure vanilla extract and ¼ c sugar in your food processor. Pulse the two together until the sugar is evenly colored.
The sugar will now be moist, so spread the sugar on a plate to dry.
As it dries, it will clump slightly. So, once dry it needs to be returned to the food processor and pulsed a few more times until you have a fine, vanilla scented sugar.
Store the vanilla sugar in an airtight container in a cool and dry place.  (For your reference, 1 package of vanilla sugar is roughly equal to 1 ½ tsp.)
One you start making vanilla sugar, you might just be addicted to adding the extra flavor to everything from pancakes to coffee, even to sauces.
Get creative!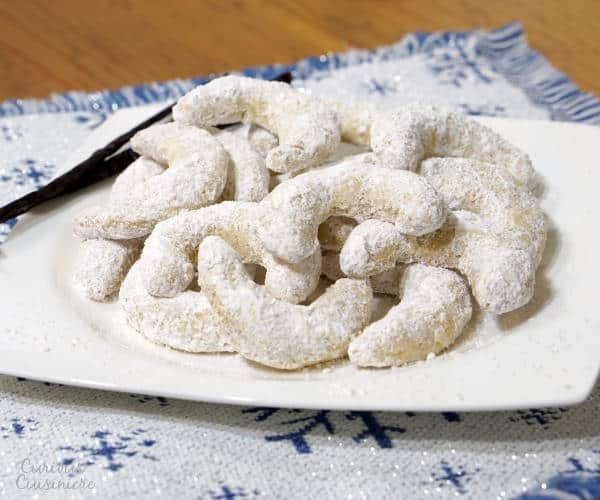 Vanillekipferl (Austrian Vanilla Crescent Cookies)
Yield: 48 (2 inch) cookies
Ingredients
12

Tbsp

butter,

unsalted, cold, cut into chunks

1

c

ground almonds

½

c

powdered sugar

1

Tbsp

vanilla sugar*

Pinch

salt

2

egg yolks
For the Topping
½

c

powdered sugar

1

Tbsp

vanilla sugar*
Instructions
Place the butter and flour in to the bowl of your food processor. Pulse to combine until the mixture resembles coarse crumbs. Place the mixture in a large bowl.

Add the ground almonds, powdered sugar, vanilla sugar, salt, and egg yolks to the mixture. Knead the dough with your hands in the bowl until it comes together, 5 min.

Divide the dough into 4 equal pieces, shape each into a ball. Place the balls in a sealed plastic bag or covered bowl in the refrigerator for at least half an hour, up to 2 days, to develop flavor.

Preheat the oven to 350F. Remove the dough from the refrigerator.

Remove one ball of dough from the refrigerator. Roll it into a rope, 12 inches long. Cut the rope into 12 even pieces. Roll each piece into a 3-4 inch rope and shape it into a crescent. Place the shaped crescents onto a baking sheet lined with parchment or a non-stick baking mat, ½ inch apart. Repeat with the remaining dough, removing one ball of dough from the refrigerator at a time, until you have filled one tray.

Bake the cookies, one tray at a time, for 11-12 min, until the tips of the crescents just start to turn a light golden brown.

Remove the pan from the oven. (And place your second, cool tray with shaped cookies in the oven to bake, if necessary.)

Let the baked cookies rest on the baking sheet for 2-3 minutes while you prepare your sugar mixture. Mix ½ c powdered sugar and 1 Tbsp vanilla sugar together in a shallow bowl.

Take the warm cookies from the baking sheet and carefully coat them in the sugar mixture. Place the coated cookies on a wire rack to finish cooling.

Repeat as needed with the remaining cookies.

Leave the cookies out overnight to harden, and then transfer them to an air tight container to store for up to 1 week.
Notes
*To make your own vanilla sugar: Mix 1 cup of sugar with the seeds of 1 vanilla pod. 
OR
Place ½ tsp pure vanilla extract and ¼ c sugar in your food processor. Pulse until the sugar is evenly colored. Spread the sugar on a plate to dry. It will clump slightly as it dries. Once dry, return the sugar to the food processor and pulse until fine. Store in an airtight container in a cool and dry place.
(1 package of vanilla sugar = 1 ½ tsp of vanilla sugar)
If you liked this recipe, here are some similar dishes you may enjoy!