Give fried chicken an Austrian flair with this easy to make Backhendl recipe. It is the perfect pairing for an Austrian Grüner Veltliner wine!
Austrian Breaded Fried Chicken
If you thought "down south" in the States was the only place where people have an obsession with fried chicken, you might be surprised to know that fried chicken holds a special place in the hearts of those in Austria as well.
Called backhendl (pronounced BAK-ehn-del), the Austrian version of fried chicken is a very simple preparation of salt and peppered chicken pieces that are dredged in flour, egg washed, and then coated with breadcrumbs. Some versions season the chicken pieces with lemon juice as well, but others simply serve the fried chicken with lemon wedges, so that the lemon can be added as you are eating.
Our Backhendl Recipe
Backhendl is traditionally made from a whole chicken. Sometimes the meat is cut from the bones before breading and frying, but it is also common for the chicken to simply be cut into smaller, bone-in pieces for breading and frying. We decided to eliminate the work of dealing with the bones, and use boneless chicken breast for our backhendl recipe.
The quick cooking of the thin cutlets at the high frying heat keeps them juicy on the inside, but makes the golden crust wonderfully crispy. The crispy and juicy backhendl is traditionally served with potato salad and green salad, making for one delicious meal.
Austrian Fried Chicken = Haute cuisine
It's no surprise, really, that Austrians love fried chicken, since one of their most famous dishes is the breaded, fried veal dish, Wiener Schnitzel. (If you'd like to make schnitzel with pork rather than veal, you'll want to check out our recipe for German Schnitzel.) As Wiener Schnitzel was growing in popularity in the early 1800s, so was backhendl. It was a dish of the aristocracy and upper class.
High class fried chicken. And today, we're pairing it with wine!
What is Grüner Veltliner?
We were inspired to make backhendl for this month's Wine Pairing Weekend when we were told that Grüner Veltliner was the wine theme for the month.
Grüner who?
We had never heard of Grüner Veltliner (pronounced GRU-ner Velt-LEEN-er) and, honestly, we didn't know that there was much in the way of wine coming out of Austria.
Boy were we wrong.
Grüner Veltliner is a dry white wine whose name translates to "Green wine of Veltlin." Veltlin was an area in the Alps that goes way back to the 1600s. The region is now a part of Valtellina, Italy, but the grapes used to make Grüner Veltliner have become popular growers in Austria, Slovakia, and the Czech Republic.
The wine can be compared to a unique Sauvignon Blanc. It finishes clean and dry, but has a refreshing and fruity flavor that reminded us of tartness of limes and the bright, soft, earthiness of hay.
It is a beautifully acidic wine that pairs well with a number of different dishes. You could easily pair Grüner Veltliner with a light salad or fish dish. However, it pairs equally as well with foods that have a bit of richness to them, cold meats, soft cheeses, and, yes, fried chicken.
Höpler Grüner Veltliner
We were surprised to find two Grüner Veltliner wines at our favorite wine store, and for our pairing we chose the Grüner Veltliner from Höpler. Höpler is a family owned winery in Burgenland, to the south east of Vienna, Austria. Burgenland is a unique wine region for Austria, not located in the north east, where many other white wine regions can be found. Rather, this region is more known for its reds. But, the region's cold winters and hot summers gives their red and white grapes a wonderful balance of juicy fruit flavor and pronounced acidity.
We loved the light minerality to the Höpler Grüner Veltliner. It was bright and acidic, with a nose that reminded us of green apples. But, for all the wonderful acidity and fruit flavor, it surprised us with its incredibly smooth and dry finish. It was a wonderful, artfully balanced, wine.
The wine was wonderful on its own, but were pleasantly surprised to find out how well it paired with the backhendl. The acidity of the wine cut through the juiciness and richness of the chicken, but because of its dryness, the wine didn't overpower the chicken in the slightest. It was a fun and incredibly enjoyable pairing.
As we were doing our research for today's Wine Pairing Weekend post, we also found that many wineries in Austria serve a cheese spread called liptauer, so we decided to make that as well to pair with the Grüner Veltliner. (You can find our recipe here.) We loved the way the wine complemented the paprika and caper-flavored soft cheese spread making for the perfect pre-dinner appetizer.
If you've never tried Austrian wine or a Grüner Veltliner, we'd really encourage you to give it a shot, especially as we still have a few more warm days surrounding us before the fall chill hits.
Backhendl (Austrian Fried Chicken)
Give fried chicken an Austrian flair with this easy to make Backhendl recipe. It is the perfect pairing for an Austrian Grüner Veltliner wine!
Ingredients
2

lbs

chicken breast

Salt and pepper

2

eggs

1

c

plain breadcrumbs

Canola or vegetable oil

(for deep frying)

Fresh parsley and lemon wedges

(to serve)
Instructions
Cut the chicken breast into ½-¾ inch thick strips. Place the strips on a large plate and sprinkle moderately with salt and pepper.

Prepare your breading station by placing the flour on a plate or in a shallow bowl. In another shallow bowl, beat the eggs with 1 Tbsp of water. In a third shallow bowl or plate, place the breadcrumbs.

One at a time, dip each seasoned piece of chicken into the flour, coating it on all sides. Then into the egg, coating it on all sides. Then into the breadcrumbs, making sure it is well-coated. Place the breaded chicken onto a clean plate and continue until all your chicken is breaded.

In a medium skillet with high sides, heat ½ inch of oil to 350-375⁰F. The oil is ready when you drop some breadcrumbs into the hot oil and they sizzle, slowly darkening in color. (If they sizzle but turn dark or black very quickly, then your oil is TOO hot.)

Place the breaded chicken pieces into the hot oil, being careful not to crowd the pan.

Fry the chicken for 3-5 minutes per side, until the crust is deep golden brown and the chicken is firm.

Remove the fried chicken from the pan and place onto a paper-towel lined platter. Place the platter into a warm (200⁰F) oven to keep it hot, and continue cooking the remaining chicken.

Serve the backhendl hot with lemon wedges and a side salad.
---
Get ready to fall even more in love with Grüner Veltliner with these great pairings!
Hopefully we've peaked your interest about Grüner Veltliner wine, because you'll want to check out these other great pairings from the Wine Pairing Weekend crew. Thanks to Martin Redmond from ENOFYLZ Wine Blog for introducing us to a fun, new wine!
David of Cooking Chat started this event in June of 2014, and every month since then this group of wine and food lovers have had a great time! For more background, check out the original post announcing Wine Pairing Weekend. You can see the full list of past and upcoming #winePW events here.

If you liked this recipe, here are some similar dishes you may enjoy!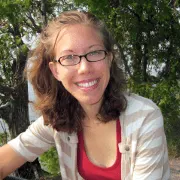 Sarah is one of Curious Cuisiniere's founding duo. Her love for cultural cuisines was instilled early by her French Canadian Grandmother. Her experience in the kitchen and in recipe development comes from years working in professional kitchens. She has traveled extensively and enjoys bringing the flavors of her travels back to create easy-to-make recipes.