German Schnitzel is a quick and easy, yet elegant dish of crispy breaded pork cutlets that is perfect for a weeknight dinner or an Oktoberfest celebration!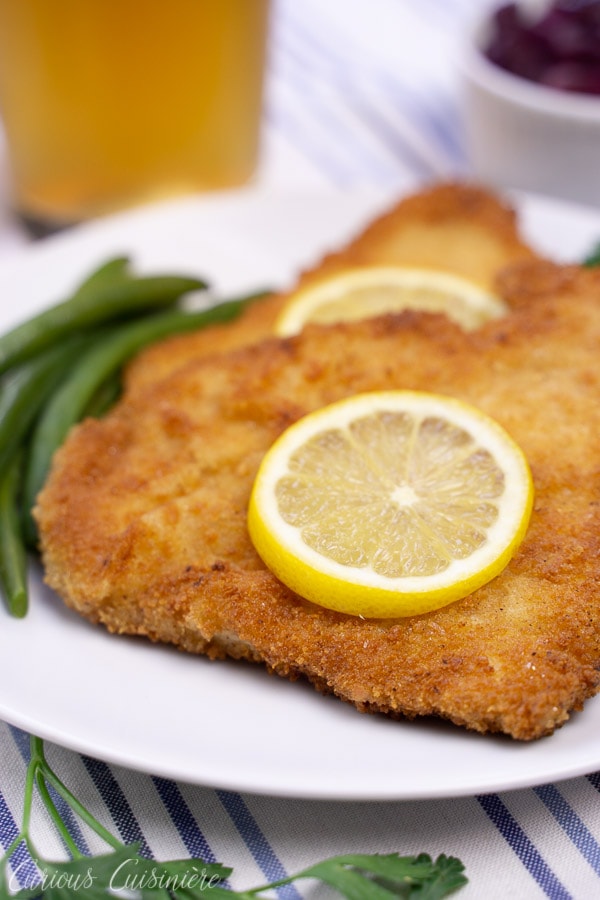 DISCLOSURE: This post was sponsored by the Wisconsin Pork Producers Association. As always, we only share quality products that we love with our readers. All opinions are our own.
What is schnitzel?
At its most basic, schnitzel is a simple way of preparing thin cutlets of meat by breading and frying.
When you think of Schnitzel (pronounced SH-nit-sel), you probably think of Wiener-Schnitzel or Jäger-Schnitzel. However, these two are only a few of the dishes prepared in the schnitzel way.
The origin of schnitzel
"Wiener" (pronounced VIEN-er) means "Viennese" or "from Vienna" in Austria.
The process for making Wiener-Schnitzel was perfected by the Austrians, and so it gained their name.
However the act of making schnitzel can be traced back to the Byzantine Empire in the 7th century!
The legend goes that Kaiser Basileios I, in the late 800's AD, liked his meat to be covered in sheets of gold. This practice soon become popular with the wealthy, but it was also very expensive. (As you could imagine!)
So, an alternative "yellow gold" was created.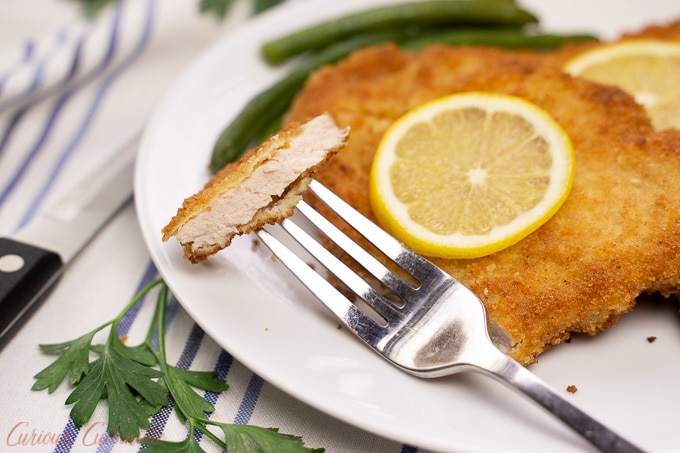 Bread crumbs are much cheaper than sheet of gold!
Using breadcrumbs to coat meat quickly became a widely used preparation method.
In the 1800s, an Austrian general was served a dish of bread crumb-coated veal cutlets while in Milan. He brought the idea back to the Austrian Kaiser, and it was in Vienna that Wiener-Schnitzel was perfected and became famous.
What kind of meat is used for schnitzel?
There are many variations of schnitzel using many different types of meat.
Wiener-Schnitzel must be made with veal
Schweine-Schnitzel is made with pork
Puten-Schnitzel uses turkey
Hänchen-Schnitzel is made with chicken

What cut of meat is used for pork schnitzel?
Today, we are sharing a recipe for the most common German type of schnitzel, which is made with pork – schweineschnitzel.
For this dish, we find the easiest cut to start with is a boneless pork loin chop, sliced not too thick, but not too thin either.
You should be able to ask your butcher to cut the chops to your desired thickness, if you can't find what you're looking for on the shelves.
Once we pound the pork, it will cook quickly, just a few minutes on each side (depending how hot your oil is).
To ensure you end up with schnitzel that is crispy on the outside and juicy on the inside, you want to cook your pork to 145F.
It is ok if the pork has a blush of pink when you cut into it. Actually, it should, for best tenderness and juiciness. It used to be that common knowledge was to cook pork to 165F, but often that lead to over-cooked, dry pork. Particularly pork chops.
US pig farmers have a strong commitment to safety and quality, which you can learn more about at PorkCare.com. And it is nice to know that when you cook US pork, you can be confident in the product that family farmers are committed to.
How to make German schnitzel
Schnitzel, while it looks like an impressive dish is incredibly easy to make.
Start with thin cuts of meat
Pound them even thinner
Coat in breadcrumbs
Fry them
What looks like a fancy meal comes together in about 30 minutes.
Really!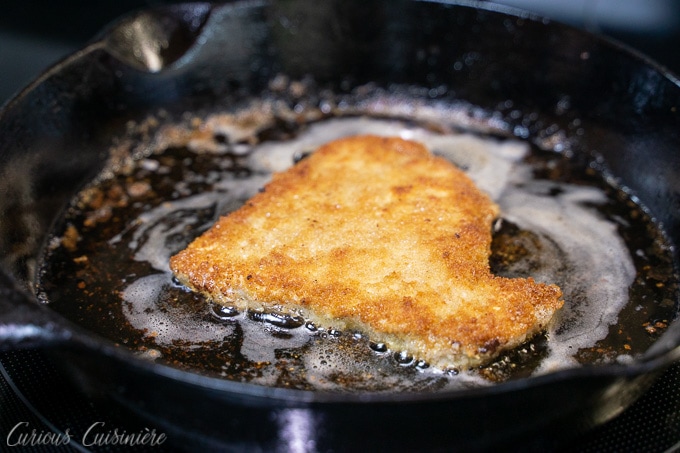 The thinner the cuts of meat you start out with, the less pounding they need.
The goal of pounding them thin is to tenderize the meat and get them to an even thickness that will cook all the way through in the time it takes to turn the breading to a nice golden brown.
What sauce is served with schnitzel?
While not all schnitzel is served with sauce, there are some very common variations that do.
Jäger-Schnitzel (hunter's schnitzel) is topped with a mushroom sauce
Zigeuner-Schnitzel (gypsy schnitzel) is topped with a tomato-based sauce that includes peppers and onions
Käse-Schnitzel (cheese schnitzel) is topped with melted cheese

What is traditionally served with schnitzel?
Schnitzel that does not have a sauce is traditionally garnished with lemon slices and parsley. The lemon adds a nice acidity that cuts through the fat from the frying.
Schnitzel is often served with a starch, like Spätzle (German dumpling), French fries, or German potato salad.
A green salad or green beans also make a nice addition to round out the meal and add light complement.
Yield: 4 servings
Traditional German Schnitzel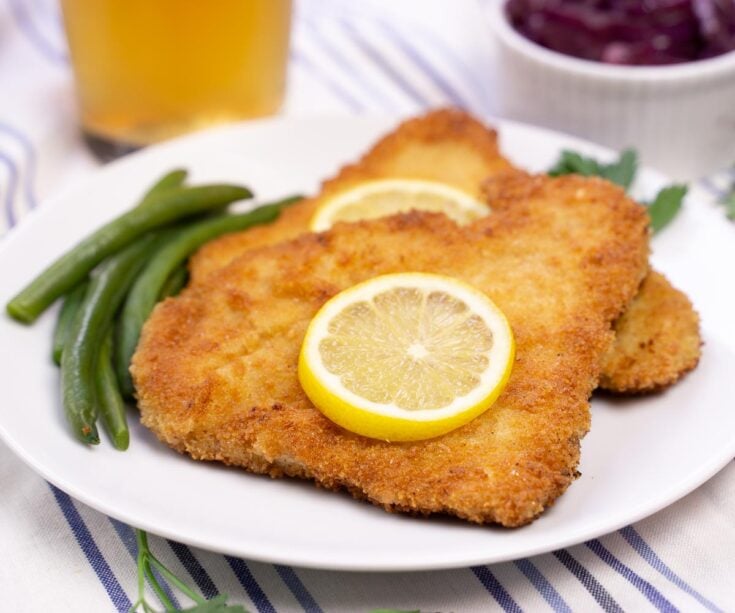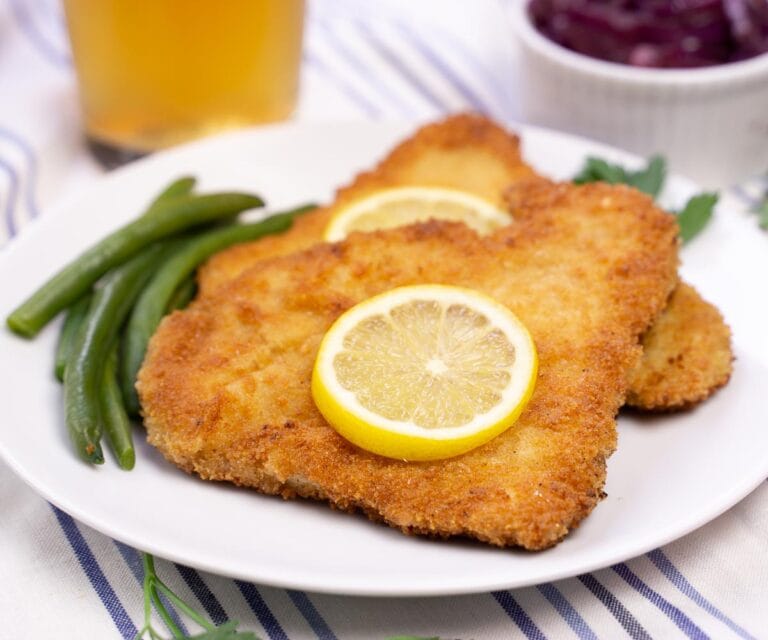 German Pork Schnitzel is an easy yet elegant dish that is perfect for a weeknight dinner or an Oktoberfest celebration!
Ingredients
4 serving-size pork loin chops, cut roughly ½ inch thick (roughly 1 - 1 1/2 lbs total)
Salt and pepper
4 Tbsp butter
Peanut oil or vegetable oil (for frying)
1/2 c unbleached all-purpose flour
1 c plain breadcrumbs
2 eggs, beaten lightly
Lemon slices and fresh parsley (to serve)
Instructions
Lightly salt and pepper the pork cutlets. Place them between two sheets of plastic wrap and pound them to 1/8 inch thick using a meat mallet or rolling pin. Set the cutlets aside.
Melt 2 Tbsp of butter in a medium sauté pan and add enough oil to fill the pan to 1/8 inch. Heat the oil and butter over high heat. Toss a little breading into the hot oil, if it crisps up nicely, but doesn't burn, then you know your oil is ready.
Place flour and breadcrumbs each in their own shallow dish. Place the beaten eggs in a shallow bowl.
Dip a pounded cutlet in flour, covering it completely.
Then, dip the cutlet in the beaten eggs, moistening it entirely. Let any excess egg drain off.
Finally, dip the cutlet into the breadcrumbs, covering it completely, but not pressing the breadcrumbs into the cutlet. Let any excess breadcrumbs fall off.
Immediately transfer the breaded cutlet to the hot oil. Fry the cutlet for 1-2 minutes on each side until golden brown. Transfer the cutlets to a paper towel lined platter or wire rack.
Repeat with another cutlet.
After 2 cutlets, add the remaining 2 Tbsp butter and additional oil if necessary. Heat your oil/butter and continue with the remaining cutlets.
To serve, garnish the hot schnitzel with lemon slices and parsley. Serve immediately with spätzel, fries, or German potato salad.
Nutrition Information:
Yield:
4
Serving Size:
1 pork chop
Amount Per Serving:
Calories:

696
If you liked this recipe, here are some similar dishes you may enjoy!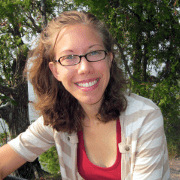 Sarah is one of Curious Cuisiniere's founding duo. Her love for cultural cuisines was instilled early by her French Canadian Grandmother. Her experience in the kitchen and in recipe development comes from years working in professional kitchens. She has traveled extensively and enjoys bringing the flavors of her travels back to create easy-to-make recipes.