German Spaetzle are tender, eggy dumplings that are fun and easy to make, even if you don't have a spaetzle maker. They are the perfect side dish recipe for a hearty German meal.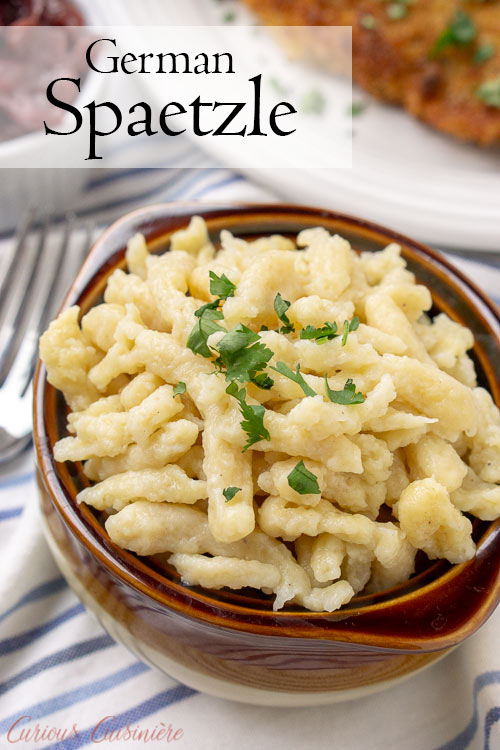 DISCLOSURE: This article contains Amazon affiliate links. These links are provided to help you find some of the more specialty products we mention in the recipe. If you make any purchase after clicking through one of our links, we receive a small commission from Amazon, at no extra cost to you. Thank you for supporting Curious Cuisiniere!
German Spaetzle: Little Dumplings
Although they are loved throughout Germany, Spätzle (or Spaetzle) is specialty of the South-Central (Swabian) region of the country.
The word Spaetzle (pronounced SHPAYT-zel) comes from the word Spatz, which means 'little sparrows.'
It is thought that the dumplings got their name from the original method of making them using two spoons which created a small dumpling that looked like a sparrow.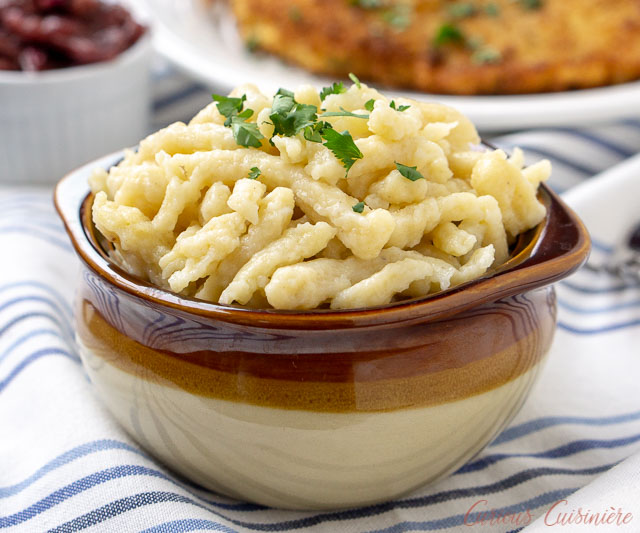 How Is German Spaetzle Different From Pasta?
The dough for Spaetzle is quite basic, made from flour, eggs, water, and salt. (Although, you will find variations that call for different liquids: milk, sparkling water, and even beer.)
Compared to pasta dough, it is softer and more moist, the type of dough you can't roll out into sheets.
Instead, it must be shaped by pressing or 'cutting'.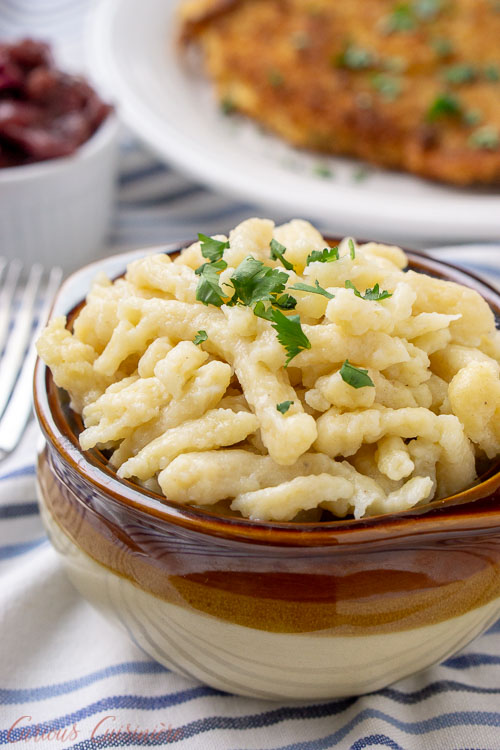 What Tool Do You Use To Make Spaetzle?
There are a number of tools you can use to press spaetzle:
But really, you can use any metal kitchen gadget that has holes roughly the diameter of a pencil.
When we started out making spaetzle, we didn't have any special tools, so we used a slotted serving spoon. It made some beautiful Spaetzle!

Since we enjoy spaetzle so much, we eventually purchased a potato ricer to make the process go a bit quicker.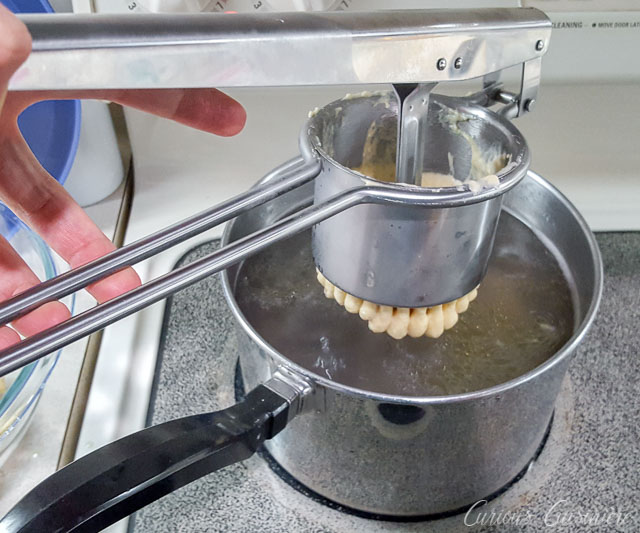 How To Make German Spaetzle Dumplings
Making spaetzle is actually quite straightforward and simple.
Mix the dough
Rest the dough
Press
Boil
Serve!
After mixing the dough, you press or cut it into boiling, lightly oiled, salt water.
The strips of dough boil just long enough for them to rise to the top of the pot.
Once done, it is best if spaetzle is served immediately.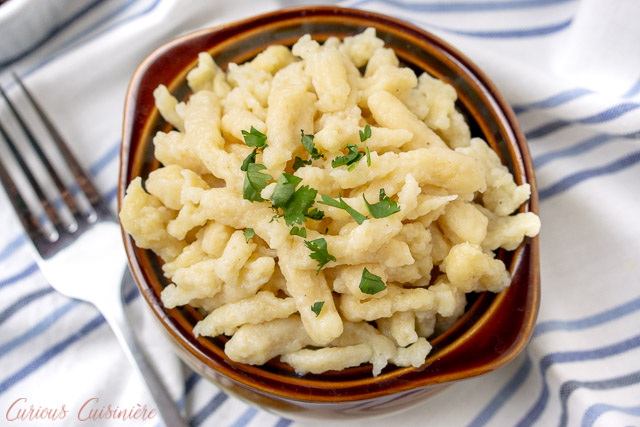 If you will be serving your spaetzle later, you can add a tablespoon of oil to the boiling cooking water. This will prevent the spaetzle from sticking together.
Our Easy Homemade Spaetzle Recipe
The recipe below makes a nice and tender, egg-y spaetzle.
For a denser, creamier Spaetzle, take a look at our recipe for Kaesespatzle (Cheese Spaetzle) which gives you a bit of a thicker dough and uses the "cutting" method.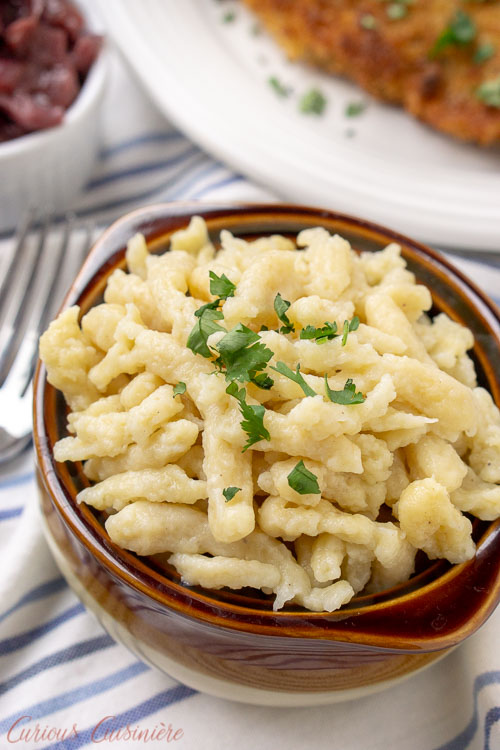 German Spaetzle Dumplings
German Spaetzle are tender, eggy dumplings that make a great addition to a hearty meat main dish.
Yield: 4 c of spaetzle
Ingredients
For the Spaetzle Dough
½

tsp

salt

¼

tsp

nutmeg

3

eggs

1/2

- 3/4 c

water
To Cook the Spaetzle
3

quarts

water

2

tsp

salt

1

Tbsp

olive oil

(optional)
Instructions
In a medium bowl, mix together flour, salt, and nutmeg.

Make a well in the middle of the flour mixture and add eggs. Scramble the eggs slightly with a fork, mixing them with the flour mixture. Add the water, a little at a time, mixing until a soft dough forms. (Your dough should be somewhere between a drop biscuit dough and a stiff muffin batter. It should be spoon-able, but not pour-able.)

Cover the dough loosely with a tea towel and set it aside to rest for 15 minutes.

While dough is resting, bring 3 quarts of water to a boil with 2 tsp salt. (You can add 1 Tbsp of oil to your water if you would like, to keep the cooked Spaetzle from sticking together. If you will be sautéing your Spaetzle after boiling, this is not necessary.)

Scoop your rested batter into your Spaetzle pressing tool. (Any metal kitchen gadget with holes roughly the diameter of a pencil will work well. Don't have anything? Grab a cutting board and a spatula and check out

this recipe

for making Spaetzle using the board cutting method.)

Press the Spaetzle dough through the press into the boiling water. Once the Spaetzle bobs to the top of the water, it is done. Remove it using a slotted spoon. (But, not the one you're using to press the Spaetzle dough!)

Place the boiled Spaetzle into a bowl and continue with the rest of the dough.

Serve immediately.
Notes
This recipe also works great with 2 c white wheat flour!
This recipe was updated in November 2018. Enjoy!
Nutrition
Calories:
155
kcal
|
Carbohydrates:
28.1
g
|
Protein:
7.2
g
|
Fat:
2.2
g
|
Cholesterol:
55
mg
|
Sodium:
215
mg
|
Fiber:
4
g
|
Sugar:
1.5
g
---
We've updated our pictures since we first shared this recipe on Curious Cuisiniere, but we've left some originals here, in case you've found us in the past and are looking for that old, familiar image.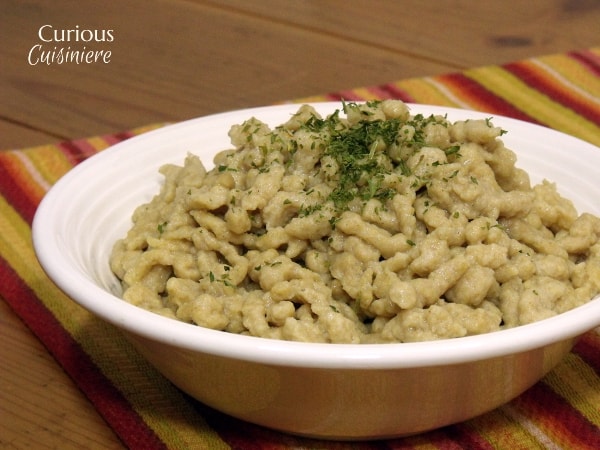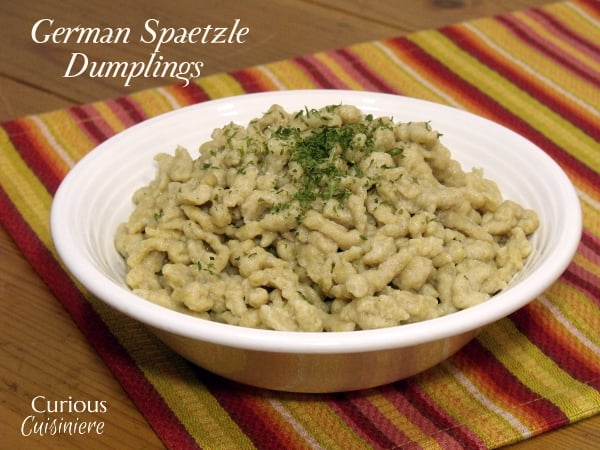 If you liked this recipe, here are some similar dishes you may enjoy!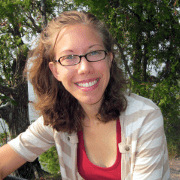 Sarah is one of Curious Cuisiniere's founding duo. Her love for cultural cuisines was instilled early by her French Canadian Grandmother. Her experience in the kitchen and in recipe development comes from years working in professional kitchens. She has traveled extensively and enjoys bringing the flavors of her travels back to create easy-to-make recipes.