Soft and tender Homemade Ravioli will make you feel like the best Italian chef in the kitchen. With our easy, step-by-step guide you'll learn how to make ravioli without extra gadgets.
Homemade Ravioli
Homemade ravioli may seem like an intimidating task, but once you get through your first batch, you will realize how simple it really is.
Sure, it can be a bit time-consuming, but there are two fields of thought here.
On one hand, you could take a little extra time and make a BIG batch.
For maybe an extra half hour of rolling and filling you will have a freezer stocked with homemade ravioli goodness for whenever the craving strikes.
These ravioli freeze incredibly well. Typically, this is the route we follow.
Or, you could just make a small batch.
Your cutting and rolling time will be reduced since you're only dealing with a few. If done this way, ravioli doesn't end up being an unwieldy process in the slightest.
So, get ready and hang on. We're going to walk you through the process of ravioli making step-by-step.
The recipe at the end contains all the steps with just a few pictures for quick reference.
Our Basic Ravioli Dough Recipe
Ravioli starts with a basic pasta dough. And when we say basic, we mean it.
Flour and eggs.
That's all you need to make pasta dough. (That's easier than making a loaf of bread or a batch of muffins!)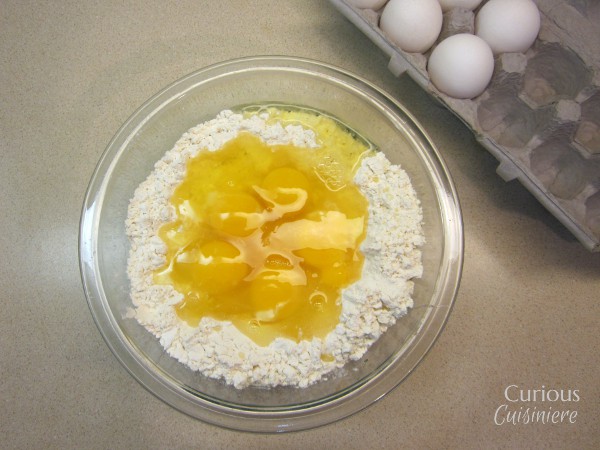 Once you mix your dough together, turn it out onto the counter and knead it until you have a smooth and soft ball of dough.
Use just enough flour to keep the dough from sticking to your hands and the counter as you knead for 10 minutes. It may seem like a long time, but you are helping the gluten proteins in the flour moisten and stretch. A soft and smooth dough is the sign you have kneaded enough and it will result in tender pasta. (Not kneading enough may result in tougher pasta.)
Then, the dough gets covered and let rest to relax those gluten proteins. If you've ever rolled out dough that kept springing back to a smaller shape, then you know what happens if the gluten proteins aren't relaxed enough.
Letting it rest will make rolling the dough easier. And, it gives you time to clean up, make your filling, and start your sauce.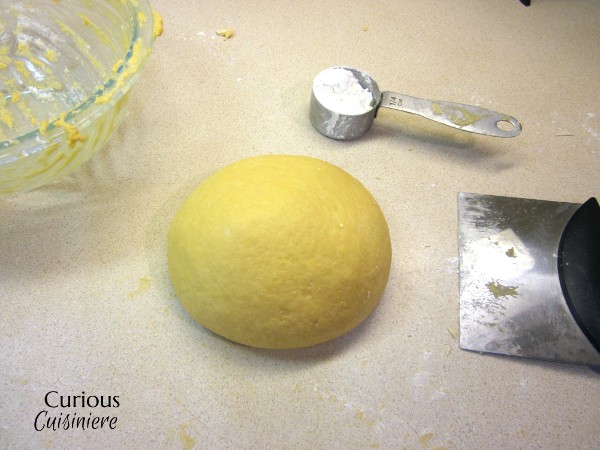 How to Make Ravioli: The Fillings
Now that the dough is nice and relaxed, it should be easy to roll it out.
Flour your work surface well, you don't want the dough sticking to it. Then, roll out your dough into a rectangle that is 1/4 inch thick. (For our recipe, the rectangle should be roughly 10 inches by 12 inches.)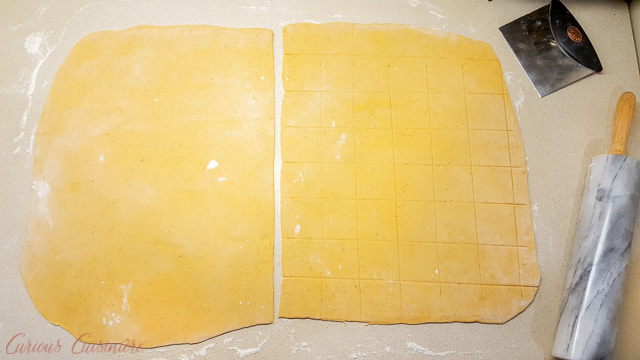 The in-process picture here and below are of our pumpkin ravioli, so the dough will look a little more orange than a typical ravioli dough made using the recipe below.
We don't have a ravioli making tray or stamp, so we've found an easy way to construct and cut the ravioli without the added tools.
I like to lightly score half of the sheet of pasta using a ruler, just to give myself even guidelines for where the filling will go.
Then, place 1 teaspoon of filling about 1 inch apart in even columns and rows to cover half of your dough rectangle.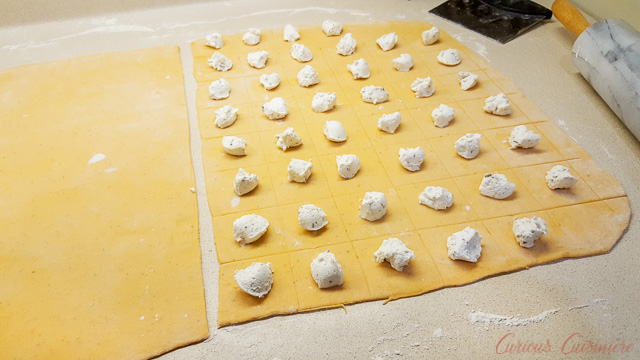 Before adding the top layer of pasta to the ravioli, you will want to moisten the dough around the filling dollops. This will make the dough a bit stickier, allowing the top layer to stick to the bottom layer.
Then, the half of the dough that doesn't have filling on it gets folded over the filling-dotted half.
Gently fold and situate the dough. Once it is situated where you want it, take a look at the filling bumps. Use the side of your hand to press the dough together between the bumps, accentuating the pockets of filling in each ravioli.
Now, you're going to cut the ravioli apart.
A pizza cutter or a ruler works well for this. Just cut straight lines through the pressed down sections between the filling bumps. (Sometimes the filling bumps will go away a bit, but that's ok, because you will re-accentuate the pocket in the final step.)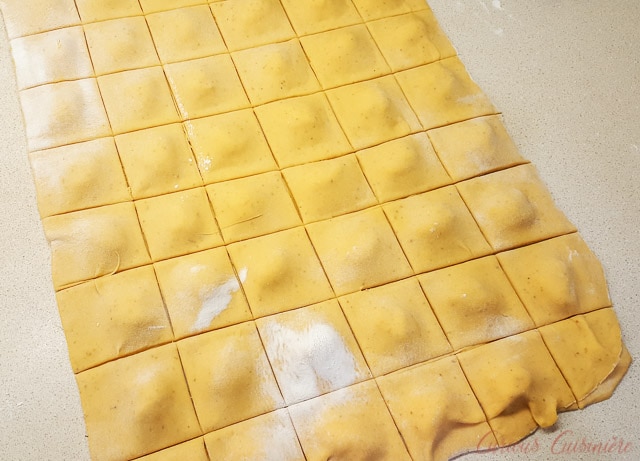 Take each ravioli and give the edges one last press to seal the edges. This will accentuate any filling pockets that flattened out.
Cooking Homemade Ravioli
If you are cooking your ravioli immediately, they can go directly into a pot of boiling, salted water. Simmer them lightly until they float (1-2 minutes).
Voila! You have ravioli!
Freezing Homemade Ravioli
If you want to freeze your homemade ravioli, place them in a single layer on a parchment or wax paper lined baking tray.
Freeze them like this for 30 minutes, until they are solid. Then, they can be transferred to an air-tight container or bag to be stored in the freezer for up to 6 months.
When you're ready to cook your frozen homemade ravioli, just drop them straight from the freezer into a pot of boiling, salted water and simmer them until they float (2-3 minutes).
There you have it.
Easy, right?
How to Serve Ravioli
Looking for ways to serve your ravioli? Try these:
Now get into your kitchen and let's make some ravioli!
Basic Homemade Ravioli (With a Spinach and Cheese Filling)
Soft and tender Homemade Ravioli will make you feel like the best Italian chef in the kitchen. With our easy, step-by-step guide you'll learn how to make ravioli without extra gadgets.
Yield: 30 ravioli
Ingredients
For The Cheese and Spinach Ravioli Filling
½

c

frozen spinach,

thawed and squeezed dry

½

c

ricotta cheese

1

egg,

slightly beaten

½

tsp

oregano

½

tsp

basil

½

tsp

parsley

½

tsp

salt
Instructions
Make the Pasta
Place 3 ¾ c flour in a medium bowl. Make a well in the middle of the flour and crack the eggs into the well. With your hands (or a spoon/spatula) gently mix the eggs into the flour until a soft dough comes together.

Turn the dough onto a lightly floured surface and knead the dough for 10 minutes, adding the remaining ½ cup of flour as needed to keep the dough from sticking to the surface or your hands. (Don't skimp on the kneading, this is probably the most important part to good pasta!)

Wrap the dough in plastic wrap and let rest for 10 minutes to 1 hour. (Dough can be made ahead of time and let rest for up to 24 hours in the refrigerator. Let come to room temperature for 1 hour before rolling out.)
Make the Filling
While the dough is resting, make your filling. Squeeze any excess moisture out of the spinach. (You don't want your filling to get soupy from the spinach moisture.) Mix the dry spinach with the ricotta cheese, beaten egg, herbs, and salt. Set aside.
Roll and Fill the Pasta
Divide the dough into two portions. Cover one portion with a towel so it doesn't dry out while you work with the other.

On a well-floured work surface, roll one portion of the dough into a rectangle, roughly 10 inches by 12 inches and ¼ inch thick. (We find it helpful to re-flour the surface halfway through rolling to be sure the dough doesn't stick.)

Place 1 teaspoon worth of filling evenly spaced (roughly 1 inch apart) in 3 columns and 5 rows for a total of 15 mounds of filling covering slightly less than half of the rolled out dough.

Using your fingers, brush a little water on the dough between the filling mounds.

Fold the empty side of the dough over the filling, matching up the edges of the dough.

Using a ruler (or knife or bench scraper) cut the ravioli between the mounds of filling. (You should see little mounds that will be your guide.)

Press the edges of each ravioli together to seal in the filling and place them on a parchment-lined baking sheet.

Repeat the process with the second half of the dough.
To Eat Now
Boil ravioli in salted water for 2-3 minutes, until they float.
To Store For Later
Freeze ravioli on the baking sheets for 30 minutes. Transfer frozen ravioli to an air-tight bag or container and store in the freezer for up to 6 months. To cook, boil as directed above from frozen.
Nutrition
Calories:
148
kcal
|
Carbohydrates:
14.8
g
|
Protein:
9.3
g
|
Fat:
5.7
g
|
Saturated Fat:
2
g
|
Cholesterol:
186
mg
|
Sodium:
180
mg
|
Fiber:
0.6
g
---
This is one of the recipes from the early days of Curious Cuisiniere. We've updated our pictures since we first shared it, but we've left some originals here, in case you've found us in the past and are looking for that old, familiar image.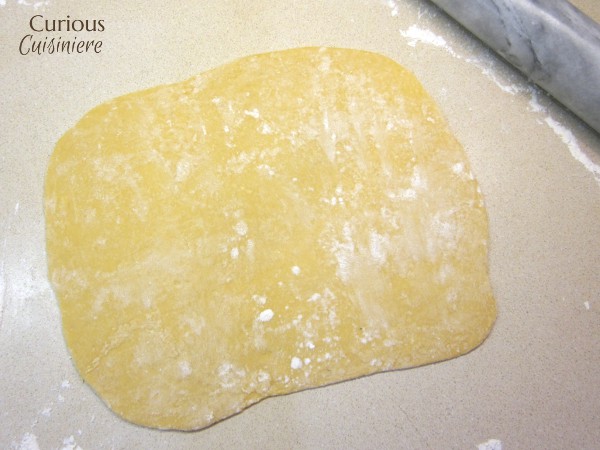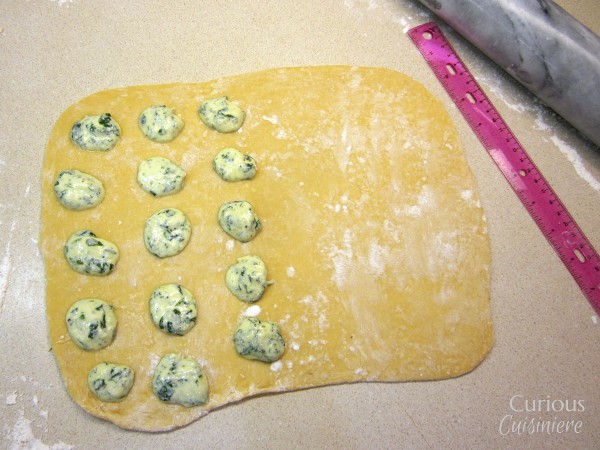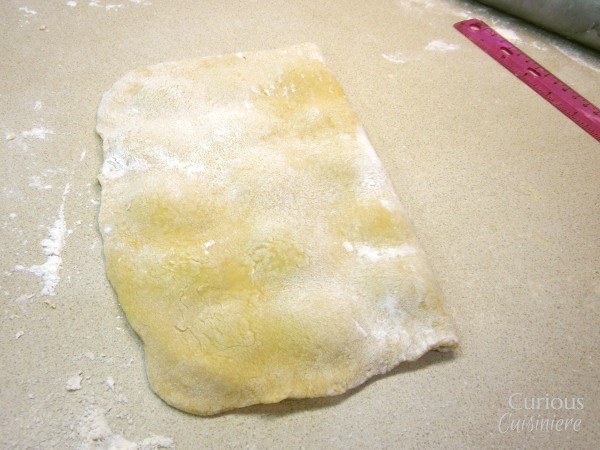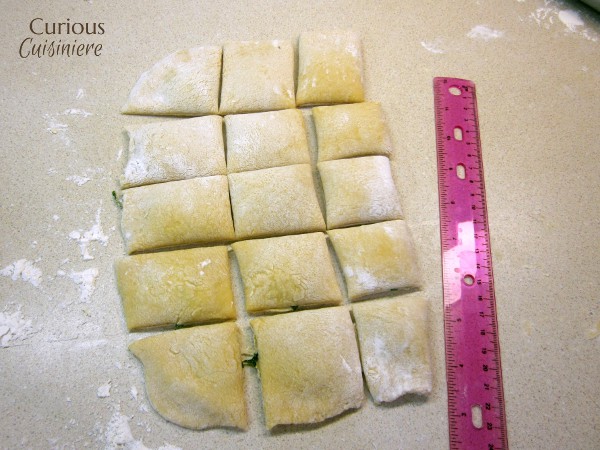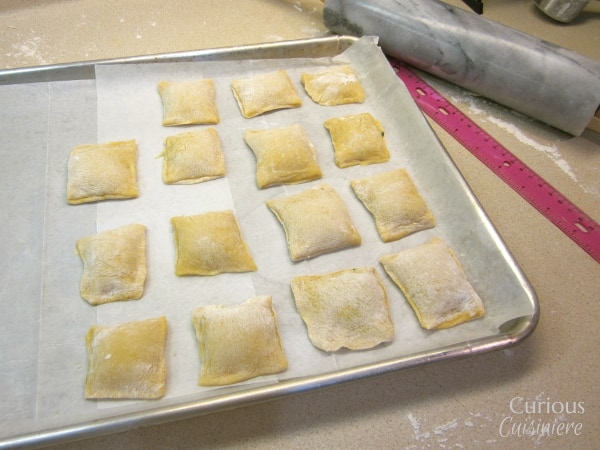 If you liked this recipe, here are some similar dishes you may enjoy!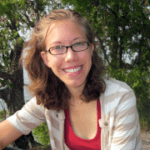 Sarah is co-owner of Curious Cuisiniere and the chief researcher and recipe developer for the site. Her love for cultural cuisines was instilled early by her French Canadian Grandmother. Her experience in the kitchen and in recipe development comes from years working in professional kitchens. She has traveled extensively and enjoys bringing the flavors of her travels back to create easy-to-make recipes.