Three ingredients are all you need for authentic Fettuccine Alfredo. It's a dish that just goes to show you can't beat simplicity!
Fettuccine All' Alfredo
Fettuccine Alfredo is a dish that Americans think of in their list of "classic Italian dishes" right along with Spaghetti and Meatballs and Ravioli. But, the dish that is known to Americans is not quite the authentic Italian version.
Fettuccine Alfredo started off as the desperate attempt of Roman restaurant owner, Alfredo di Lelio, to find something that his pregnant wife, who had lost most of her appetite due to pregnancy, would be able to eat. So, he added some Parmesan cheese to an everyday Italian dish, fettuccine al burro (Fedduccine with Butter), and she couldn't stop eating it!
(But, seriously. To put things into perspective, it's like he made her buttered toast with a bit of cheese sprinkled on top…. And then the world went CRAZY over it!)
He introduced the dish onto his restaurant's menu in 1914. In 1920, he served the dish to some famous American movie stars, who brought the idea back to Italian restaurants in the States.
Authentic Fettuccine Alfredo is SUPER Easy
Seriously, all you need is three ingredients.
No, not a jar of "Alfredo" sauce.
You need fresh, grated parmigiano-reggiano cheese, butter, and fettuccine.
THAT'S IT!
There's not a drop of cream in Alfredo's original recipe. Just cheese, mixed with pasta, pasta water and butter, to create a creamy sauce without the cream!!
How Did We Get American Fettuccine Alfredo?
While you could chock it up to the fact that making things unnecessarily rich and bad for you is just what the American food market does, there might be a legitimate reason that we Americans added cream in this case.
You see, at the time that Fettuccine Alfredo was introduces in the States, the butter and Parmesan cheese that they had access to was nowhere near the quality of the cheese and butter in Italy. So, it is possible that cream was introduced to the dish in order to make up for the lack of richness in the other ingredients.
But, whatever the reason, now YOU know the REAL story.
And, now you can make authentic Fettuccine Alfredo to impress your family and friends!
Our Authentic Fettuccine Alfredo Recipe
The really authentic Fettuccine Alfredo recipe from Alfredo di Lelio calls for 1/2 lb of butter and 1/2 lb of grated Parmesan cheese per 1 lb of fettuccine.
That may sound like a lot of butter and cheese, but when we got ready to make the recipe we realized just how MUCH butter and cheese it really is for that amount of pasta.
For our recipe below, we have reduced the amount of butter and cheese. Even though we cut them back from what is called for in the original recipe, and we still found our Fettuccine Alfred to be PLENTY rich and flavorful.
But, if you really want to go for it, feel free to use the full 1/2 lb of butter and 1/2 lb cheese with your pound of pasta.
You only live once, you know. And, the dairy industry will thank you.
Yield: 4 people
Authentic Fettuccine Alfredo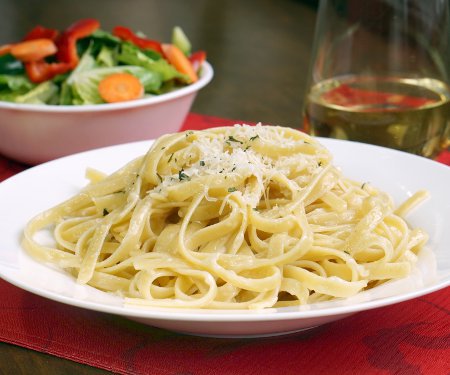 You haven't tasted Fettuccine Alfredo until you've tried the authentic version!
Ingredients
1 lb fettuccine noodles, dry
12 Tbsp unsalted butter
1/2 - 1 tsp salt, (to taste)
Instructions
Fill a large pot with water and heat it over high heat until boiling. Once the water boils, add a good dash of salt and the noodles. Cook only until al dente, 9-10 minutes.
While the pasta heats, gently melt the butter over medium heat in a large, non-stick skillet with high sides.
Drain the pasta (reserving the water) and transfer the pasta to the skillet with the melted butter.
Add a 1/2 tsp salt and toss the pasta with a tongs to combine (nonstick, silicone tongs work best).
Reduce the heat to medium low. Add a handful of grated cheese and a ladle of hot pasta water, tossing the pasta continuously with your tongs to incorporate the cheese.
Add more cheese, a little at a time, tossing between each addition, until all the cheese has been used.
Add more hot pasta water as needed to melt the cheese so that it coats the noodles. (But, be careful not to add too much. You don't want a watery sauce.)
Taste the pasta and adjust the salt as necessary.
Serve immediately.
Notes
*Since there are so few ingredients in this dish it is IMPERATIVE that you get good quality Parmigiano-Reggiano cheese. So, go ahead and find your grocery store's specialty food section and buy a wedge that you can grate yourself. Expect to pay around $8-10 per pound for the cheese. (You only need 6 oz!) Your pasta will thank you!
Nutrition Information:
Yield:
4
Serving Size:
1/4 of recipe
Amount Per Serving:
Calories:

655
If you liked this recipe, here are some similar dishes you may enjoy!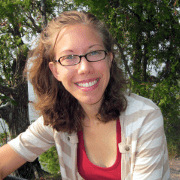 Sarah is one of Curious Cuisiniere's founding duo. Her love for cultural cuisines was instilled early by her French Canadian Grandmother. Her experience in the kitchen and in recipe development comes from years working in professional kitchens. She has traveled extensively and enjoys bringing the flavors of her travels back to create easy-to-make recipes.