Whether you've wondered how to make arepas or you've never heard of them before, you're sure to fall in love with these easy and versatile South American corn bread rounds!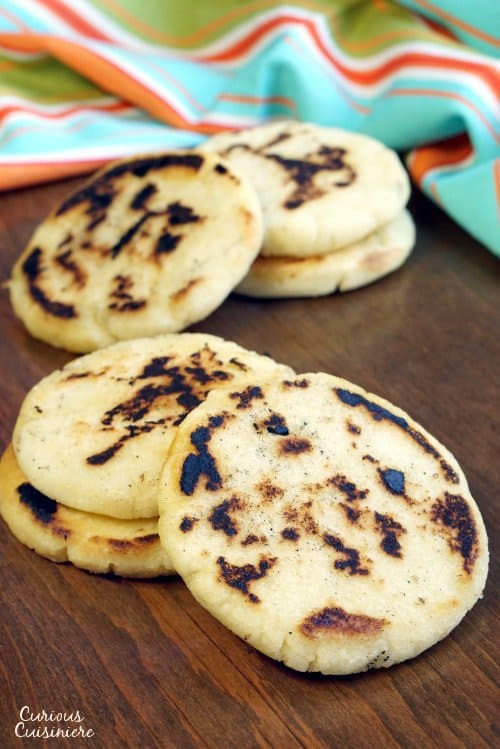 (DISCLOSURE: This post contains Amazon affiliate links. These links are provided to help you find some of the more specialty products we mention in the recipe. If you make any purchase after clicking through one of our links, we receive a small commission from Amazon, at no extra cost to you. Thank you for supporting Curious Cuisiniere!)
The Long History of Arepas
Hundreds of years ago, arepas were being cooked by indigenous tribes across Venezuela, on the northern tip of South America. In fact, the name arepa comes from the indigenous word Erepa, which means corn.
Arepas are corn patties that are now widely popular in both Colombian and Venezuelan cuisine. Imagine a corn tortilla crossed with a tamale, all in an English muffin shape.
Arepas can be stuffed with fillings or eaten alone, making them a very versatile accompaniment to any meal.
Venezuelan Arepas vs Colombian Arepas
The dough for Venezuelan arepas tends to contain a but of fat, making them a tad greasier than their Colombian brother.
Venezuelans eat their arepas as a snack or late night food, and they are often stuffed with savory fillings like Venezuelan shredded beef, black beans, fresh cheese, etc.
Colombian arepas are more commonly eaten with the "fillings" piled on top, and are popular breakfast foods. But, they can be found eaten at any time of day, particularly the version with cheese stuffed inside!
The dough for Colombian arepas contains no salt or oil, making them a bit more bland if you want to eat them straight up. But, the crunchy exterior and soft interior make them perfect for topping with cheese or butter.
Arepa Flour
Traditionally arepa dough was made by cooking dried corn, mashing it, and then drying it into a flour. But, nowadays you can purchase a special dehydrated, cooked corn flour, called masa arepa (also known by its brand names Masarepa or Harina PAN). If you live near a well-stocked Latin grocer, you should be able to find masa arepa, or you can easily find GOYA Masarepa or Harina PAN online.
This is NOT the same thing as masa harina!
Masa harina is white corn flour that is made by corn that has been nixtamalized, or soaked and treated with slaked lime to remove the corn husks. It has a a slightly different flavor and a different texture, since it is not pre-cooked.
You use masa harina for making corn tortillas, tamales, atole, enchiladas, and other things.
But, not for arepas.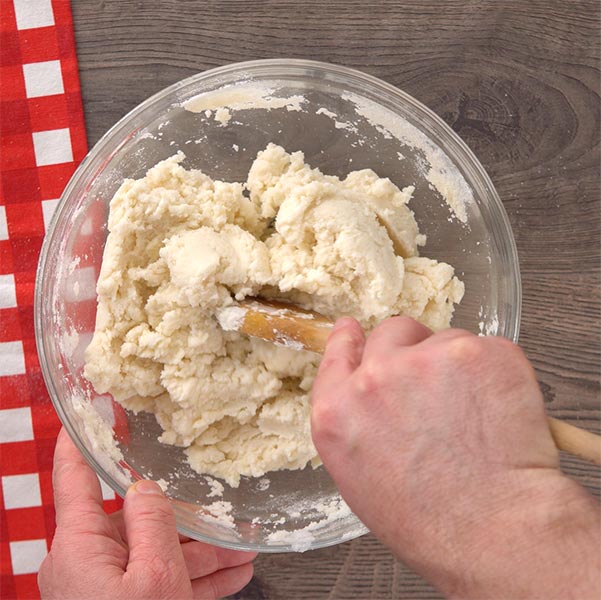 Can I Make Arepas From Masa Harina?
That being said, the first time we made arepas, we couldn't find masa arepa in any stores near us, and dinner had been planned. So, we tried it with masa harina.
How bad could it be?
Well, we can tell you from experience that it works, but it's not great.
It is obvious that masa harina absorbs moisture differently than masa arepa. First, we needed WAY more masa harina than we should have. And second, our masa harina arepas were noticeably doughy in the center, rather than pleasantly soft and chewy. They just didn't taste like they cooked right.
When we finally ordered some Harina Pan and tried again, the difference in the texture was noticeable enough for us to know, without a doubt, that this was the proper way to make arepas.
So, can you? Sure. But know you'll be missing out a bit.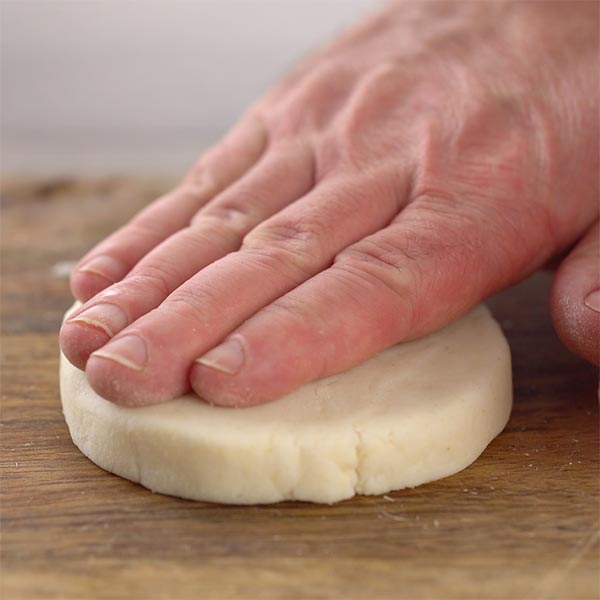 How to Make Arepas: Our Arepas Recipe
Once you have your masa arepa, learning how to make arepas is quite simple.
For the Venezuelan version we're making today, you simply mix warm water with a little salt and oil. Then, the masa arepa gets mixed in and the dough starts to come together.
Your dough will seem a bit moist at first, after letting it rest for 10 minutes, the flour will absorb more moisture, and you dough will feel like something you can shape.
The arepa dough then gets shaped into little patties, about 1/2 inch thick. Then, it's time to cook!

Grilled, Baked, or Fried Arepas
Arepas can be cooked in a number of different ways, but the most traditional method is to cook them on a large flat griddle. (We used our cast iron pan and it worked very well.)
To grill arepas, the key is to first seal the arepas at a high temperature on an oiled griddle for about 3-5 minutes per side. Then, keep flipping them to finish off the cooking at a lower heat for 8-10 minutes per side, so that the arepa has time to cook all the way through. If your pan is too hot for this cooking period, your arepa will look golden, but the inside will not have cooked through.
To bake arepas, you first need to seal them on the a hot griddle for 3-5 minutes, to get that nice golden color. Then, you can cook them at 350F for 18-20 minutes, until they begin to puff slightly.
To fry your arepas, you will want to shape them into smaller, thinner rounds, so that they cook more quickly in the hot oil. They only need about 10 minutes to crisp up to a delicious golden brown!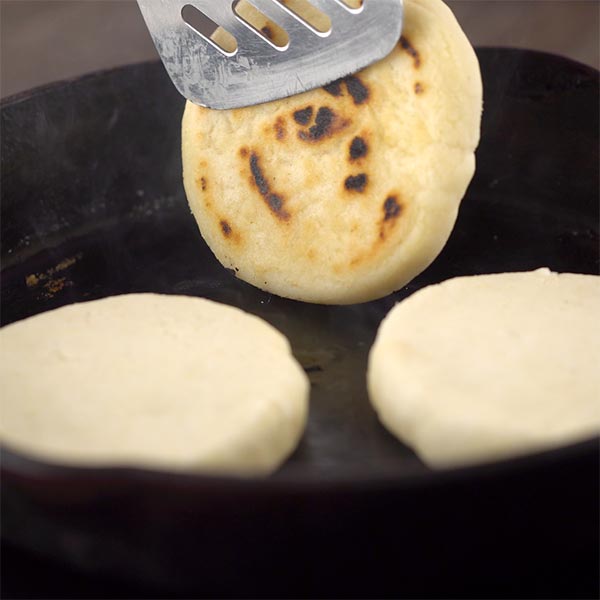 Serving Arepas
Now that we've tasted arepas, we've been dreaming up different filling to stuff in them. Carne mechada (Venezuelan shredded beef) for dinner, fried eggs for breakfast, butter and cheese for a lunchtime stack!
Arepas keep and reheat very well when stored in an airtight container in the fridge. Reheated in a warm oven or toaster oven, they taste just like they're fresh!
How are arepas different from pupusas and gorditas?
Arepas, pupusas, and gorditas are often confused. While these three are all a stuffed, thick tortilla, there are some major differences (aside from their countries of origin).
We have articles on each of these that go into more detail on the specifics, but the short version is that for pupusas, the filling is sealed inside the tortilla. And, while gorditas may look quite like arepas, they are made from a different type of corn flour.
If you want to know more, take a look at each of the individual articles!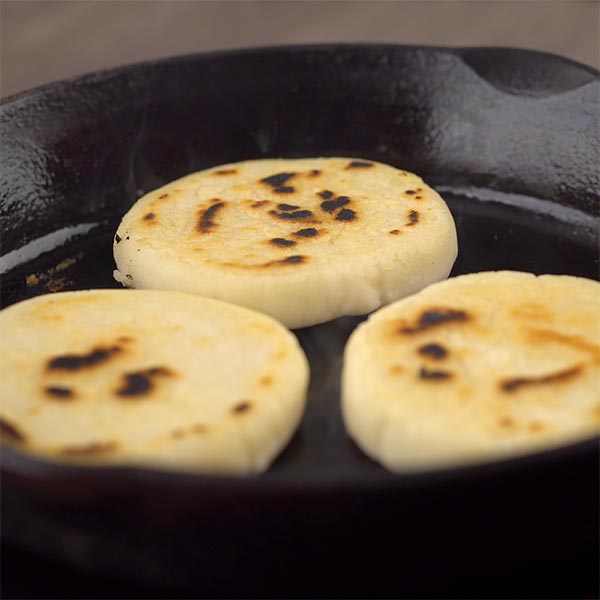 Yield: 6-8 (4 inch) arepas
Venezuelan Arepas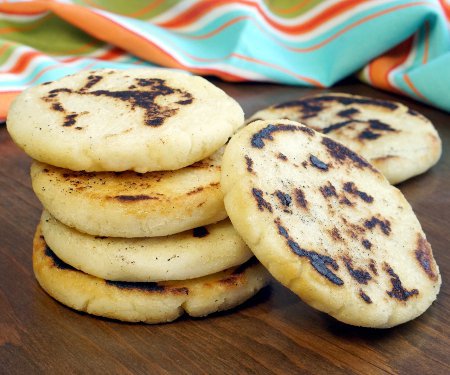 Whether you've wondered how to make arepas or you've never heard of them before, you're sure to fall in love with these easy and versatile South American corn bread rounds!
Ingredients
2 c warm water
1 Tbsp oil
1 tsp salt
Instructions
Place the water, oil and salt in a large bowl. Mix to dissolve the salt.
Slowly add the masa arepa, mixing as you add.
Cover the bowl with a damp tea towel and let the dough rest for 10 min. After resting, add 1 Tbsp water if the dough seems too dry to hold together well.
Divide the dough into 6 roughly even pieces and shape each piece into a ½ inch disc (roughly 4 inches in diameter).
To Grill Your Arepas
Heat a cast iron griddle over medium high heat. Brush the griddle with a little oil and add the arepas.
Cook the arepas for 3-5 minutes on each side, just to seal the dough. Then, reduce the heat to medium or medium low and continue to cook the arepas for 8-10 minutes per side, until golden brown and lightly charred, reducing the heat of your griddle as necessary. (The arepas should be puffed slightly and sound slightly hollow when tapped.)
Remove the arepas from the pan and let them cool on a wire rack for about 10 minutes.
If you will be filling the arepas, split them in half, nearly all the way with a sharp knife.
Stuff and serve warm!!
To Bake Your Arepas
Preheat your oven to 350F.
First, seal the arepas on a hot griddle, brushed with oil for 3-5 minutes on each side.
Then, bake the arepas for 18-20 min, until they have puffed slightly and sound hollow when tapped.
Let the arepas cool for 10 minutes before slicing.
Stuff and serve warm!!
To Fry Your Arepas
(If you plan to fry your arepas, you will need to make 12 rounds. Shape them into smaller discs that are ¼ inch thick.)
Heat 1 inch of oil in a large skillet. (The oil should be about 370F.)
Place the shaped arepas into the hot oil and fry for 10 min or until golden.
Remove the fried arepas from the hot oil and let them cook on a paper towel lined platter.
Serve warm!
Notes
Cooked arepas store well at room temperature in an airtight container for 2-3 days. If you will be storing them for longer, keep them in the refrigerator, for up to 5 days.
Reheat them in an oven or toaster oven for best texture.
Recommended Products
As an Amazon Associate and member of other affiliate programs, We earn from qualifying purchases.
Nutrition Information:
Yield:
3
Serving Size:
2 arepas
Amount Per Serving:
Calories:

389
If you liked this recipe, here are some similar dishes you may enjoy!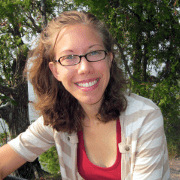 Sarah is one of Curious Cuisiniere's founding duo. Her love for cultural cuisines was instilled early by her French Canadian Grandmother. Her experience in the kitchen and in recipe development comes from years working in professional kitchens. She has traveled extensively and enjoys bringing the flavors of her travels back to create easy-to-make recipes.