Slow cooked, shredded beef takes on incredible flavor of onions, sweet red bell peppers, and cumin in this Venezuelan Carne Mechada.
Venezuelan Shredded Beef: Carne Mechada
You may have heard of Cuba's famous shredded beef dish, Ropa Vieja. Literally translated "old clothes," the dish is much more appetizing than the name would lead you to believe.
In Venezuela, they have a very similar dish that goes by the name of Carne Mechada.
Mechar (or desmechar) means to separate hair into strands, like the action that you take when you shred the beef. (Whether or not this name is better than its Cuban cousin, we'll let you decide.)
At its most basic, the dish is made up of shredded beef that is cooked with a fragrant and flavorful sauce of tomatoes, onions, and peppers.
As the sauce cooks down, you are left with tender beef that is FULL of savory, smoky, and slightly sweet flavors.
The National Dish of Venezuela
Carne Mechada plays a major role in Pabellon Criollo, which is this national dish of Venezuela. This dish is comprised of a large platter full of carne mechada, rice, black beans, and fried plantains.
Sounds like a wonderfully hearty dish! Doesn't it?
A Perfect Meat Filling
Carne mechada is also often used to stuff arepas (tasty Venezuelan corn biscuits). It is also a yummy filling for empanadas.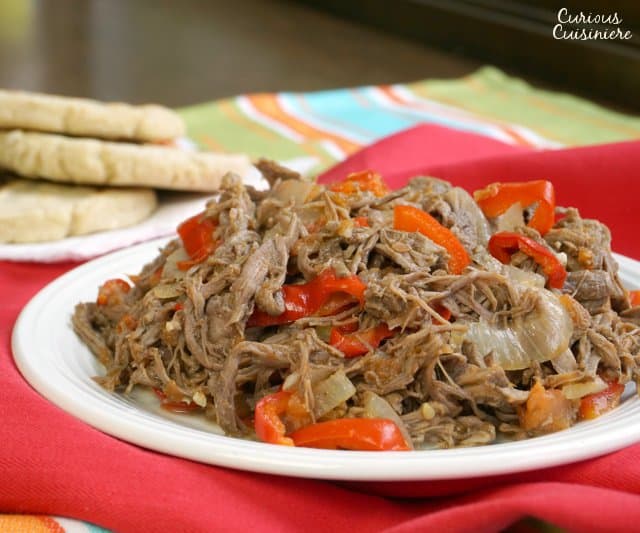 Choosing Meat for our Carne Mechada Recipe
There are different ways to prepare Carne Mechada, but most typically, the dish is made with skirt steak (or flank steak).
Now, flank steak and skirt steak used to be an incredibly economical cut of meat. It was one of those cuts that the butchers would just throw away or take home to their families.
But, over the years (probably thanks to some REALLY good marketing) it has become a highly demanded cut.
Our jaws dropped when we saw the price for the thinly sliced flank steak that looked more like a grilling cut of meat than a cook-the-heck-out-of-it cut.
So, we did what anyone with an eye on their grocery budget would do in the situation, we reached for a (much more economical) chuck roast, which is typically what we would used for shredded beef.
Yes, making carne mechada with a chuck roast is not very traditional, and using flank steak will give you a leaner and more tender dish with a bit more of a robust beef flavor.
But, if you're watching your grocery bill, the switch is totally worth it.
And, we loved our carne mechada all the same!
We will note that if you choose to use a chuck roast, you will want to boil it for 3-4 hours (or more) to get the tougher cut nice and tender.
(Where as if you are making the recipe with a flank steak or skirt steak, you would only need to boil the meat for 2 hours.)
The good news is, this pre-cooking can be done the day before you want to serve your carne mechada. Just be sure to shred the meat before refrigerating it overnight, the meat will shred much better when slightly warm.
Carne Mechada (Venezuelan Shredded Beef)
Slow cooked, flavorful shredded beef. Perfect for tacos, arepas, or sandwiches.
Ingredients
For the Beef
2

lb

skirt steak

or flank steak*

1

onion,

quartered
For the Sauce
1

Tbsp

oil

1

onion,

quartered and sliced

2

red bell peppers,

quartered and sliced

3

garlic cloves,

2

tomatoes,

, diced (about 3c)

1

Tbsp

Worcestershire sauce

1

tsp

salt

½

tsp

ground black pepper

¼

tsp

cumin

2

c

reserved beef cooking broth
Instructions
Prep the Meat
(This step can be done a day ahead. Just be sure to shred the meat before refrigerating it in a sealed container overnight, the meat will shred better slightly warm.)

Trim the meat, if necessary, and cut it into 4 pieces. Place the pieces in a medium soup pot and cover them with water. Add 1 quartered onion and simmer for 2 hours, removing any foam that may float to the top.

Once cooked, remove the beef from the water and let it cool slightly. (Reserve 2 c of the cooking broth.)

Once cool enough to handle, shred the meat with two forks. Set aside.
Make the Sauce
Heat the oil in a large sauté pan with high sides over medium heat. Add the onion, peppers, and garlic. Sauté for 4-5 min until the onions are soft.

Add the diced tomatoes, Worcestershire sauce, salt, pepper, and cumin. Mix well.

Add the shredded meat and 2 c of the meat broth. Bring the mixture to a boil. Reduce the heat and simmer, uncovered, for 20 min. (If you are serving your carne mechada with rice and beans, classic Venezuelan style, go ahead a leave the meat a little brothy. If you will be using it to fill

arepas

or

empanadas

, you will want to cook it until nearly dry, stirring often so it doesn't stick.)
Notes
* If skirt steak or flank steak are quite pricy in your area, like they are ours, you can also make this recipe using a chuck roast. If using chuck, you will want to simmer the roast for 3-4 hours, to let the tougher cut get a bit more tender.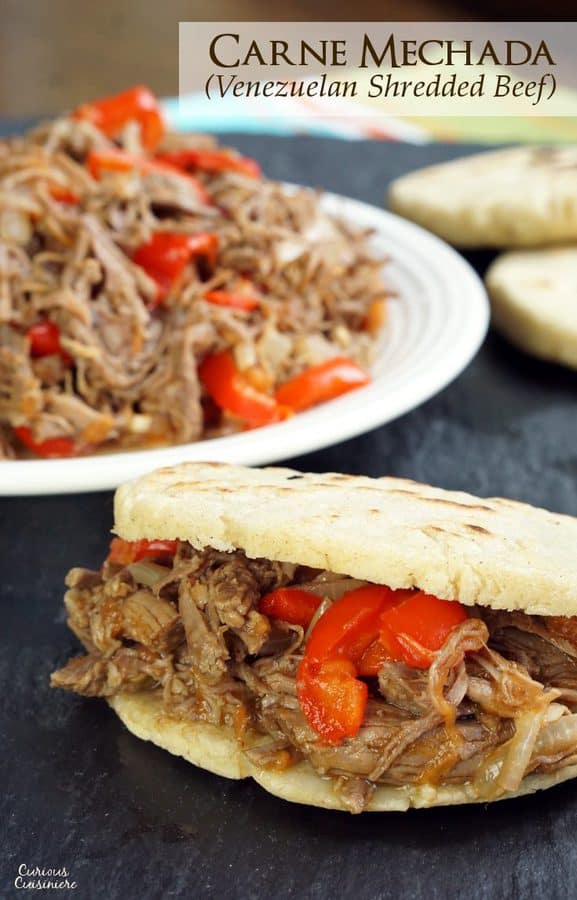 If you liked this recipe, here are some similar dishes you may enjoy!