Puerto Rican Pernil brings slow roasted pork to a whole new level, with a robust garlic and oregano flavor and salty, crisp skin. It doesn't matter how you serve this roast pork recipe, just be sure to make a big batch!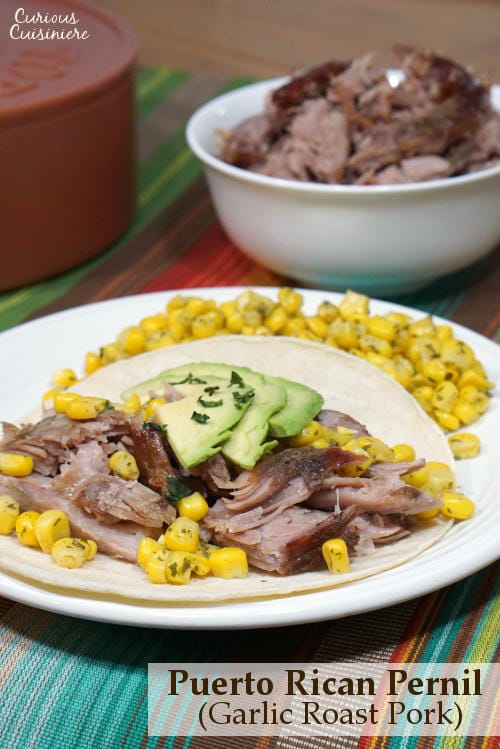 When we have a crowd over for a game night, we love serving build-your own style meals. That way everyone can pick and choose what they like best.
And, the spread is typically easier to put together, meaning that we can enjoy the party too.
Tacos are one of our go-to meals, and we like to mix up the meat we serve, just to keep things interesting.
That's where Puerto Rican Pernil comes in.
This garlic and oregano infused pulled pork really packs on the flavor, and it is SO easy to prepare. You'll wonder why you didn't discover it sooner!
Puerto Rican Pernil
Pernil is traditionally the staple dish at a Puerto Rican Christmas Eve dinner.
But, we think it's so tasty, it shouldn't be reserved for Christmas Eve alone.
The word pernil comes from the Spanish word pierna meaning leg. In some regions, it is also the word for ham, which makes sense, since originally, the dish was prepared using fresh ham (not cured).
Nowadays, pork shoulder is easier to find than an un-cured ham hock, which is why the pork shoulder has become the widely accepted cut to use in the dish.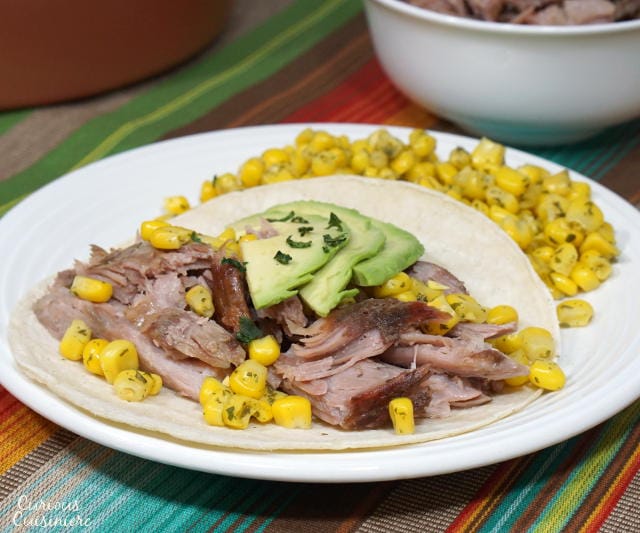 The Best Part: Crispy Skin!
The crown and glory of this roast pork is the layer of fat on the pork shoulder.
Leave that baby on the meat to roast! It is going to infuse the meat with TONS of juicy flavor.
But, since that layer of fat creates a barrier between our seasonings and the meat, we have to do a little prep work to get the flavor we want along with the juicy flavor from the fat.
So, first we cut back the fat, along the top of the meat, ever so carefully using a small paring knife, until it becomes a flap that is just hanging on by one edge.
Then, we cut deep incisions (roughly 2 inches) into the meat itself.

These incisions then get stuffed with a garlic and oregano seasoning mixture, so all that flavorful garlic goodness gets right into the meat, right away.
Finally, we cover the meat back up with that flap of skin, sealing our seasonings on the INSIDE when the fat starts to do its moisturizing thing.
Then, we rub the top of the fat with salt. The salt will draw moisture out of the fat cap, turning it into one, lovely mass of super crispy goodness.
That crispy skin, called chicharrón, is considered the most coveted part of the entire dish.
(Those of you reading this from the Southern US, we know you're getting excited. PORK RIND! But, trust us. This is EVEN BETTER!)

Pernil is traditionally served with rice and beans. And while that makes a tasty meal, we loved serving it taco-style with sweet corn and creamy avocado.
Just make sure you get some of that crispy chicharrón goodness in there too!
Yield: 10 -12 servings*
Puerto Rican Pernil (Garlic Roast Pork)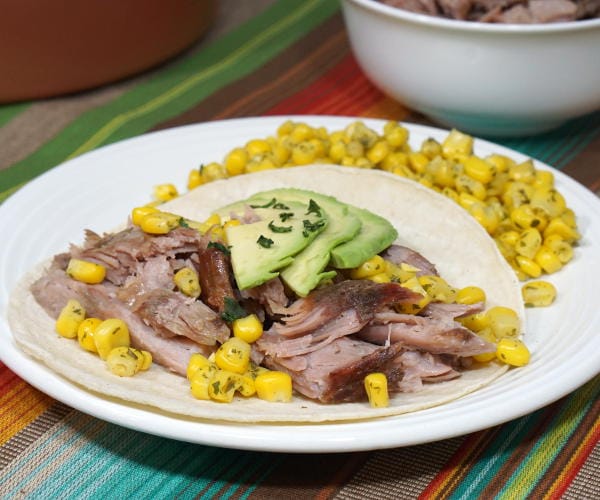 Puerto Rican Pernil brings slow roasted pork to a whole new level, with a robust garlic and oregano flavor and salty, crispy skin. It doesn't matter how you serve this roast pork recipe, just be sure to make a big batch!
For best flavor, let the meat marinade in the spice paste for 4 hours, up to overnight.
Ingredients
6 garlic cloves, minced
4 tsp salt, (divided)
2 tsp oregano
½ tsp ground black pepper
2 tsp olive oil
1 tsp white vinegar
6 lb pork shoulder with a nice layer of fat, (7 lb if using bone-in)
Instructions
Preparing the Pork
In a small bowl, mix together the garlic, 1 tsp salt, oregano, and black pepper. Add the oil and vinegar and mix until a paste forms. Set this seasoning mixture aside.
Using a small, sharp knife, start to cut the roast along where the layer of fat meets the meat, separating the layer of fat from the meat. Continue cutting, until the fat is only attached on one side of the roast. Fold the fat back so that the top of the meat is exposed.
Using the knife, make some 2 inch deep incisions in the meat (roughly 2 inches apart). Rub the spice paste all over the meat, pushing some of the mixture into the incisions.
Flip the fat layer back over top of meat and rub it with the remaining salt. Place the pork roast on a roasting rack in an aluminum foil lined roasting pan. Cover the roast with plastic wrap and refrigerate for 4 hours or overnight.
Roasting the Pork
An hour before you are ready to cook the pork, remove it from the refrigerator. Pre-heat the oven to 325°F.
When the oven is hot and the roast has had a chance to come to room temperature, tent the roasting pan tightly with aluminum foil. Cook pork until meat is fork-tender and internal temperature registers 180°F, roughly 5-6 hours.
Once the pork is fork tender, remove the foil (Don't throw that foil away yet!) and increase oven temperature to 400°F. Cook the pork, uncovered, until skin is brown and crisp, 20 - 35 minutes, checking pan every 10 minutes. (If you need additional oomph to get the skin to crisp, turn on the broiler for 3-5 minutes to get the job done.)
Transfer tender and crispy-skinned pork shoulder to a cutting board. Tent it loosely with your foil let the meat rest for 20 minutes.
When you are ready to serve, remove the crispy fat layer and set it aside. Shred the tender pork and place it into a bowl for serving. Dice up that crispy fat goodness and serve it along with the shredded pork.
Pernil is traditionally served with rice and beans, but it also makes incredible taco filling.
Notes
*When determining how much pork you need to feed your crew, keep in mind that the meat will shrink by about half. You can feed 3-4 people on 1 lb of cooked meat. So, a 2 lb (uncooked) roast would yield 1 lb cooked meat and serve 3-4 people.
If you liked this recipe, here are some similar dishes you may enjoy!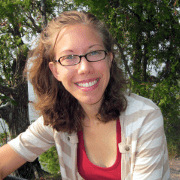 Sarah is one of Curious Cuisiniere's founding duo. Her love for cultural cuisines was instilled early by her French Canadian Grandmother. Her experience in the kitchen and in recipe development comes from years working in professional kitchens. She has traveled extensively and enjoys bringing the flavors of her travels back to create easy-to-make recipes.