No need for an expensive spice mix or hard to find Scotch Bonnet peppers, this slow cooker Jerk Pork packs all the Jamaican flavor using spices you already have in your pantry.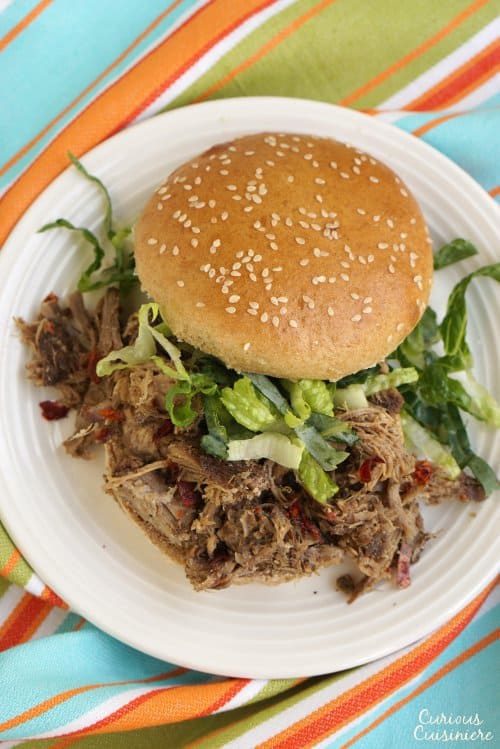 Sitting on the beach, eating pork and chicken so hot you just had to go to the bar and grab another drink to keep things manageable…
Sorry.
I just got lost in a daydream.
And then I opened my eyes to big flakes of snow clouding the view from our window, and predicted high temperatures for tomorrow at -14.
TAKE ME BACK!
Unfortunately, a mid-winter trip to the Caribbean isn't in our future. So, we'll have to make due with food that brings us back to those sunny days.
Not to mention, this pork will really warm you up from the inside out.

Our Slow Cooker Jerk Pork Recipe
One of the three main ingredients in jerk seasoning is the Scotch bonnet chili pepper, a variety of habanero. Habanero chiles are arguably the hottest in the world, somewhere around one thousand times hotter than the jalapeno.
YE-OW!
Since our trip, we've searched high and low for these chilies, to no avail. But, maybe it's for the better.
For our slow cooker jerk pork recipe below, we've replaced Scotch bonnet chilies with red pepper flakes for heat and black pepper for depth, creating a heat and flavor in this pork that is similar to the jerk pork that we ate in Jamaica.
Similar, that is, in everything except the 5-alarm fire in your mouth from eating Scotch bonnet chilies.
Don't get us wrong, this slow cooker jerk pork does give some heat, just not the kind that will have you running to the nearest faucet in a desperate attempt to cool the flames. (Although, if you want to serve these jerk pork sandwiches with a cool and refreshing Mojito, I don't think your dinner guests would mind too much!)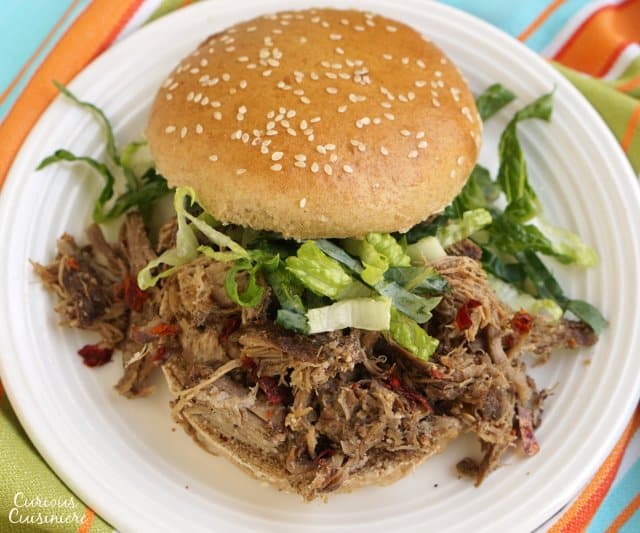 Jerk Pork If You Don't Like Spicy Food
If you'd like to give jerk pork a try, but aren't sure how you'll handle the heat, go ahead and decrease (or eliminate) the red pepper flakes in our slow cooker jerk pork recipe below.
You'll still get the slightly sweet, deep and herby flavor of allspice and thyme that is essential to the flavor of Jamaican jerk. Giving you a delicious pulled pork that is well worth enjoying, even without the heat.
Slow Cooker Jerk Pork
No need for an expensive spice mix or hard to find chilies, this slow cooker Jerk Pork packs all the Jamaican flavor using spices in your pantry.
Ingredients
3

lb

pork roast

(Boston but or picnic roast), trimmed of excess fat

6

garlic cloves

(or 1 1/2 tsp garlic powder)

½

bunch

scallions,

chopped

2

Tbsp

red pepper flakes*

2

Tbsp

brown sugar

1

Tbsp

ground allspice

1

Tbsp

thyme

1 ½

tsp

salt

1 ½

tsp

ground black pepper

¾

tsp

cinnamon

¾

tsp

nutmeg

¾

tsp

ginger

1

lime,

juiced (roughly 3 Tbsp juice)

3

Tbsp

soy sauce,

traditionally brewed

½

c

water
Instructions
Combine all of the ingredients in a slow cooker and cook on low for 8-10 hours or on high for 6-8 hours.

Remove the pork from the slow cooker and shred with two forks. Return the meat to the slow cooker, mixing well with the juices.

Serve with hearty bread. (The meat will keep warm nicely in a low crock pot for up to 2 hours.)
Notes
* If you want your jerk pork a bit less spicy, feel free to cut the red pepper flakes back a bit. If you do so, also cut back the brown sugar by the same amount. The sweetness balances out the heat, and if you change the heat without changing the sugar, your pork will be a bit off-balance in sweetness.
This recipe from 2014 was updated in May 2017. We made the Jerk Pork even tastier! Enjoy!
Nutrition
Calories:
330
kcal
|
Carbohydrates:
3.4
g
|
Protein:
43.9
g
|
Fat:
14.6
g
|
Saturated Fat:
5.3
g
|
Cholesterol:
130
mg
|
Sodium:
777
mg
|
Fiber:
0.9
g
|
Sugar:
0.8
g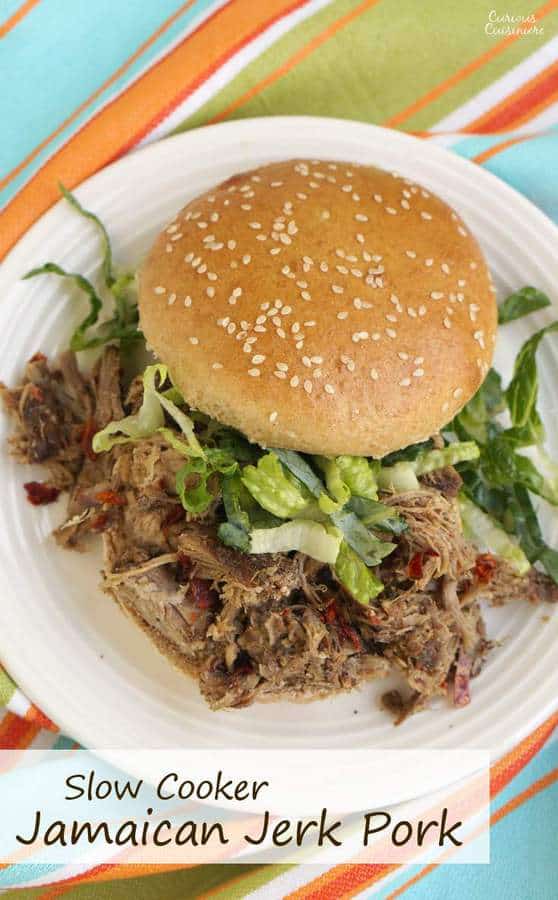 ---
This is one of the recipes from the early days of Curious Cuisiniere. We've updated our pictures since we first shared it, but we've left some originals here, in case you've found us in the past and are looking for that old, familiar image.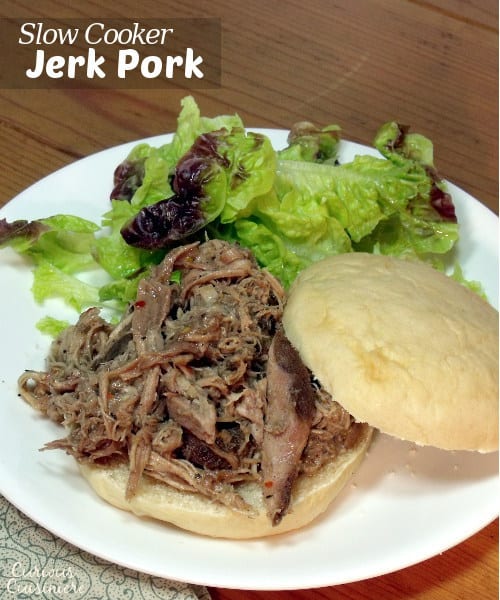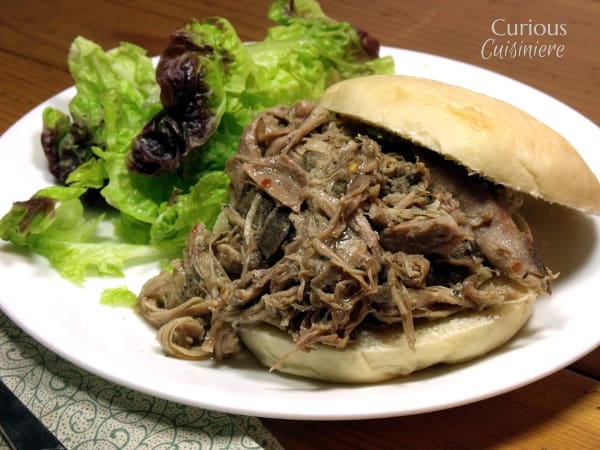 ---
If you liked this recipe, here are some similar dishes you may enjoy!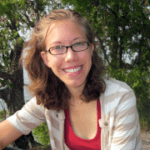 Sarah is co-owner of Curious Cuisiniere and the chief researcher and recipe developer for the site. Her love for cultural cuisines was instilled early by her French Canadian Grandmother. Her experience in the kitchen and in recipe development comes from years working in professional kitchens. She has traveled extensively and enjoys bringing the flavors of her travels back to create easy-to-make recipes.