Dak Kang Jung, or Korean Sweet and Spicy Chicken Wings are the perfect combo of sticky sweetness and red chili spice. With baked "fried" and traditional deep fried versions, this recipe makes a great game day appetizer! 
Sweet and Spicy Chicken Wings
Dak Kang Jung might just be the Korean equivalent of American Buffalo Wings. The wings are bathed in a sauce made sweet from honey and brown sugar that has been simmered with ginger and chili flakes. The spicy ginger becomes sweet and candied and the chili flakes impart a wonderful heat to the sweet sauce.
The coating for these wings is put together in a way very different than a traditional American fried chicken batter. American fried chicken is typically  dunked in an egg or buttermilk bath and then dipped in a dry mixture of flour and seasonings. For the Korean version, the chicken is first rubbed with a seasoned mixture of flour and corn starch. Then, a raw egg is added and rubbed into the wings to moisten the batter.
Using Corn Starch for Chicken Wings
Corn starch is a finer coating than flour and it is made up completely of starch, while flour contains a small percentage of protein, fat, and minerals. A breading of all cornstarch would give a fine, crisp coating on the finished chicken (like in our Sesame Chicken), while a breading of all flour would give a thicker and more dense coating. Cornstarch also helps to create a seal, meaning that after fried, the breading won't get as soggy when the sauce is added.
Genius!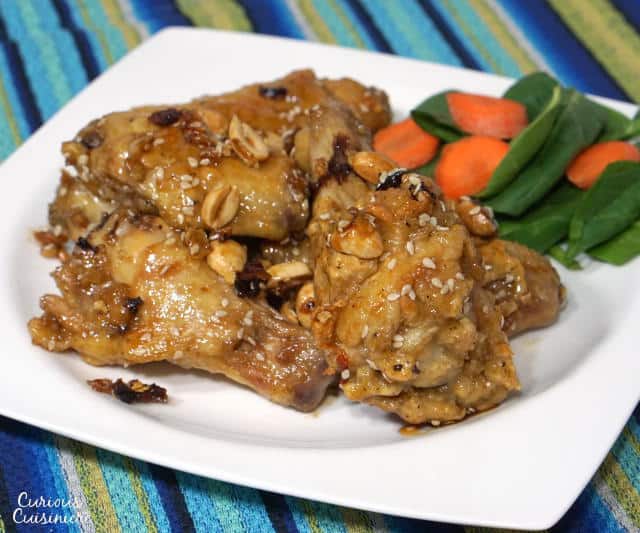 This breading takes a nice happy medium with a half and half mixture of flour and corn starch, meaning it has a bit of heartiness to it, but it's also crisp and won't let the sauce through.
Fried vs Baked Chicken Wings
While we like the flavor and crispness of fried foods, we're not huge fans of using all that oil or of how our house smells after a deep frying spree. So, we opted to give our wings a nice baked "fried" treatment. By breading them and then baking them at a high temperature, you get chicken wings that are healthier, but still crisp and satisfying, particularly when coated in the sweet and spicy sauce.
If you'd prefer to break out your frying pan to do some legitimate frying, we've included instructions for oil frying as well in our recipe below.  These wings are traditionally treated with a double frying method. The first fry cooks the chicken and seals in the juices, while the second fry really crisps up the breading.
If you opt for deep frying, just be sure to keep your oil between 350 and 375ºF for the best results. (You'll get less fat absorbing into your breading that way too.)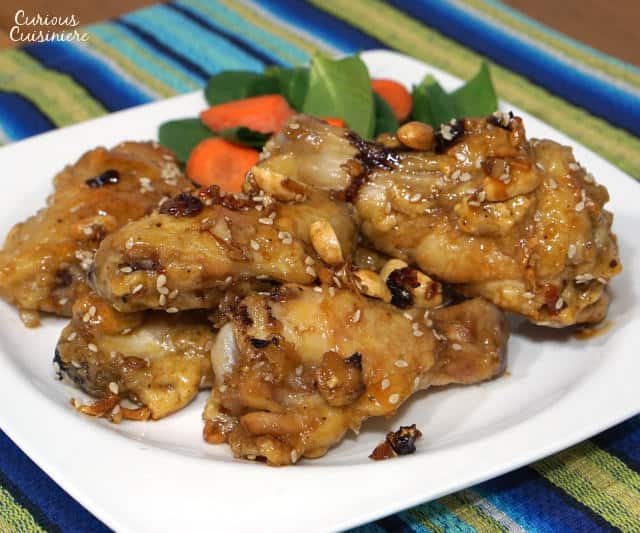 Dak Kang Jung (Korean Sweet and Spicy Chicken Wings)
The amount of people 2 lbs of wings will serve varies depending on appetite and wing size. We like to estimate 3-4 wings per person for an appetizer spread.
Ingredients
For the Wings
2

lbs

chicken wings

1/3

c

corn starch

1

tsp

salt

½

tsp

pepper

1

egg,

lightly beaten
For the Sauce
¼

c

water

¼

c

brown sugar

1

tsp

dried chili flakes

or red pepper flakes

¼

c

honey

2

Tbsp

rice vinegar

1

Tbsp

soy sauce

2

inch

fresh ginger,

peeled and diced

2

garlic cloves,

minced

¼

c

peanuts

1

Tbsp

toasted sesame seeds
Instructions
For the Baked "Fried" Chicken
Preheat oven to 425F.

Place the chicken wings in a large bowl. Mix the flour, corn starch, salt and pepper together in a small bowl and add the flour mixture to the wings. Toss until the wings are completely coated with the four mixture. Add the egg, rubbing it into the chicken wings to be sure they are all moist. *(See the notes below for the traditional fried version.)

Place the battered wings on an aluminum foil lined baking sheet and bake 20-25 min, until golden. Flip the wings and bake 5-10 min more, until golden on both sides and the juices run clear when the wings are pricked.

While the chicken is baking, mix water, brown sugar, and red pepper flakes in wok. Heat over medium low until the sugar dissolves. Add honey and heat until melted. Add remaining sauce ingredients in wok. Bring the sugar mixture to a simmer. Reduce the heat to maintain a summer, and simmer until thickened, 7-10 minutes, stirring often.

Add chicken, peanuts, and sesame seeds. Toss to coat.
Notes
*FOR DEEP FRYING: Fill a wide pan or pot (with at least 3" high sides) with 2 inches of peanut oil. Heat the oil to 375F. Fry the wings using the traditional double fry method: Place wings in the hot oil for 10 minutes. Remove them from the oil and let them drain and cool slightly on a paper towel lined plate, 2-3 min. Then, return them to the hot oil for an additional 10 minutes, until they are golden and crispy. (Do not crowd the wings in the pan. Fry them in batches if necessary.)
If you liked this recipe, here are some similar dishes you may enjoy!