Classic takeout flavors without the guilt! This homemade Skillet Honey Sesame Chicken is lightened up with no deep frying and the sesame chicken sauce uses honey for a more natural sweetness!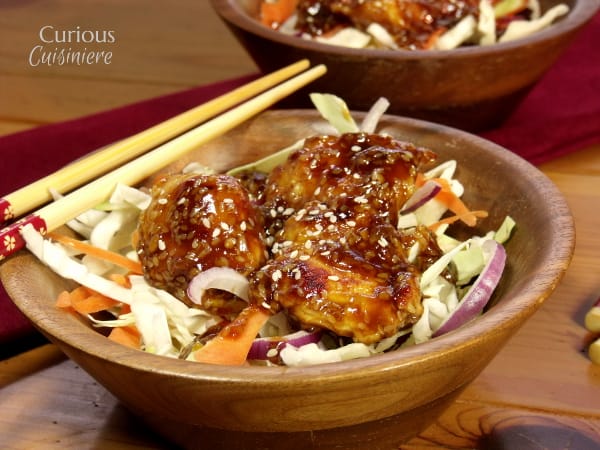 Mmm, Chinese takeout.
Just driving by one of those small takeout restaurants starts the craving. And, don't even get me started on the smell.
I'm not sure what it is.
Well, ok. It might have something to do with all the deep-fried, sugar-coated, goodness that finds its way into those little over-stuffed white boxes.
And the fortune cookies.
Don't even get me started on fortune cookies.
Healthier crispy fried chicken for takeout dishes
The great thing about making Chinese takeout dishes at home is that you can make them WAY healthier than they come from the restaurant. And, today, we're excited to share a little trick that we found super helpful for making the crispy fried chicken that is the base of so many Chinese takeout dishes a bit lighter.
We had seen the method of pan-frying chicken coated in an egg-white and cornstarch batter as an alternative to deep-frying. But, I'll admit, we were very skeptical.
We tentatively gave it a try. And, wow, s light and crisp 'battered and fried chicken' was what we got.
And, the method used quite a bit less fat!
You could simply saute the cubed chicken and skip the battering all together. That's up to you.
But, if you're going for as close to takeout flavor and texture as possible, I would think the batter is pretty key.
Our homemade honey sesame chicken recipe
Once you have the chicken down, the sauce for this honey sesame chicken is fairly simple. It's a basic, cornstarch thickened, sauce.
We use a bit of honey to give it just enough sweetness and apple cider vinegar to really punch in the sweet and sour zing. (No high fructose corn syrup or dyes here!)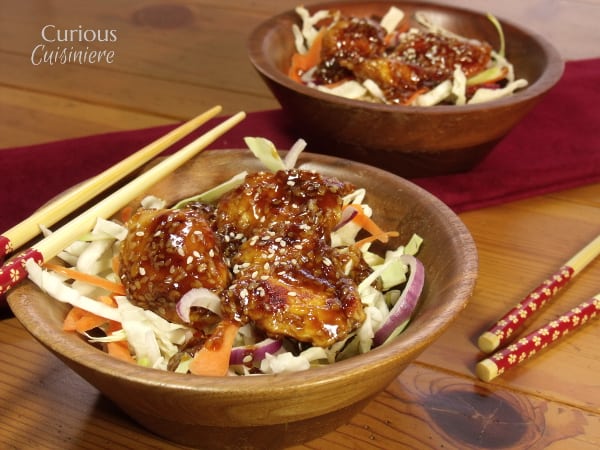 Making a sesame chicken salad
You could serve this chicken over rice, like classic takeout fare.
But it's summer, and summer is the time for bright salads.
Right?
So, we decided to keep the 'lightening up' swing going and swapped the rice for a nice bed of cabbage, shredded carrots, and red onions.
The sauce from the chicken is just enough to coat the cabbage too, infusing the whole dish with that honey sesame chicken flavor.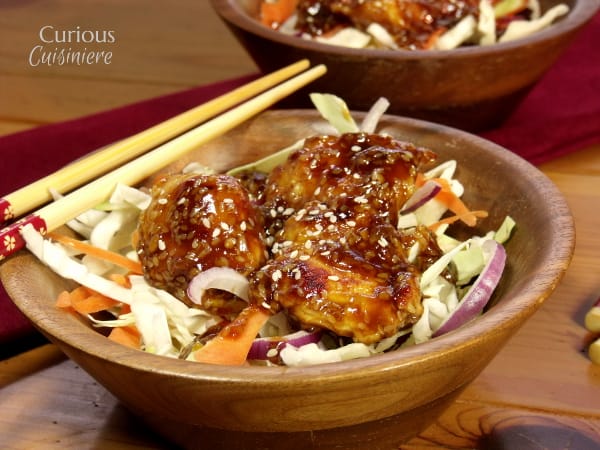 Skillet Honey Sesame Chicken And a Sesame Chicken Salad
Classic takeout flavors without the guilt! Our homemade Honey Sesame Chicken skips the deep fryer and the sesame chicken sauce uses honey!
---
Ingredients
For the Chicken
4

egg whites

4

Tbsp

cornstarch

1

lb

chicken breast,

cut into 2" pieces

4

tsp

sesame oil

(or frying oil of choice)
For the Sauce
1

c

chicken stock

(we prefer low sodium)

4

Tbsp

honey

4

tsp

soy sauce

2

garlic cloves,

minced

4

Tbsp

sesame seeds

2

tsp

ginger

1/8

tsp

red pepper flakes

2

Tbsp

apple cider vinegar

4

tsp

cornstarch
For the Salad
4

c

cabbage,

shredded (about ¼ medium head)

2

carrots,

shredded (a vegetable peeler works well to get nice long strands that mimic the cabbage)

1/2

red onion,

sliced
Instructions
In a medium bowl, whisk together egg whites and 2 Tbsp cornstarch until dissolved.

Heat oil in a medium, non-stick frying pan with high sides over medium-high heat.

Dip chicken pieces in egg mixture and place in frying pan. Cook, turning once until chicken is white and firm (6-8 minutes per side).

Remove chicken from frying pan to a plate lined with a paper towel.

Reduce heat to low and pour chicken stock into the just emptied frying pan. Scrape the edges to loosen any stuck pieces of egg or chicken. Add honey, soy sauce, garlic, sesame seeds, ginger and red pepper flakes.

Increase the heat to medium and heat the mixture until it begins to simmer, stirring occasionally (8-10 min).

In a small bowl, mix together vinegar and 2 tsp cornstarch until dissolved.

Increase the heat to medium high and pour cornstarch mixture into the frying pan. Simmer until sauce has thickened (3-5 min).

Add chicken and cook to heat through (3-5 min).

Prepare your salad bed of cabbage, carrots, and red onions. Top with warm chicken and sauce.
---
If you liked this recipe, here are some similar dishes you may enjoy!