Tang yuan are a popular Chinese dessert. Similar to Japanese mochi. These glutinous rice balls are often found at holiday celebrations, like Winter Solstice and Lantern Festival.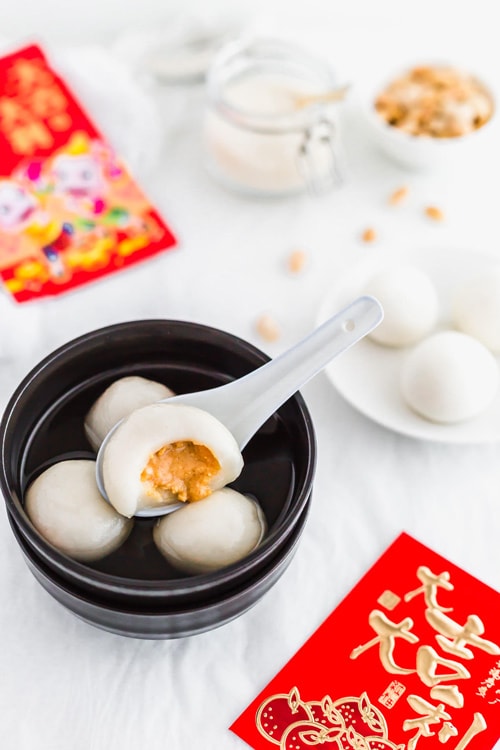 Chinese New Year is in our midst and that means the appearance of these round rice balls, tang yuan.
Tang yuan are traditionally eaten during the Winter Solstice and during Lantern Festival, which marks the final day of the Chinese New Year celebrations.
What are tang yuan?
Tang yuan are glutinous rice ball dumplings, usually filled with something sweet or savoury and served in a sweet syrup or savoury soup.
The glutinous rice balls can be large or small, and also be unfilled.
Similar to Japanese mochi, tang yuan is made with glutinous rice. The glutinous rice gives the tang yuan its chewy and sticky texture.
What does tang yuan mean?
In Northern China, these were known as yuanxiao during the Ming Dynasty, which literally meant "first evening," and represented the first full moon after Chinese New Year.
However, in Southern China, they were named tang yuan, which literally means "soup" and "round," or transliterated as "round balls in soup." This was due to a Chinese ruler who didn't like the name yuanxiao and ordered the name to be changed.
It is nowadays commonly known as tang yuan.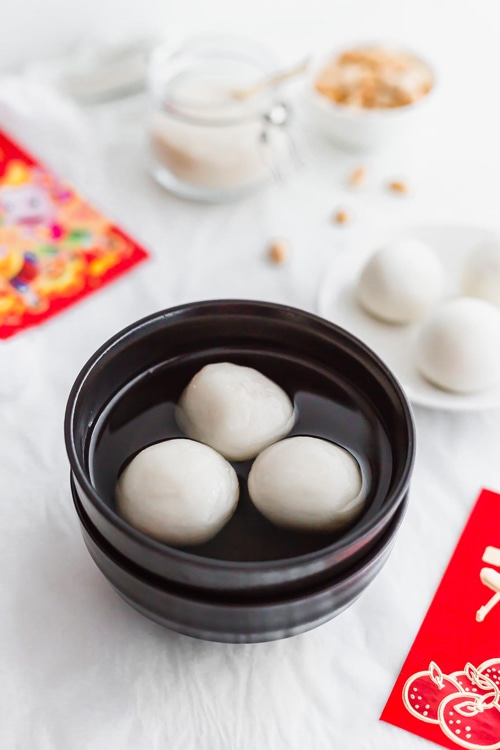 What does tang yuan symbolize?
For Chinese, tang yuan is eaten together as a family.
The roundness of the tang yuan dumplings symbolizes unity and togetherness.
It's a food that is often served as dessert at Chinese weddings as well as family reunions and gatherings.
Different flavors and fillings for tang yuan
Tang yuan is a versatile food that can be served plain as glutinous rice balls or stuffed with different fillings.
Often, dessert tang yuan (plain or filled) is presented with a translucent sweet soup, infused with ginger slices.
Traditional Chinese sweet tang yuan fillings are:
Modern tang yuan flavours can run the gamut and include chocolate, matcha, and various fruit such as strawberry or durian.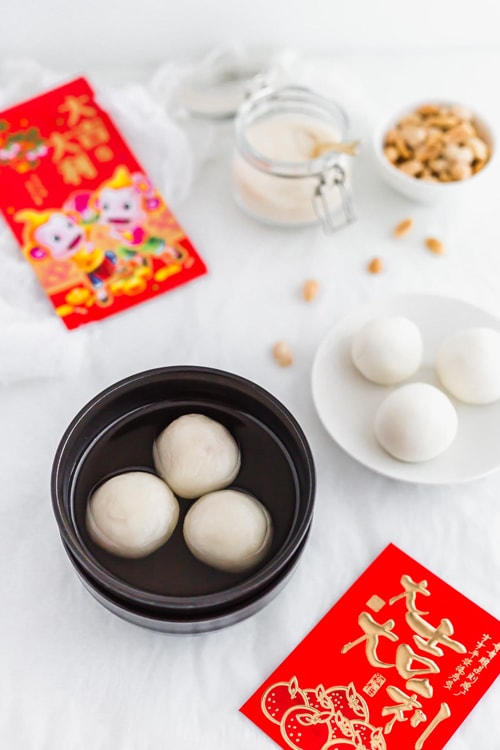 The tang yuan dumpling skin can also be brightly coloured and flavoured as well.
Today, tang yuan is consumed year round and commonly found in dessert shops and in freezer sections of Asian grocery stores.
Savory glutinous rice balls
As mentioned before, tang yuan can also be savoury. This is the type of tang yuan that I grew up with.
For celebrating the Winter Solstice, my grandmother would make a huge pot of savoury soup filled with pork bones and lots of veggies such as cabbage and mushrooms. To this she would add hand-rolled, white, plain glutinous rice balls.
We would gather around the table and sit down to a hot, piping hearty soup that would comfort us on the coldest of winter nights.
But, as much as I love the memories from my grandmother's savoury tang yuan soup, I much prefer sweetened tang yuan.
What can I say? I have a sweet tooth!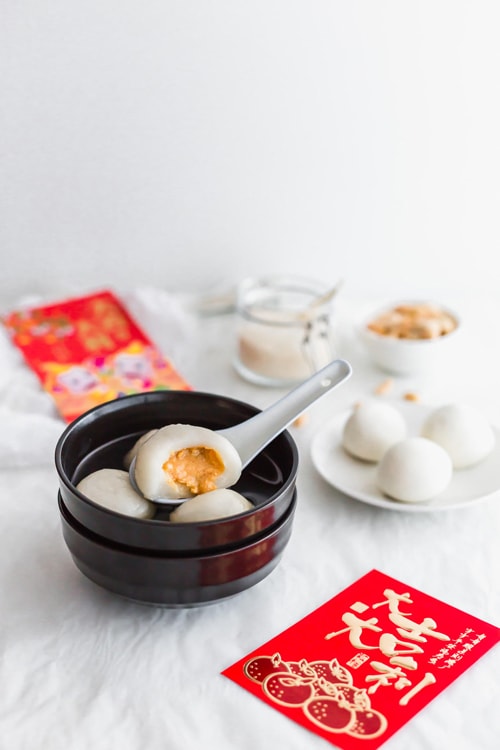 Peanut tang yuan
Among the classic flavours, my favourite tang yuan filling is peanut, hands down.
Oozy matcha is my next favourite.
There's something about the oozing flow of crushed peanut and sugar, mixed with the chewiness of the glutinous rice skin. Especially when served warm with a light sugar-ginger syrup.
How to make tang yuan
The only ingredients in the glutinous rice balls are simply glutinous rice flour and water.
Glutinous rice flour, (which is different than rice flour) gives the tang yuan its chewy texture.
The preparation of the glutinous rice balls is quite straightforward. Simply knead together the hot water with the glutinous rice flour to form a dough.
You can form the balls however large or small you like.
For this recipe, I used a melon baller to portion out the peanut filling, and each dough section was about the size of a small golf ball.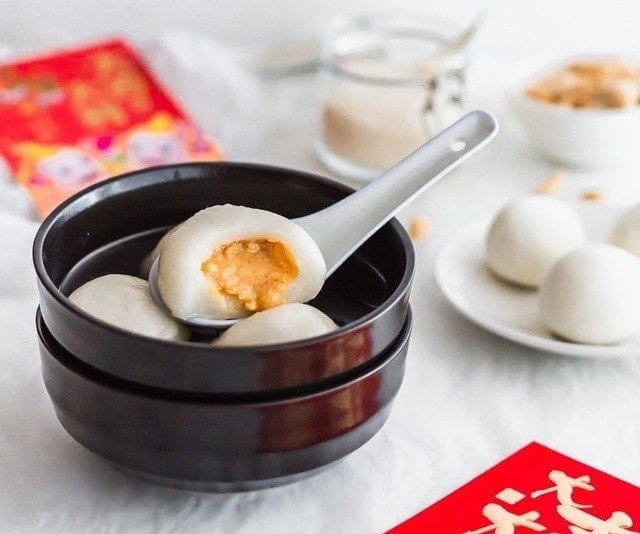 I love the warm, chewy, sweet, and crunchy textures in this peanut tang yuan. This is a classic Chinese sweet that will bring together your family and be sure to please any peanut and mochi lover!
Other Chinese New Year recipes
If you're looking for other recipes to celebrate the Chinese New Year, try some Chinese Marbled Tea Eggs, Chinese Macau-Style Almond Cookies, or Bubur Cha Cha (Coconut Milk Dessert).
Yield: 18-20 medium sized balls
Peanut Tang Yuan (Glutinous Rice Balls)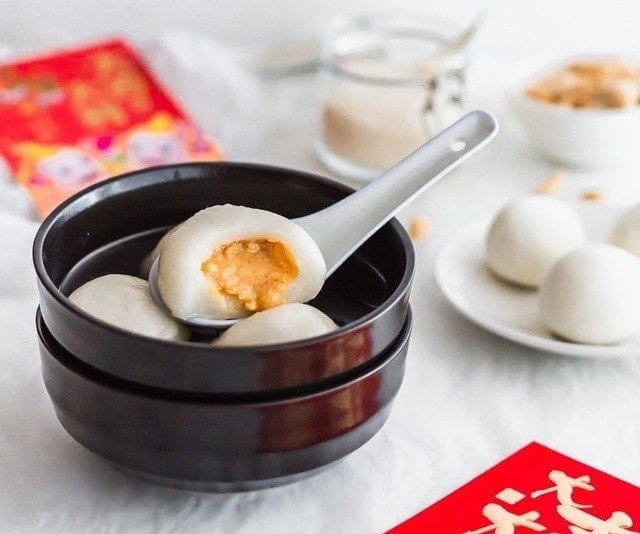 Tang yuan are a popular Chinese dessert. Similar to Japanese mochi. These glutinous rice balls are often found at holiday celebrations, like Winter Solstice and Lantern Festival.
The filling for these Tang Yuan is best made the day before you plan to make the actual rice balls.
Filling Prep Time
15 minutes
Ingredients
For the peanut filling (best made ahead of time)
½ c whole peanuts
2 Tbsp granulated sugar
3 Tbsp natural peanut butter (crunchy or smooth)
1 Tbsp icing sugar (powdered sugar)
1 Tbsp coconut oil
For the dough
2 c glutinous rice flour
1 c hot boiled water
For the ginger syrup
2 c water
½ c granulated sugar (or to taste)
a few slices ginger
Instructions
To make the peanut filling
Make the filling a day before you want to make the tang yuan.
In a dry frying pan, add the peanuts and toast over medium heat, for 3-5 minutes, until aromatic.
Remove peanuts and let cool.
Add the cooled peanuts to a spice grinder or food processor and blitz together with the granulated sugar, until you obtain a coarse powder. (Be careful not to over blitz or it will turn into peanut butter).
Dump the peanuts into a small mixing bowl. Add the peanut butter, icing sugar, and coconut oil and mix together until you obtain a firm consistency (not too runny, and not too stiff). If it's too runny, add a little more icing sugar. If too stiff, add a touch more
coconut oil. It will firm up in the fridge.
Cover the bowl with plastic wrap and place into the fridge to stiffen.
When ready to make the tang yuan, remove the peanut filling from the fridge and use a melon baller to scoop small portions. Use the warmth from your hands to help mold the shape of the peanut filling.
Place the formed peanut filling balls onto a plate lined with plastic wrap.
Keep in the fridge until ready to use.
To make the tang yuan dough
In a medium mixing bowl, add the glutinous rice flour. Make a well in the center of the flour and pour in the hot water.
Use a silicone spatula or a pair of chopsticks to mix the water and rice flour together to form a dough. If the dough appears dry, add 1 Tbsp of water and keep mixing. Use your hands to feel the dough -- it should be able to form a ball without it being sticky. If the
dough is too wet, add a little more glutinous rice flour.
Break off small chunks of dough, about the size of a small golf ball. Roll into a ball, and use your thumb to make an indent.
Remove the peanut fillings from the fridge. Place one of the fillings in the center of the dough ball and enclose, pinching the dough together and roll gently so it forms a round sphere. Place onto a plate lined with plastic wrap. Repeat with the remainder.*
To cook tang yuan
Fill a small pot with water. Bring to a boil over high heat. Gently drop in the tang yuan and let them simmer for 2-3 minutes, until they float to the top. Reduce the heat a little so that they don't explode.
Carefully scoop out the glutinous rice balls with a slotted spoon and place into a bowl.
Serve tang yuan warm with ginger sugar syrup.
To make the ginger sugar syrup
In a small saucepan, bring water to a boil.
Add in sugar and ginger slices and simmer over medium heat until the sugar is dissolved.
Remove the ginger. Keep warm.
Notes
*Tang yuan can be frozen after filling. Place into a freezer-safe container (be sure to leave some space between the spheres or they will stick together) for up to 3 months.
Store any leftover tang yuan in a covered container in the refrigerator. The texture of the glutinous rice balls will be quite hard when chilled. It's best to reheat them in simmering water before enjoying.
Recommended Products
As an Amazon Associate and member of other affiliate programs, We earn from qualifying purchases.
Nutrition Information:
Yield:
10
Serving Size:
2 of 20 rice balls
Amount Per Serving:
Calories:

220
Total Fat:

8g
If you liked this recipe, here are some similar dishes you may enjoy!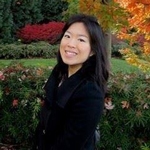 Michelle enjoys learning and discovering different foods from around the world and recreating them in her own kitchen. She is an avid matcha lover and believes that the best food is made from scratch. Michelle develops and photographs recipes at her blog SiftAndSimmer.com.