Bubur Cha Cha is a creamy and sweet Malaysian dessert made from yam, taro, and coconut milk.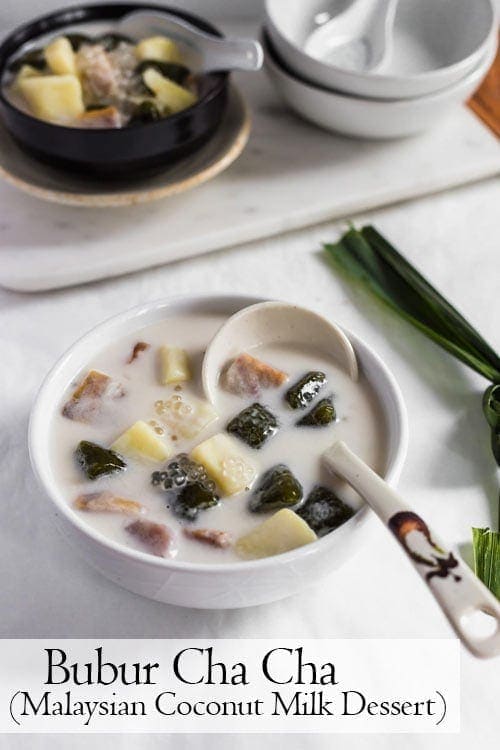 When summer rolls around, I'm all about the sweet soupy desserts. Whether it be Chinese classics such as Red Bean Soup, Black Sesame Paste, or Mango Pomelo Sago Pudding.
But, one of my favourite sweet soups is Bubur Cha Cha.
What Is Bubur Cha Cha?
Bubur Cha Cha is a creamy, sweet Malaysian dessert originating from the Nyonya (Peranakan Chinese) that consists of yam (or sweet potato), taro, sago pearls, tapioca jelly, and sugar cooked in pandan-infused coconut milk.
The dish is pronounced "bo bo cha cha" or "mo mo cha cha".
In Malay, "bubur" means "porridge", and "cha cha" means "well". However, there's no consensus on what the name of the dish actually means. Some people think it eludes to a dance of sorts, and some think it refers to a mis-approximation of the Hokkien word "che che" which means "prosperity".
Each region has a variation of Bubur Cha Cha: some include banana, black eyed peas, colourful tapioca jellies, or yam instead of sweet potato.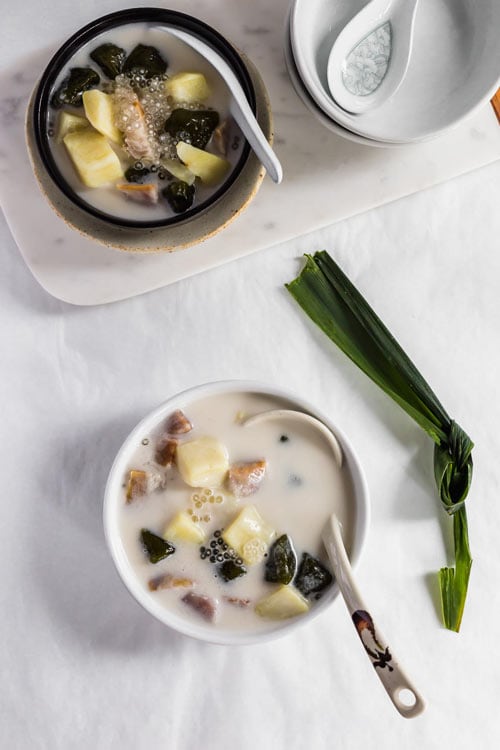 Compared to Western desserts, Asian sweet soups tend to be a little "healthier" as they incorporate ingredients such as beans (eg. red azuki beans) and vegetables (eg. yams, sweet potatoes). I think that's my favourite part of bubur cha cha — the fact that I can enjoy a sweet dessert, yet still get my intake of fiber from the yams and taro.
How To Serve Bubur Cha Cha Dessert
This coconut milk dessert is traditionally eaten and served to friends and family during the 15th of the Chinese New Year. But it is now also commonly found all year round.
Bubur Cha Cha can be served either hot or cold. (Personally I love it warmed up, as the coconut milk tends to solidify when it's cool).
Ingredients in Bubur Cha Cha
All of the components of this dessert soup are cooked or made separately and then brought together in the coconut milk. I find this is the best way to preserve the texture of each ingredient. Otherwise, you might run into the problem of over-cooked, mushy yams, and under-cooked tapioca jellies.
The main ingredients in Bubur Cha Cha are starchy root vegetables:
If you can't find all of those root vegetables at the local supermarket, try an Asian supermarket, you'll have better luck, especially finding taro root.
However. you can always omit or substitute for whichever root vegetables you have on hand.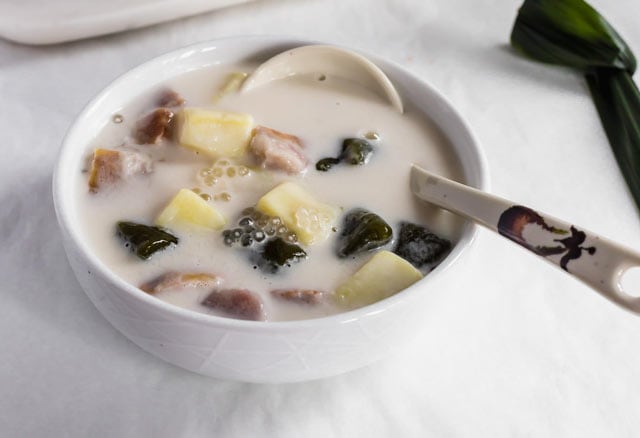 The majority of the flavour from Bubur Cha Cha is from the pandan-infused coconut milk. Pandan leaf is also known as screwpine leaf, and is most commonly found frozen in Asian supermarkets. Pandan leaf is aromatic and is akin to vanilla in the West. Coconut milk and pandan are very commonly paired together.
How To Cook Sago Pearls
Sago pearls and tapioca jellies provide a chewy texture to this soup. You might better know sago pearls for the texture they add to bubble tea.
White sago pearls come in different sizes, but for this dessert, we're looking at small sago pearls (not the medium or large sized ones used in bubble tea). You can pick up packages of sago pearls at Asian supermarkets. And, if you can't find them easily, you can easily substitute small tapioca pearls.
To cook the sago pearls, add water into a pot, bring it to a boil, and then dump the sago pearls in. Give it a stir. Remove it from the heat, and intermittently stir the sago pearls from time to time. It may seem strange to cook the pearls this way, but this is an optimum way to obtain perfect chewy texture in the sago.
How To make Tapioca Jellies
As for the tapioca jellies, you can make these at home using 2 ingredients: tapioca starch and hot water.
Similar to my recipe for Homemade Bubble Tea Tapioca Pearls (Boba), you just add hot, boiling water into the tapioca starch and mix together to form a dough.
Note: It's important that the ratio of water to tapioca starch is correct; otherwise you will end up with a gummy mess.
If you want to make the jellies colourful, you can add food colouring of your choice (I used natural food colour powder from Suncore Foods), to make them green and pandan-flavoured.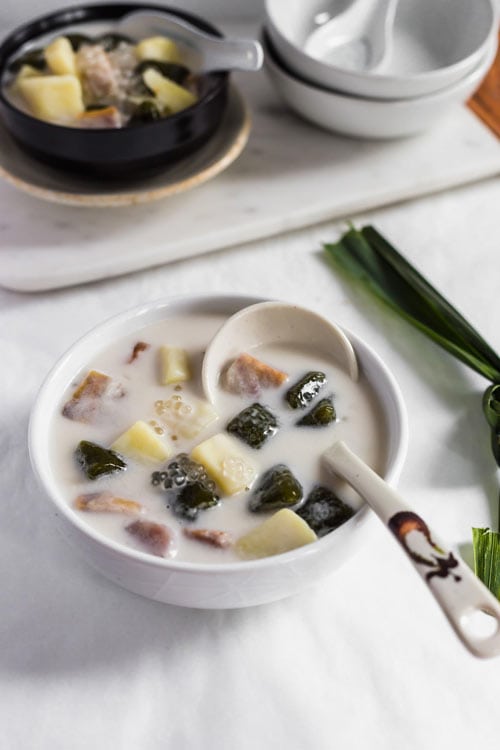 This delicious medley of starchy root vegetables cooked in a lightly sweetened, fragrant coconut milk is thick, rich and will fill you up.
Commonly served as a street food on the streets of Malaysia, you can find this any time of day — as a dessert, snack, or even a meal.
Bubur Cha Cha is vegan, gluten-free, and is a hearty, nutritious and nourishing dessert — cold or hot, try out this recipe and see why it's one of my childhood favourites.
Yield: 6-8 servings
Bubur Cha Cha (Malaysian Coconut Milk Dessert)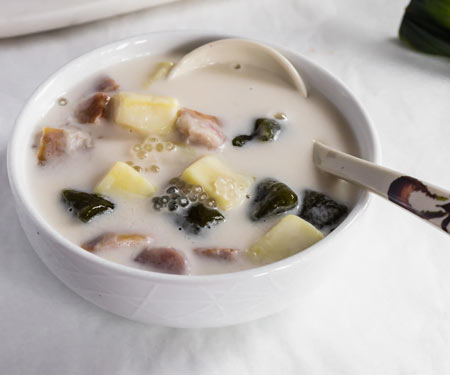 Bubur Cha Cha is a creamy and sweet Malaysian dessert made from yam, taro, and coconut milk.
Ingredients
1 large taro root, peeled and diced
1 medium white yam, peeled and diced
3 c water
1 1/2 cans coconut milk
For The Tapioca Jellies
For The Sago Pearls
Instructions
Fill a large pot with water and bring to a boil. Add in the diced taro and yam. Boil until taro and yam have softened, about 15-20 minutes. Drain into a colander and set aside.

For The Tapioca Jellies

Put the tapioca starch into a medium bowl and add in the hot boiling water. Use a spatula to mix until a dough forms. If you're using food colouring, add it in now. Use your hands to knead the dough and transfer it onto a flat surface. Roll into a long coil and cut into desired shape. Dust with additional tapioca starch if it's too sticky.
Fill a small pot with water and bring to a boil. Add in the tapioca jellies and cook for about 10-15 minutes, until they float to the top. Strain out the jellies and set aside in a clean bowl.

For The Sago Pearls
Using a small pot, add in the 1 C water and bring to a boil. Pour in the sago pearls, give it a quick stir and turn off the heat. Remove the pot from heat and replace the lid. Give it a stir every so often. The sago pearls will be cooked when they're translucent.

To Finish The Bubur Cha Cha
In a large pot, add 3 C of water and the palm sugar. Tie the pandan leaves into a knot and throw them into the pot. Bring to a boil and stir to dissolve the sugar. When the sugar has completely dissolved, bring the heat down to a simmer and stir in the coconut milk. Remove the pandan leaves.
Next, gently add the cooked taro, yam, tapioca jellies, and sago pearls into the coconut milk. When the mixture is warmed through, turn off the heat and serve.
Recommended Products
As an Amazon Associate and member of other affiliate programs, We earn from qualifying purchases.
Nutrition Information:
Yield:
8
Serving Size:
1/8
Amount Per Serving:
Calories:

190
If you liked this recipe, here are some similar dishes you may enjoy!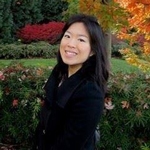 Michelle enjoys learning and discovering different foods from around the world and recreating them in her own kitchen. She is an avid matcha lover and believes that the best food is made from scratch. Michelle develops and photographs recipes at her blog SiftAndSimmer.com.