Limonana is a Levantine/Middle Eastern refreshing mint lemonade. It's easy to make, and the perfect drink for a warm summer's day.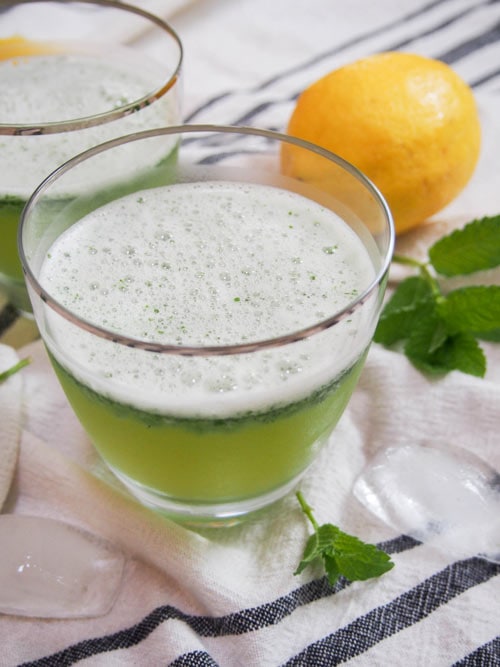 It's no surprise that in many places around the world where lemons grow, some form of a lemon drink is popular in the summer. Lemon is, after all, very refreshing, and it's a great way to use the popular crop.
Lemons are high in vitamin C and said to help digestion, amongst other things.
Lemon in cultural cooking
Despite originally being a plant native to Asia, lemons are now probably more closely associated with the Mediterranean. Many countries around the region use lemon in cooking in various forms, both sweet and savory, either as the main flavor or alongside others, such as herbs or warm spices.
This love of lemon has also been brought into American cooking, where lemonade is, of course, quite popular as well.
Some savory recipes using lemon from around the world:
Cultural sweet recipes using lemon: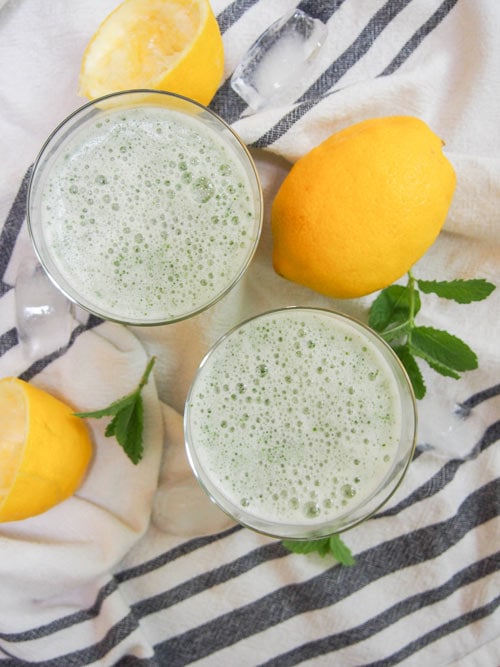 What are the origins of limonana?
There is some debate on the exact origins of limonana. Some argue that it originated in Turkey, while others argue Syria.
Today it is popular across the Levantine region from Lebanon and Israel to Cyprus and Egypt.
The main way limonana is different from an American-style lemonade is that it is made with mint.
Mint is also a popular ingredient in the region. It is probably most famously known as one of the main herbs that are central to tabbouleh salad, but you'll find it in many dishes as well as being used as a garnish. It adds a lovely freshness that's perfect in a hot climate.
Where does the name limonana come from?
Limonana is a combination of the words "limon" meaning lemon in both Arabic and Hebrew, and "nana" meaning mint.
The name first became popular in Israel due to an advertising campaign in the 1990s for a lemon and mint soft drink, apparently, but the origins of the drink are much older, so it is thought that the name had been in use for quite some time before this recent spike in popularity.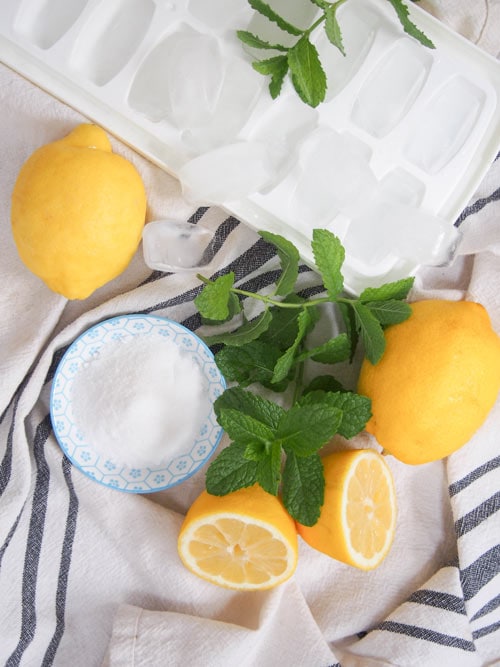 How to make limonana
Limonana is very easy to make, though it can be made in a few ways.
You may find it made with lemonade concentrate to speed things up, but that's definitely not the more traditional way.
The traditional way to make limonana starts with all fresh ingredients. These are lemon, mint, water and sugar.
Originally, the mint would have been chopped by hand and then the drink served over ice. More typically these days, however, you add the mint leaves and other ingredients to a blender along with ice to make more of a slushie.
You can simply add sugar in with everything else when you blend it up, but this way the sugar may not fully dissolve. The better way, if you have the time, is to make a simple syrup ahead of time and use this instead (adding less water to your drink as a result).
Simple syrup can be made ahead and will keep for some time, so you can easily make a larger batch to use for another time. In addition to using it for this recipe, simple syrup is useful to keep on hand if you enjoy making your own cocktails.
While you do need to add some sugar to cut the tartness of the lemons, limonana is generally not quite as sweet as American-style lemonade. However you can, of course, adjust to taste and replace the sugar with a lower-carb sweetener if appropriate for your diet.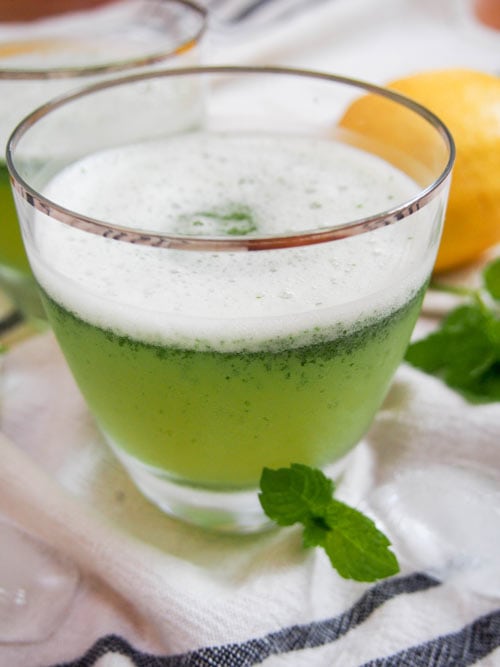 How kids can help make limonana
This is a great summer recipe to get kids involved in the kitchen, since it's quick, easy and also something everyone can enjoy together after.
Here are some ways they can get involved:
Older kids can make the simple syrup by gently heating the water and sugar over the stove.
Once kids are old enough to use a knife, they can cut the lemons for juicing.
Most kids can help to juice the lemons and take out seeds.
Even young kids can pick the mint leaves from the stem.
Most kids can add the ingredients to the blender. (Then you might have to take turns pressing the buttons if you have more than one child!)
Limonana is such an easy and refreshing drink that's perfect to help you cool down on a warm day. With the perfect balance of tart and sweet, it's a drink everyone can enjoy.
Limonana
Limonana is an easy and refreshing mint lemonade, perfect for a warm day.
Servings:
4
glasses (approx)
Ingredients
1/2

cup

sugar

1 1/2

cups

water

divided

1

cup

lemon juice

freshly squeezed from 4-5 large lemons

1/2

cup

mint leaves

relatively well packed, around 60 leaves

2

cups

ice cubes
Instructions
Put the sugar and 1/2 cup water in a small pan and warm over gentle heat until the sugar dissolves. Set aside to cool.

Put the sugar syrup, lemon juice, remaining water, mint leaves and ice cubes in a blender and blend until the mint leaves are well chopped up and everything is well combined. It will be slightly frothy.

Pour into glasses and serve.
If you liked this recipe, here are some similar dishes you may enjoy!