This homemade Meyer Lemon Curd is an easy recipe to make and store. Let lemon curd bring a bright burst of spring flavor to your morning breakfast!
What is lemon curd?
A sweet lemony spread that tastes quite similar to the filling of a lemon meringue pie.
Doesn't that sound delicious?
In the 1800s and 1900s in England, lemon curd was a staple on afternoon tea tables to be eaten with toast or in tarts. In Britain, lemon curd is also known as "lemon cheese".
Lemon curd or lemon cheese, this tasty spread is used like a jam, but is actually closer to a custard in composition because it uses eggs and butter.
What are Meyer lemons?
For our lemon curd, we're using Meyer lemons, which are sweeter than traditional lemons.
Meyer lemons are a fruit that came about from a cross between a lemon and a mandarin orange. These fruits were introduced to the US in the early 1900s from their native land, China.
Now they are grown widely in California, where Meyer lemon season is typically in winter, November through March.
They're a great way to bring a tastes of spring into the winter months!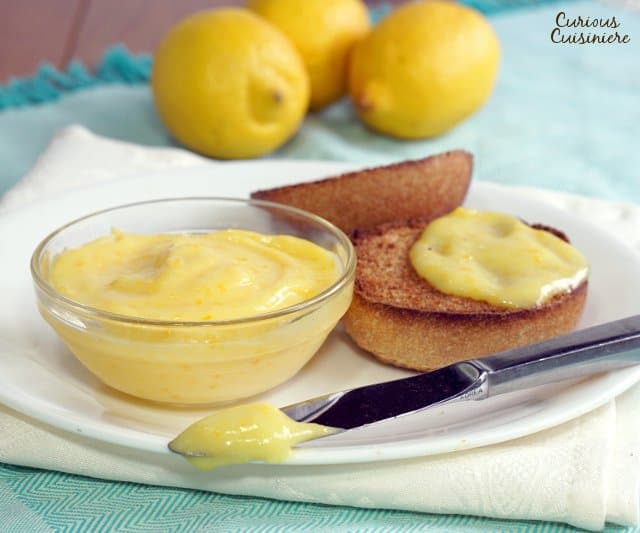 Making other kinds of fruit curd
You can actually make a fruit curd from any citrus fruit (lime, orange, grapefruit) as well as passion fruit and mangoes. We've even seen fruit curds made from berries as well!
More important than the fruit is the process.
How to make lemon curd
Lemon curd is made by a simple process of mixing sugar with eggs and lemon juice. Once the eggs are cooked, butter is mixed in to make the curd extra creamy.
Lemon curd can be processed like jams, using water bath canning. Even when processed, it is best to eat your lemon curd within 3-4 months of making, since it does have eggs and a lower sugar content.
It will keep for up to two weeks in the refrigerator, or can be frozen for up to one year.
Since lemon curd is so easy to make, our recipe below is for a smaller batch, only 1 cup. This is quite easy to use in the 2 weeks that it will stay fresh in the refrigerator. Or you can divide it up for freezing, canning, or giving away, if you won't go through that much in a couple of weeks.
Our easy homemade lemon curd recipe
Our lemon curd is lighter than many recipes you will find, since we use the egg whites as well as the egg yolks. This keeps our homemade lemon curd bright and light, as opposed to rich and heavy.
It has a beautiful lemon flavor with a light sweetness, and a incredibly creaminess, like you're eating the filling from a lemon meringue pie.
How to use lemon curd
Once you have your lemon curd, there are so many ways to use it.
We're partial to spreading it on toast or stirring it into yogurt for bright spring breakfasts.
You can also use lemon curd in place of jam in tarts or thumbprint cookies.
It also makes a wonderful cake filling or topping to a quick bread.
More jam and toast topper recipes
Toast, biscuits, and scones call for jams, jellies, and curds. Here are some recipes to get you started!
Easy Meyer Lemon Curd
Light and bright, this Meyer Lemon Curd tastes like lemon pie filling and is the perfect springtime spread!
Yield: 1 cup
Servings:
16
(1 Tbsp) servings
Ingredients
2

eggs

½

c

sugar

2

Meyer lemons,

juiced and zested (roughly ¼ c juice)

pinch

salt

2

Tbsp

salted butter,

cubed
Instructions
In a stainless steel bowl placed over a saucepan of simmering water (or in a double boiler), whisk together eggs, sugar, and salt. Add the lemon juice and zest and stir, cooking until thickened, roughly 10 minutes.

The lemon curd is done when it is a pale yellow and thick enough to coat the back of a spoon.

When the lemon curd has thickened, remove it from the heat and drop in the butter cubes, one at a time, stirring until each has melted before adding another.

Pour the lemon curd into clean half pint jars, leaving ½ inch head-space.

Lemon curd will stay fresh in a sealed container in the refrigerator for up to 2 weeks.*
Notes
*To store the lemon curd for longer, process the jars via water bath canning for 20 minutes. 
If you liked this recipe, here are some similar dishes you may enjoy!