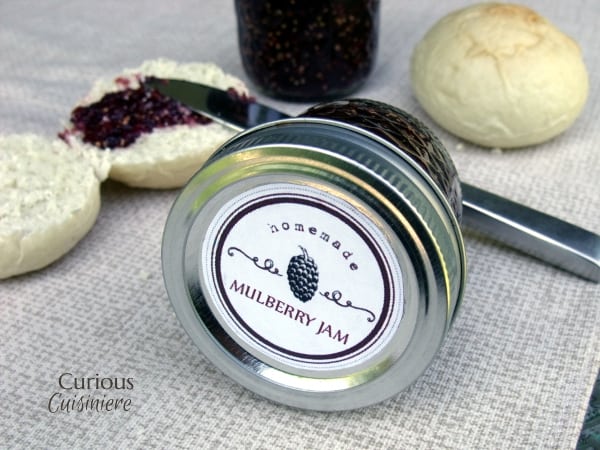 As green foliage began to peak its way out this past spring, we were finally able to take a look at our land, for, what felt like, the first time.
We moved in to our house last fall, just in time to buy rakes and try to keep up with the blankets of leaves.
Then winter came. We knew many of the trees needed to be trimmed, so late winter we started that process, cautiously. More than anything we tried to take note of what we had where.
As spring crept in, our yard burst forth with the results of previous years of little attention – weeds. Galore.
If something appeared in the yard more than 5 times, we nearly automatically assumed it was a weed or some invasive species.
This included 6 trees that were growing way to close to other, more mature, trees. Those trees had to go.
We asked Tim's dad what type of tree he thought they were, and the answer made us pause. "Well. They seem like they might be mulberry."
Huh?
We decided to just wait and see.
And then, we came home from vacation a few weeks ago to find the ground spotted with purple and trees with drooping, fruit-laden branches.
Three hours later, we had harvested 13 pounds of red and white mulberries from four trees. A second harvest a week later yielded another 8 pounds.
Here's my plea – if anyone has any good uses or recipes for mulberries, send them our way!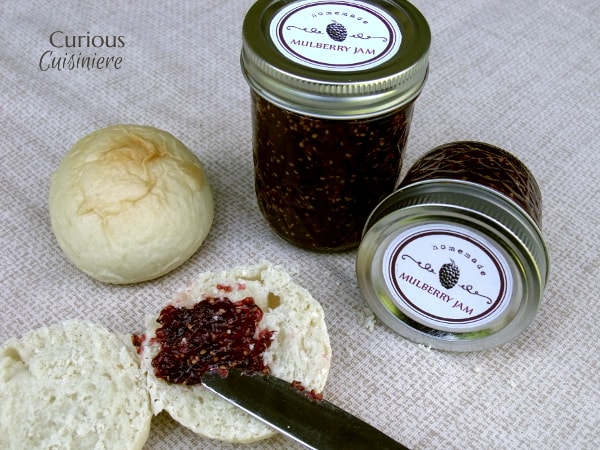 Until then, we'll be making jam!
If you're unfamiliar with mulberries (like I was up to a few weeks ago), it's for good reason. You probably won't find these berries in stores. You may see them at your farmer's market. But, more commonly, you'll simply see the trees growing along the road. (Or in your yard!)
Both the native Red Mulberry and the Chinese White Mulberry are edible. Not to be confused, Red Mulberries are actually a deep purple/black color, while White Mulberries can range from their namesake white to a deep red.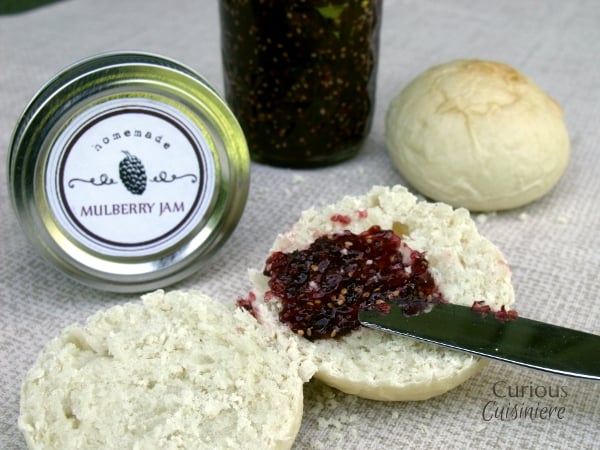 Both varieties are sweet, with only subtle flavor differences, the white version being slightly sweeter in our experiences. Their flavor is almost that of a mild fusion of blackberry and sweet blueberry, making them perfect for a summer berry jam.
Two important things to note about mulberries: If you go out to pick them, wear clothing you don't care about; everything will be purple when you're done. And, don't worry about the stems. They are a pain to take off of the berries, but they are incredibly edible. If you're ok with the berry's seeds, you'll be fine eating the stem.
And lastly, the cute labels I used were originally a free printable from Jones Design Company, to which I did a bit of Photoshop customizing.

Mulberry Jam
Yield: 12 oz
Author:
Sarah | Curious Cuisiniere
Ingredients
2 c Mulberries
1 c sugar
1 ½ Tbsp powdered pectin
1 tsp lemon juice
Instructions
Prepare the jars you will be storing your jam in by washing thoroughly with warm water and soap. Set to dry. (If you will be canning the jam in a water bath canner, prepare for the canning now.)
In a 2 qt saucepan, mix all ingredients together.
Turn the heat to medium and stir occasionally until the sugar melts and the berries begin to soften.
Using a potato masher, mash berries to desired consistency.
Increase heat to high and bring the mixture to a hard boil that cannot be stirred down. Stir constantly so the jam does not stick to the pan and scorch.
Boil hard for 1 minute, stirring constantly. After the minute has passed, remove pan from heat.
Immediately fill your glass jars with the hot jam, leaving ¼ inch of head room.
Process as you would any other berry jam, or let jam cool completely on the counter before refrigerating.
If you liked this recipe, here are some similar dishes you may enjoy!