Bibingka is a sweet coconut milk cake that is naturally gluten free. This fluffy Filipino cake uses rice flour to give it a unique texture and delicious flavor!
Bibingka: Coconut Milk Cake
Bibingka is a cake that is sold by street vendors in the Philippines during Christmas time. It is a simple mix-and-pour batter that is made primarily of rice flour and coconut milk.
The cake is topped with shredded cheese and salted eggs, giving it a very unique sweet and salty combo. (But don't let the saltiness turn you off from this cake, because it's not overpowering. It is actually just enough to be quite enjoyable!)
Making Traditional Bibingka
Traditionally, bibingka is cooked in terra cotta pots that have been lined with banana leaves. The pots then have coals arranged around them, on the top and bottom, for even cooking. This method of cooking gives the cakes a bit of a characteristic char around the edges.
Since we're cooking our cake in a conventional oven, it does lack the traditional charring. (Although you could mimic the char by turning on your broiler for a bit just as the cake is finishing up baking.)
Instead of using terra cotta, we cooked our cake in cast iron. We did happen to have some banana leaves in our freezer from when we made Kalua Pork over the summer, so we got one out to line our skillet. If you don't have banana leaves, or can't get them online or at your local Latin or Asian grocery store, then don't worry. While the banana leaves do give a bit of an earthy, tea-like scent and flavor to this cake, the effect is subtle. The cake will be just as tasty if you just cook it in your cast iron pan. (Or even in a 9 inch cake pan for that matter!)
A Gluten Free Cake
If you've been around Curious Cuisiniere much, you know that we don't do much gluten free baking, so were a bit skeptical to make a cake with only rice flour, but the starches in the rice do something magical for the structure and texture of this cake, leaving you with a super fluffy cake with a very unique, slightly starchy texture.
This is definitely a cake that we would make again!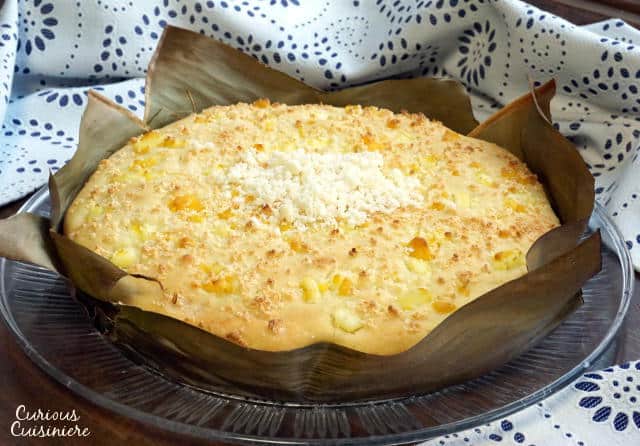 Bibingka (Filipino Coconut Milk Cake)
Yield: 1 (9 inch) round cake
Ingredients
To Prepare the Pan (optional)
For the Cake Batter
2 ½

c

rice flour

1

c

sugar

2

Tbsp

baking powder

¼

tsp

salt

1

can (13.66 oz)

coconut milk

¼

c

milk

3

eggs,

lightly beaten

3

Tbsp

unsalted butter,

melted and cooled
For the Topping
2

oz

queso fresco

or shredded cheddar cheese

1

hard boiled egg,

peeled, diced and lightly salted
Instructions
Preheat your oven to 350F.

(If using the banana leaf) grease a 9-inch cast-iron skillet with butter and line it with the leaf, overlapping the pieces so that there are no gaps. Butter the leaf and trim any edges, as needed.

(If not using the banana leaf) grease your 9-inch cast-iron skillet with butter

In large bowl, combine rice flour, sugar, baking powder and salt. Whisk together until evenly combined.

In another bowl, or large liquid measuring pitcher, combine coconut milk, milk, eggs, and butter. Whisk until blended.

Pour the wet mixture into the rice flour mixture and gently stir until the batter is evenly moistened.

Pour the mixture into the prepared skillet.

Bake the cake for 15 minutes.

Remove the cake from oven and sprinkle the top with the cheese and salted egg pieces.

Return the cake to the oven and bake for an additional 30-35 minutes, until the cake is golden brown and toothpick inserted in the middle comes out clean.

When done, remove the cake from the oven and let cool in the pan for 10-15 minutes.

Serve warm.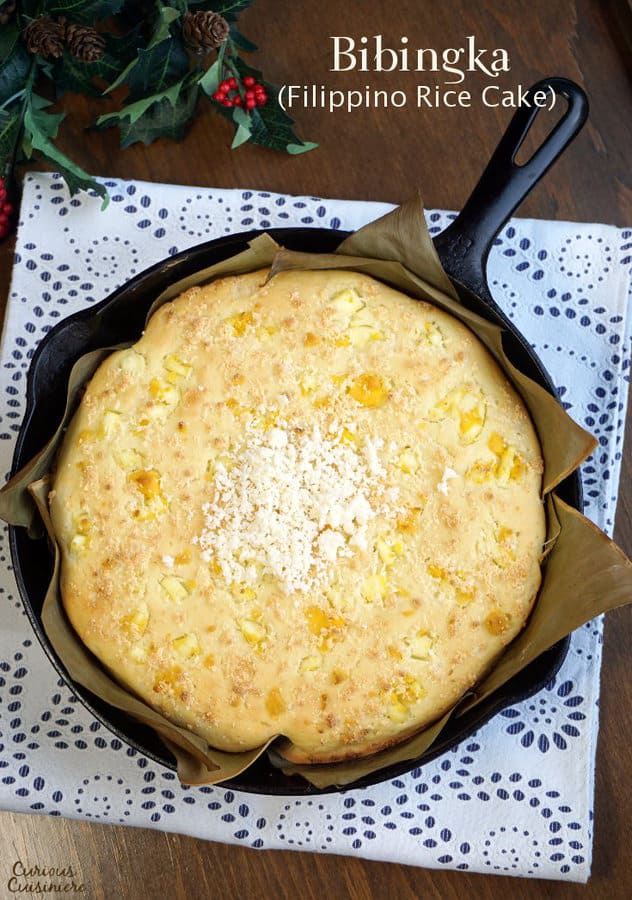 If you liked this recipe, here are some similar dishes you may enjoy!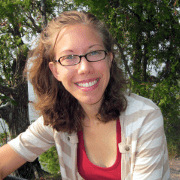 Sarah is one of Curious Cuisiniere's founding duo. Her love for cultural cuisines was instilled early by her French Canadian Grandmother. Her experience in the kitchen and in recipe development comes from years working in professional kitchens. She has traveled extensively and enjoys bringing the flavors of her travels back to create easy-to-make recipes.