Also known as Dutch Windmill Cookies, our Speculaas Cookies might not be in the shape of windmills, but they still bring the same crisp, spiced cookie flavor of the traditional Christmas recipe. 
An International Cookie Exchange
Have you ever been to a cookie exchange? How about hosted one? We love the idea of getting together with friends to share Christmas spirit, nosh on cookies, and swap recipes.
Today we are joining some blogging friends for a virtual cookie exchange party! This isn't just any cookie swap, though. We're all sharing cookies from different countries around the globe, for an International Cookie Exchange!
So many cultures celebrate Christmas in many different ways, but cookies seem to be one of the unifying factors. I guess we all just love a little sweet treat! So, be sure to read all the way to the end of today's post to take a trip around the world: cookie style!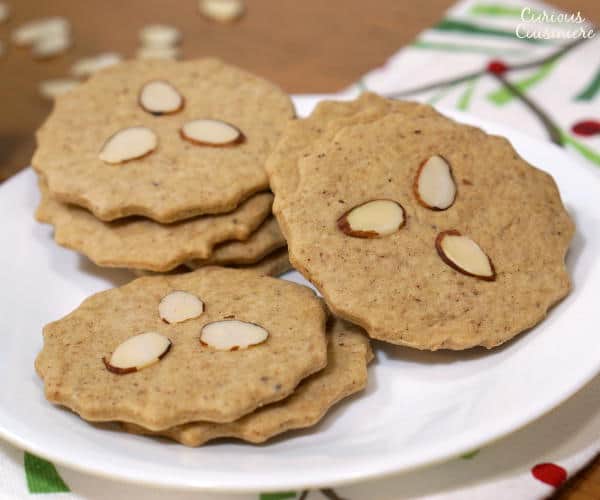 In honor of St. Nicholas' Day on December 6th, we decided to bring Speculaas cookies to the party!
Speculaas Cookies
Speculaas (or speculoos) cookies are a staple of the Christmas season in the Netherlands, Belgium and parts of Germany. These crispy, spiced cookies are traditionally stamped or molded before baking to imprint an image into them, like the classic windmill or the figure of St. Nicholas.
We don't have a special mold or cookie stamp, but we still wanted to enjoy these traditional cookies, so we simply rolled them thin and cut them using a cookie cutter. Decorated with almond slices, they still look pretty enough for a cookie platter!
The name Speculaas has two possible origins. It may come from the Latin word "speculum," meaning "mirror," which would refer to the way the mold creates a mirror image in the cookie. It could also come from the Latin word "speculator" which refers to a bishop (in this case, Saint Nicholas who was Bishop of Myra) and means "he who sees everything".
St. Nicholas' Day Cookies
While these cookies are popular throughout the Christmas season, they are one of the traditional ways of celebrating the Feast of St. Nicholas (or Sinterklaas), which falls on December 6th or 19th (depending on the region). This feast celebrates the generosity of St. Nicholas with the giving of presents and is where we get the concept of Santa Claus.
On the eve of St. Nicholas' Feast, Sinterklaas (St. Nicholas) brings the children chocolate coins, oranges, and presents. Children leave their shoes out for Sinterklaas, in hopes that he will fill them with treats.
Whether you're getting ready to celebrate St. Nicholas' Day or just celebrating the holiday season, the warm, spiced flavor of these cookies makes them a perfect dose of Christmas cheer!
Making molded Speculaas
If you would like, you can find Springerle Molds or Springerle Rolling Pins at specialty baking stores and online. The recipe below gives instructions for how to make the cookies any of the three ways.
Enjoy!
Speculoos Spread?
As a side note: In the early 2000's some Belgian and Dutch companies started selling a spread version of Speculaas cookies, but when in reference to the spread, you'll often find the spelling of the cookies changed to Speculoos, rather than Speculaas.
But, you probably better know the cookie spread by the name of Biscoff or Cookie Butter.
How about that?
Speculaas Cookies
The dough should be refrigerated for at least 30 minutes to develop the flavor. It can be kept for up to 2 days in the refrigerator before baking.
Yield: 3 dozen (2 1/2 inch) cookies
Ingredients
6

Tbsp

butter,

unsalted, softened

½

c

brown sugar

½

tsp

baking soda

2

tsp

cinnamon

½

tsp

salt

½

tsp

nutmeg

½

tsp

ground cloves

¼

tsp

ground ginger

¼

tsp

ground white pepper

¼

c

milk

¼

c

sliced almonds,

optional (to decorate)
Instructions
Place butter in a large bowl and beat with an electric hand mixer, until soft. Add the brown sugar and cream until smooth, 1-2 min.

In a medium bowl, mix together flour, baking soda, and spices. Add the flour mixture to the butter mixture and mix until combined into an even, sandy mixture.

Add the milk and beat until the dough forms wet crumbs. Using your hands, knead the mixture to form a soft and pliable dough. (The dough should be soft, but not sticky.) Wrap the dough with plastic wrap or place it in a plastic bag, and refrigerate for 30 min – 1 hour. (The dough can be refrigerated for up to 2 days before baking.)

Preheat your oven to 350F.

Remove the dough from the refrigerator and roll it to a 1/4 - 1/3 inch thickness. Cut using a roughly 2 ½" cutter. Place the cut cookies on a baking sheet and decorate them with sliced almonds if desired. Bake the first batch while you knead the scraps together and re-roll the dough for a second cutting.

Bake the cookies for 11-12 min, until firm and just beginning to turn golden around the edges.

Cool the cookies on the baking sheet for 1 min before transferring them to a wire rack to cool completely.

Continue cutting, decorating and baking until all the dough has been used.

Store the cooled cookies in an air-tight container for up to 2 weeks.
To use Springerle Molds
Roll the dough to 1/4 - 1/2 inch thick (depending on your molds). Spray the molds with cooking spray and lightly dust them with powdered sugar.

Cut a piece of dough the size of the mold and press the dough firmly and evenly into the mold. Flip the mold over and press it onto your baking sheet, loosening the dough from the mold with your fingers. You can trim any excess dough from the cookie with a small knife. Repeat with the remaining dough. (Be sure to frequently dust the mold with powdered sugar and check if it needs to be cleaned out with a toothpick.)

Place the molded cookies on a baking sheet and place them in the refrigerator for 30 minutes. Bake as directed above.
To use a Springerle Rolling Pin
Roll the dough 1/2 inch thick with a normal rolling pin. Dust the springerle rolling pin with powdered sugar and press firmly to make a 1/4 inch cookie dough with one pass of the rolling pin. Cut the dough along the grid lines with a pizza cutter.

Place the molded cookies on a baking sheet (a dough scraper works very well to loosen these cookies from the counter) and place them in the refrigerator for 30 minutes. Bake as directed above.
---
Welcome to the International Cookie Exchange hosted by Sarah from Curious Cuisiniere and Camilla from Culinary Adventures with Camilla.
Today a group of cookie-loving food bloggers is sharing recipes for cookies from around the globe. Get ready to break out your mixing bowl, because these recipes are sure to inspire you to fill your cookie jar with cultural treats!
You can find these great recipes and more cookies from around the world on the International Cookie Exchange Pinterest Board .
Here's the #IntnlCookies Tray…
listed in alphabetical order of the cookies' country of origin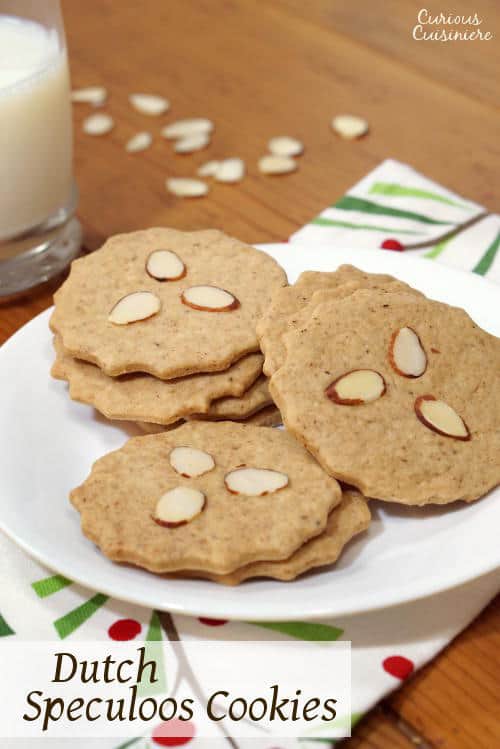 ---
DISCLOSURE: This post does include Amazon affiliate links. These links are provided to help you find some of the more specialty ingredients we mention in the recipe. If you make a purchase on Amazon after following our affiliate links, we do receive a small commission from Amazon, at no extra cost to you. Thank you for supporting Curious Cuisiniere!
If you liked this recipe, here are some similar dishes you may enjoy!