Creamy milk caramel, sandwiched between two crisp and buttery shortbread cookies. These Argentinian Dulce de Leche Cookies are a recipe worth indulging in.
Latin American Alfajores
Alfajores (pronounced AL-fa-HO-res) are a sandwich cookie that is incredibly popular in Argentina and all over Latin America.
They are so well-loved that they are widely considered the national cookie of Argentina, where you will find these sweet treats eaten not only as a dessert or snack, but also at breakfast with coffee or tea!
Spanish Alfajores vs. Argentinian Alfajores
It is believed that these sweet and crumbly cookies have been enjoyed for over 100 years. They were brought to Latin America from Spain, where they are a traditional Christmas cookie. However, the name is the only similarity between the Spanish and Latin American cookie today.
While the Latin American adaptation cuts the cookie dough into rounds when then form a sandwich with the creamy Dulce de Leche, in Spain, the dough is shaped into a small tube shape, creating a longer, crispy cookie, without any creamy filling.
Spanish Alfajores are made with honey, almonds and spices, and they are crumbly, but not quite the melt-in-your-mouth sandwich cookie that they became in Latin America.
Making The Dulche de Leche Cookies
The Latin American version that we are sharing with you today starts with two crisp and crumbly shortbread cookies that get a unique texture from the use of cornstarch as well as flour. The cornstarch is what gives the cookies their incredibly crumbly texture.
The cookies themselves are only mildly sweet, which is perfectly acceptable because they are sandwiched with a milk caramel (literally "candy milk") called Dulce de Leche (pronounced DOOL-seh deh LEH-tcheh).
You can find Dulce de Leche in Latin grocery stores, or you can make it yourself by slowly heating sweetened condensed milk until the sugars caramelize. (We have include instructions for making your own in the recipe below.)
Creamy and Crispy Cookies
We love the way the crumbly texture of the cookies contrasts with the smooth and creamy Dulce de Leche. The cookies are so crumbly, that you must be careful to fill and sandwich them while still slightly warm, so they don't crack and crumble.
However, once the sandwiches set overnight, the cookies start to absorb moisture from the Dulce de Leche filling, softening them just enough and giving them an incredibly rich feeling in your mouth with each bite.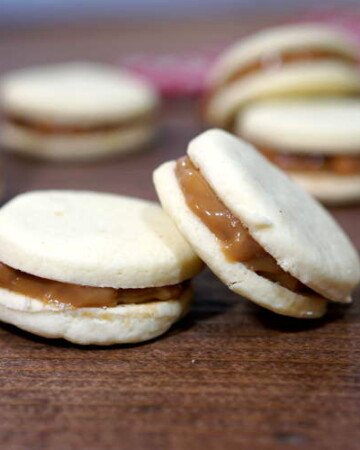 Print Recipe
Pin Recipe
Alfajores (Argentinian Dulce de Leche Cookies)
Recipe yields 1 doz (1 ½ inch) sandwich cookies.
If you are making your own Dulce de Leche, we recommend starting it at least 5-6 hours before your cookies will be ready to fill.
Author:
Sarah | Curious Cuisiniere
Instructions
In a medium bowl, cream butter and sugar with an electric hand mixer. Add the egg yolk, lemon zest, and brandy. Beat until smooth and fluffy.

In a separate bowl, mix cornstarch, flour, and baking powder. Sift the dry mixture into the butter mixture and beat over low speed until the mixture looks like even, wet crumbs.

Using your hands, knead the mixture just until it forms a dough that will hold together. Shape the dough into a ball and wrap it in plastic wrap. Place the dough in the refrigerator for at least one hour, up to 3 days, to let the flavor develop.

When you are ready to bake your cookies, preheat your oven to 350F.

Roll the dough ¼ inch thick and cut it into circles using a 1 ¾ inch cookie cutter (or the mouth of a shot glass), Re-roll any dough scraps and cut additional cookies. You should have 24 cookie dough rounds. Place the cut dough onto a baking sheet, ½ inch apart.

Bake the cookies for 12-13 minutes, until they are firm, but just before they start to turn a light golden brown. (These cookies are traditionally white.)

When the cookies are done, remove them from the oven and let them cool for about 1 minute on the baking sheet. Then, transfer the cookies to a wire rack to cool completely.

When the cookies cool to room temperature, place roughly 1 tsp of Dulce de Leche on one cookie and top it with a second cookie. Press down gently and evenly, so that the cookies do not crumble.

(If desired, sprinkle the cookies with powdered sugar or dried coconut.)

Enjoy the cookies immediately to really appreciate the crisp and creamy texture contrast, or store for up to 1 week in an air-tight container for the cookies to absorb some flavor and moisture from the Dulce de Leche.
Notes
* To make homemade Dulce de Leche: Place one can of sweetened condensed milk (with the label removed) in a large pot of water (be sure the water comes at least 1 inch above the can. Gently boil the water for 2-3 hours (2 hours gives a lighter Dulce de Leche, 3 hours gives a deeper colored Dulce de Leche like we used in our pictures). After the time is up, remove the can from the water with a pair of tongs and place it on a wire rack to cool completely before opening.
Any leftover Dulce de Leche can be stored in the refrigerator for 1-2 weeks. Use leftovers with ice cream, as a cake filling, or anywhere you would use traditional caramel syrup.
If you liked this recipe, here are some similar dishes you may enjoy!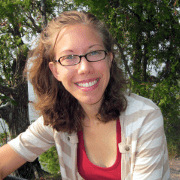 Sarah is one of Curious Cuisiniere's founding duo. Her love for cultural cuisines was instilled early by her French Canadian Grandmother. Her experience in the kitchen and in recipe development comes from years working in professional kitchens. She has traveled extensively and enjoys bringing the flavors of her travels back to create easy-to-make recipes.
Love it? Share it!