Bright and savory, Greek inspired flavors give this marinated sirloin tip roast a robust flavor that is perfect for a holiday roast or any special occasion.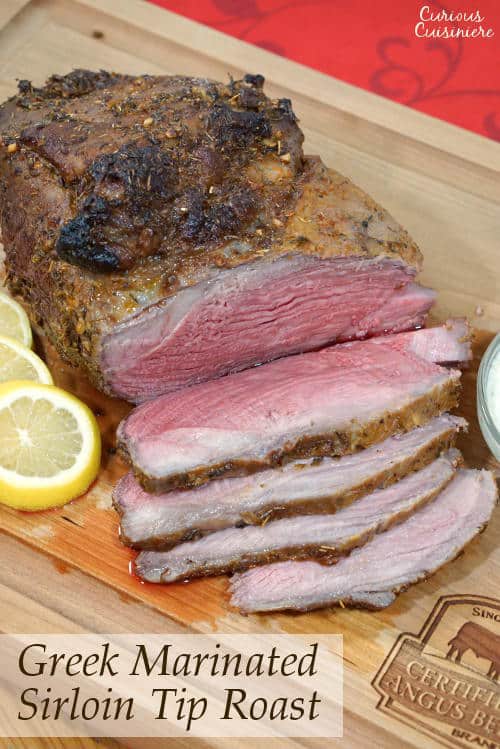 We're back with Certified Angus Beef® Brand and Sunday Supper for holiday roasting! If you follow us on Instagram, you will know that in the beginning of November Sarah had the opportunity to travel with 19 other Sunday Supper bloggers to Wooster, Ohio for a weekend of learning, fun, and great food at the Certified Angus Beef® Brand headquarters.
We learned so much about choosing the best cuts of beef and cooking and seasoning them to perfection. It was an information-packed weekend, and we are looking forward to sharing all the knowledge we learned!
Why Marbling In Beef Is A Good Thing
Three of the 10 standards that all Certified Angus Beef® Brand beef must meet have to do with marbling. It's that important!
Marbling refers to the small flecks of white fat that you see inside the meat. When choosing a cut of beef, don't be put off by these bits of fat. Marbling is what contributes to the tenderness, juiciness, and flavor of the meat. This marbling fat is a healthy, monounsaturated fat – the same type of fat that you find in olive oil.
When choosing a roast, you want to look for small flecks of marbling fat that are evenly scattered throughout the cut. Avoid roasts that look like they have "veins" or channels of fat through them. These channels typically separate different sections of muscle, which can make properly slicing your roast (against the grain) a bit tricky.
Take a look at the many types of roasts that we learned about with the Certified Angus Beef® Brand chefs. You can really see the marbling in the Top Round and Rib Roasts below.
The Perfected Beef Roasting Technique
With so many different types of roasts, choosing a roast from the butcher's meat counter can be a bit intimidating. And that is where the Roast Perfect App from Certified Angus Beef® Brand comes in handy. We've talked about it before, and we'll talk about it again. We'll talk about it to anyone who will listen, for one reason only: this app is amazing. Not only does it give you recommended roast cuts with a short description and recipes, but it also gives you a a roasting timer specifically tested for your cut, weight, and desired done-ness.

The chefs at Certified Angus Beef® Brand roasted many roasts, carefully measuring the temperatures to get their timer to be perfect. And, it has always been spot on when we've used it for our roasts!
The timer also includes a nifty trick to seal in the juices of your roast and start creating a perfect, crisp, and flavorful crust. A common technique is to pan-sear your roast before placing it in the oven, to start developing the crust. But, the Roast Perfect App has you preheat your oven to a temperature that is higher than you will be roasting at. For the first 15 minutes, the roast sears in the oven at this higher temperature. Then, you lower the temperature, and the main roasting happens.
Do you know what really excites us about this trick? No extra pans to clean!
We love how easy this technique has made roasting. It's simply a matter of seasoning the meat and then popping it into the oven. After that, we can turn our attention to the other elements of the meal, like sides and sauces!
For more great tips on creating the perfect roast, check out our Keys To The Perfect Roast Beef article.
Our Greek Roast
For today's roast we chose a Sirloin Tip Roast. This value cut is tender, lean, and economical. Quite the win!
We marinated our roast overnight in a Greek-inspired mixture of lemon juice, olive oil, and herbs. The marinade gives the meat a slightly citrus-y flavor that is bursting with savory oregano and garlic. Tim called it a cross between having a Greek gyro and a holiday prime rib. What a party!
To add to the Greek flair, we served the roast with a classic Greek Tzatziki, a creamy yogurt and cucumber sauce. But, of course, we added a twist. We love our beef with horseradish, so we decided to throw a little grated, fresh horseradish into the tzatziki to kick it up a notch.
With the fun Greek flavors and the slight horseradish kick from the sauce, this roast is definitely a show stopper that is perfect for the holiday table.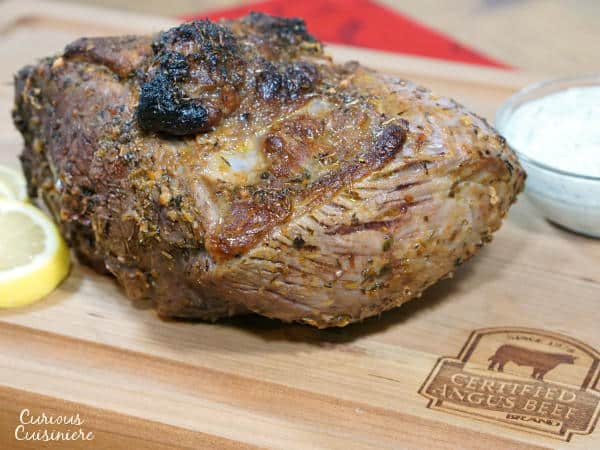 For more tips to get you roasting this holiday season, and another great beef roast recipe, check out our Mustard Crusted Top Round Roast where we talk about how to figure out how much meat you need for your guests and what the ideal temperatures are for each level of done-ness.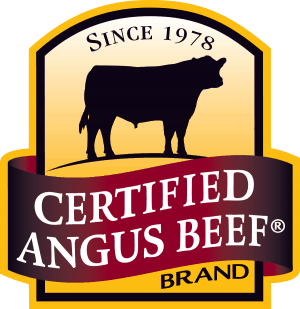 So, where can you find this wonderful app? It is FREE from the iTunes store (for iPhone and iPad) and from Google Play (for Android). Just download it like you would any other app and get roasting!
To find Certified Angus Beef® brand beef near you, you can use the Store Locator section of the Roast Perfect App or search their site for where to buy.
For more great recipes for beef, check out the Certified Angus Beef® brand Roast Perfect Pinterest Board and for more great tips and information about Certified Angus Beef® brand check out their social media channels: Twitter, Facebook, Pinterest, Instagram, YouTube, and Periscope.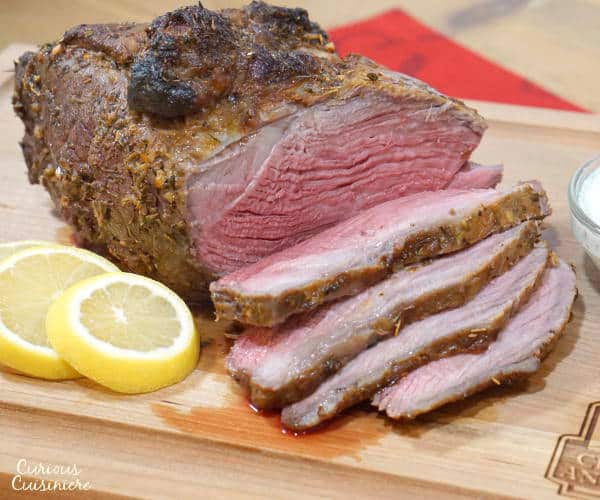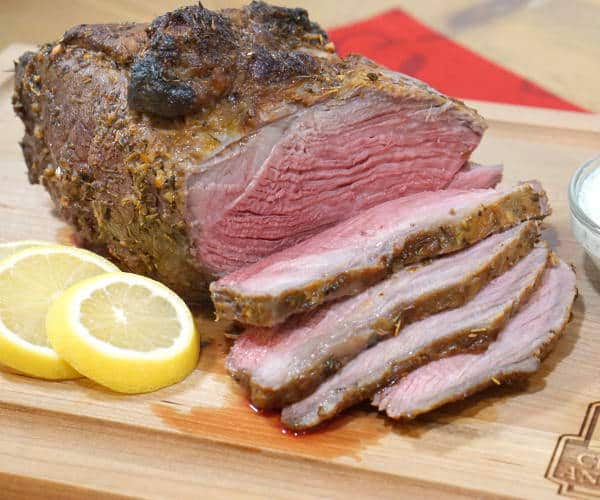 Greek Marinated Sirloin Tip Roast with Horseradish Tzatziki Sauce
For best flavor, marinade this roast for 6-8 hours in the refrigerator
---
Ingredients
For the Roast
3.5

lb

Sirloin Tip Roast

½

lemon,

juiced (roughly 2 Tbsp juice)

1

Tbsp

olive oil

2

garlic cloves,

minced

1

Tbsp

oregano

2

tsp

salt

1

tsp

thyme

1

tsp

paprika

½

tsp

ground black pepper
For the Horseradish Tzatziki Sauce
1

c

Tzatziki Sauce

1-2

Tbsp

fresh horseradish root,

peeled and grated*

¼

tsp

white sugar
Instructions
For the Roast
In a small bowl, mix together the lemon juice, olive oil, minced garlic, oregano, salt, thyme, paprika, and ground black pepper.

Place the roast on a large piece of plastic wrap and coat it with all of the marinade. Wrap the roast tightly with the plastic wrap to seal in the marinade and refrigerate for 6-8 hours.

Remove the roast from the refrigerator 1 hour before you are ready to roast, to let it come to room temperature.

Preheat your oven to 450F.

Place the roast on a rack in a roasting pan (or on a rack in a baking sheet with sides) and place in the oven for 15 minutes.

After 15 minutes, reduce the heat to 325F and continue roasting for an additional 50 minutes to 1 hour 25 min, until an insta-read thermometer inserted into the center of the roast reads 120-125F. (This will give you a medium rare ending roast.)

Remove the roast from the oven, tent it loosely with foil, and let it rest for 10 minutes. After resting, the internal temperature should read around 135F.

Carve and serve immediately.
For the Horseradish Tzatziki Sauce
While the roast is cooking, make your Horseradish Tzatziki Sauce by mixing the Tzatziki Sauce with fresh grated horseradish root and sugar. This sauce improves with time, so it can even be made immediately after you marinate your roast. Keep it in a sealed container in the refrigerator for up to 1 week.
---
Recipe Notes
*If you're not a horseradish fan, you can dial it down in the sauce. Using 1 Tbsp doesn't pack much punch at all; rather it just adds a really unique flavor.
---
For more great roasting tips and recipes, take a look at what the other Sunday Supper tastemakers have created. You may just find your next holiday meal!
Holiday Roasts

Join the #SundaySupper conversation on twitter on Sunday! We tweet throughout the day and share recipes from all over the world. Our weekly chat starts at 7:00 pm ET. Follow the #SundaySupper hashtag and remember to include it in your tweets to join in the chat. To get more great Sunday Supper Recipes, visit our website or check out our Pinterest board.
Would you like to join the Sunday Supper Movement? It's easy. You can sign up by clicking here: Sunday Supper Movement.
Disclosure: This post is sponsored by Certified Angus Beef in conjunction with a social media campaign through Sunday Supper LLC. All opinions are our own.
If you liked this recipe, here are some similar dishes you may enjoy!