Does cooking a perfect roast beef seem like an intimidating task saved only for special occasions? We've learned some tips and tricks to choosing the best beef and cooking a perfect roast that will make you a pro, be it at the weeknight table or the family holiday gathering.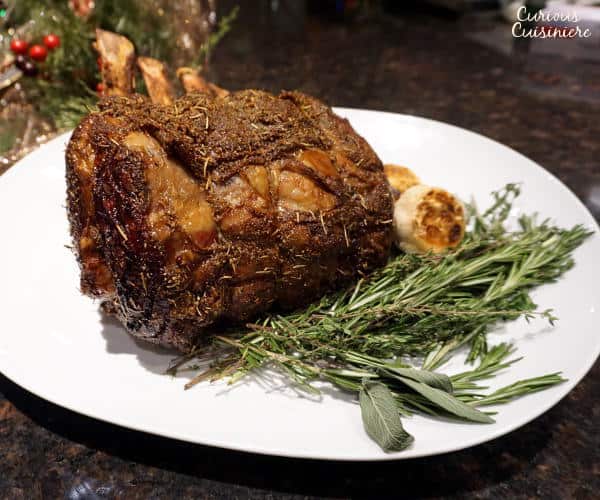 (This​ ​post​ ​is​ ​sponsored​ ​by​ ​the​ ​Certified​ ​Angus​ ​Beef​ ​®​ ​brand​ ​in​ ​conjunction with​ ​a​ ​social​ ​media​ ​campaign​ ​through​ ​Sunday​ ​Supper​ ​LLC.​ ​All​ ​opinions​ ​are our​ ​own.)
What Is Roasting?
In many cultures around the world Holiday meals call for roasting large cuts of meat to serve all the family and friends that gather together to celebrate.
Roasting is a dry heat cooking method where hot air encircles the food, cooking it evenly on all sides at once.
It is typically done in an oven with the meat placed on a roasting rack, to let the air have access to all parts.
It is a wonderful method for weeknight meals, since it is perfect for cooking larger pieces of meat. But, the result is elegant enough for a holiday dinner.
That's why many families gravitate to a roast for their holiday meal.
How To Make Roasting Easy
Many people are intimidated by roasting. Particularly when it comes to that big, prime cut that they'd like to be the star of their holiday dinner.
That's why the Certified Angus Beef® Brand has come out with their Roast Perfect App, which we have talked about on a number of occasions (here and here for example). This App, (available for FREE on Apple and Android) walks you through how much meat to buy for your guests and even includes a roast timer specifically tailored to the roast you choose and your desired done-ness.
We never roast without it!
There really is no reason to be intimidated by roasting. With a few key tips, you'll be roasting like a pro!
Understanding Beef Grades
All beef must be inspected, but USDA grading is an optional step to prove quality. The grading relies heavily on marbling, or the small flecks of fat that you can see in the meat.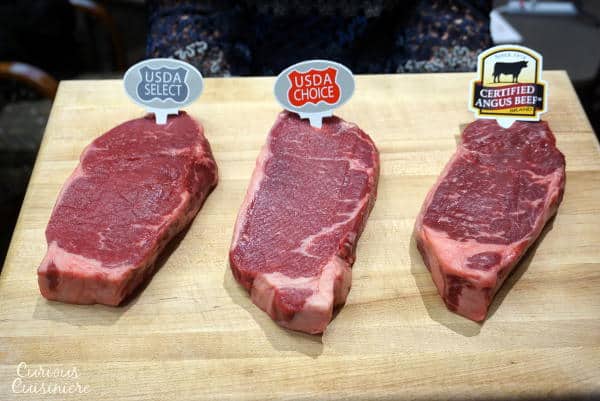 In the above picture you can see the difference in the marbling.
USDA Select = slight marbling
USDA Choice = small to moderate marbling
USDA Prime = abundant marbling
Certified Angus Beef® Brand beef falls into the moderate to abundant range of the USDA Choice and Prime categories. (This is why you will find Certified Angus Beef® Brand Beef and Prime Certified Angus Beef® Brand Beef).
But, only 1 in 4 Angus cattle meet the additional 10 quality requirements to be Certified Angus Beef® Brand Beef.
How To Choose A Roast
One look at your butcher's meat case, and you'll know, there are LOTS of roasts to choose from.
And, each cut has an application where it really shines.
If we dove into each of them here, you'd be here all day. So, we'll just leave you with this nice spread of roasting cuts that range in price from prime (the Rib Roast and Tenderloin) to more economical (the Round Roast or Sirloin Tip).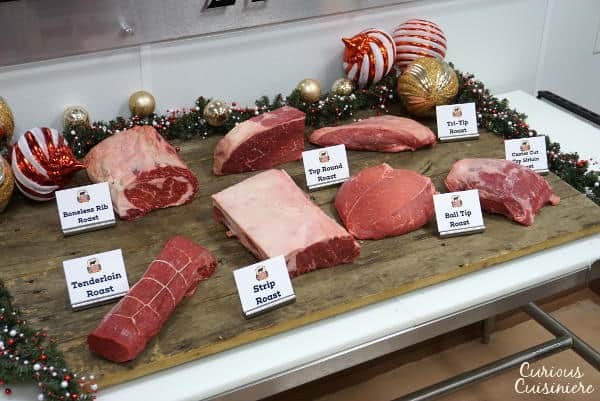 If you're starting out with roasting, consider trying a more economical cut like a Top Sirloin or Top Round. That way you can gain confidence to move up to the fancy cuts, like a Rib Roast!
Roasting Basics
When you get your meat home, then comes the fun part! The roasting!
Searing your roast on all sides before roasting locks in the juices and starts a great crust forming.
Then, the roasting continues the cooking at an even rate.
Finally, all roasts should be RESTED.
This 10-15 minutes of resting will finish off the cooking. During that resting period, the meat will rise in temperature about 10 degrees. So, it is important to take your meat out of the oven when the internal temperature is 10 degrees LOWER than where you want it to end up.
Where do you want it to end up? These temperatures are good guidelines:
Rare: 125ºF
Medium Rare: 135ºF
Medium: 145ºF
Medium Well: 150ºF
Well: 160ºF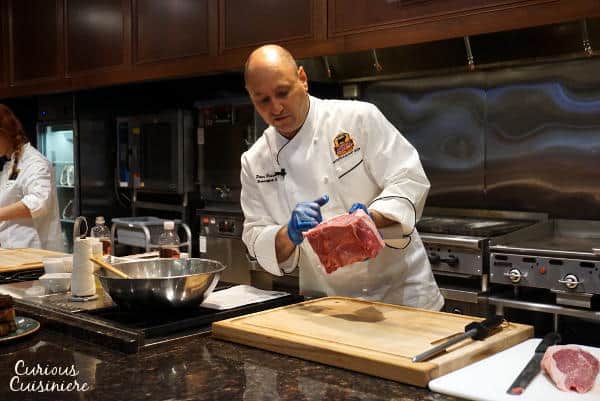 If you download the Certified Angus Beef® Brand Roast Perfect App , you'll have Chef-perfected timing for any size of any type of roast. The App walks you through all stages of cooking, so you don't have to worry at all!
Finishing Sauces For Beef Roasts
A good roast doesn't really need any fancy marinades or seasonings. A good sprinkling of salt and pepper will do very nicely.
But, a finishing sauce is an easy way to add a little extra flair, without taking much extra time.
A quick rue made with a 50:50 ratio of fat (butter or oil) and flour that are cooked briefly is the base to your gravy or sauce. Then your liquid (water, stock, milk) is added slowly and cooked until it thickens. From there, you can season it to taste. But, if you're using good quality stock that may be all you need.
Roast Your Best Roast This Holiday
Gathering with family and friends during the Holidays should be a time of good food and good company, and you shouldn't have to stress about the roast!
So, go grab the Roast Perfect App and make this year's roast the best, and no stress!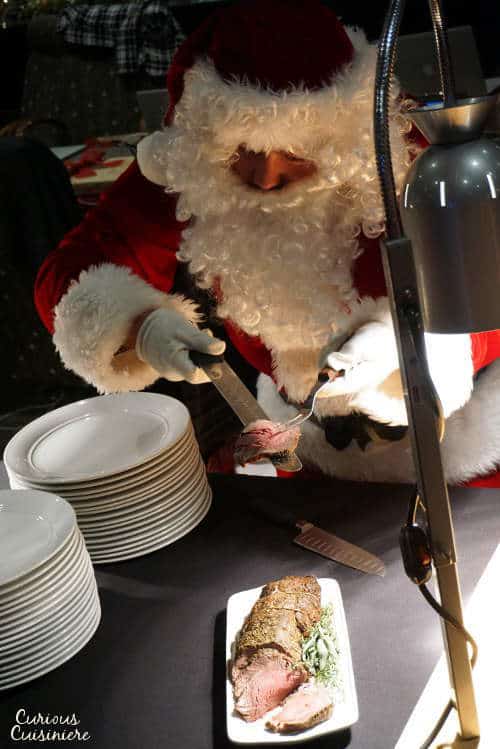 If you liked this recipe, here are some similar dishes you may enjoy!