Make roasting easy with this Mustard Crusted Roast Beef, simple to make, big on flavor, and the perfect recipe for any holiday meal.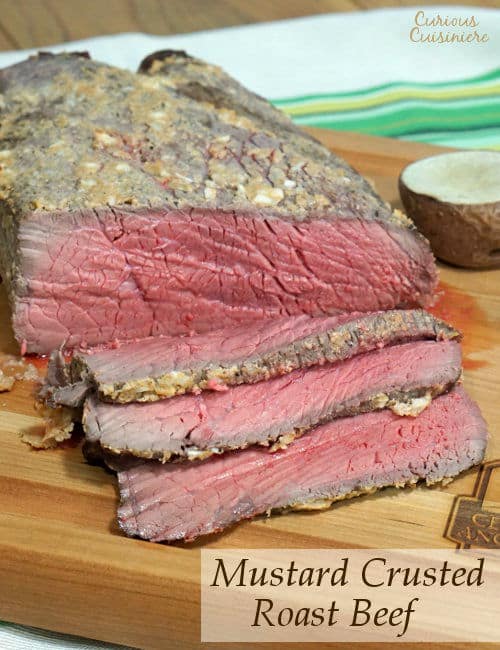 It's official.
November is here and that means one thing: the Holiday season is upon us. Let the party planning begin!
Thinking about bringing family and friends together indoors around a warm and comforting meal is one of the things that makes the transition from warmer weather to cooler days one of excitement. And, when it comes time to feed the hungry crowd, Certified Angus Beef® brand roasts are one of our go-to main dishes.
Making A Beef Roast For A Crowd
Many people think that roasting is time consuming, or they find it intimidating because they're not sure what cut of meat to use or how to go about roasting it.
If you've ever been intimidated by roasting, you're not alone. But today, that all changes.
Growing up, I always marveled at how my mom could prepare beautiful roasts for a crowd. The meat was always done to perfection: just enough bright pink for those who liked their meat medium-rare, but still enough medium/medium-well sections for those who preferred their meat more well done.
I NEVER thought I would be able to create a roast that rivaled hers.
Why good beef matters

This is one of those lesson that Tim and I have learned through trial and error.
As we started cooking more roasts, we would try different brands of beef from different retailers. We're food geeks (You know that's why you love us!), so we took pictures and we kept notes. And what it came down to was that not all meat is equal.
Thankfully, or local Piggly Wiggly grocery store carries Certified Angus Beef® brand, and we discovered their quality as we were going through our testing. Only after we came to the conclusion for ourselves, did we discover why their beef is so much more tender and flavorful than the other brands we had tried.
Choosing a cut of beef
Many people don't roast because they simply don't know what cut to choose or because the cuts that they do know work well for roasting tend to be the more expensive ones. While the cut is important, it may not be important in the way you would think.
Different roasts are better for different applications. For many cooks, the holidays are synonymous with Prime Rib or Ribeye. While we love these cuts, they are on the pricier end. And, when you're paying a lot for a quality roast, it makes sense to be nervous about cooking it properly.
But, don't let the cost of a Prime Rib or Ribeye stop you from roasting during the holiday season or scare you away from roasting all together. There are more roasts to roast!
That's why today we decided to feature a less costly, but still delicious, Top Round Roast. Another great, and economical cut that would work perfectly in today's recipe is the Top Sirloin Roast.
Either of these beautiful pieces of meat will cook up into an incredibly flavorful roast, perfect for a weeknight dinner or a special occasion. And, their economical price means you don't have to be worried about messing up the roast if you're new to roasting. (But, by the end of this article, you'll have no reason to be worried anyway! So roast on!)
How much beef do you need to serve?
After picking the cut comes the most intimidating part for us: choosing how much meat we need. The dreaded question looms.
Will there be enough meat?
That's why we were so excited when we found out about the new Roast Perfect App by Certified Angus Beef® brand. This app is like having your friendly neighborhood butcher on speed dial. All you have to do is select the type of roast and how many people you will be serving, and it tells you just how large of a roast you need.
Not only that, it tells you a little about each cut and the recommended ways of cooking. And, if you click "Find a Recipe" you can find other common names that you might know the roast by, in addition to some great recipe ideas.
Finding the Right Temperature for Beef
Once you get your roast home, preparation is as simple as rubbing it with some flavorful herbs and spices, like the garlic and mustard that we used in today's recipe for a classic British roast.
The only thing left is to make sure that the meat comes out of the oven cooked to perfection. And, that's where the Roast Perfect App once again has your back. All you have to do is select the type of roast, the weight, and how done you would like it, and it gives you a timer with the recommended cooking time.
Testing your meat's doneness with an insta-read thermometer is still a good idea. These are the temperatures we use as a guideline.
Rare: 125ºF
Medium Rare: 135ºF
Medium: 145ºF
Medium Well: 150ºF
Well: 160ºF
Keep in mind that your roast should rest for 10 minutes or so before carving to let the juices settle. During this time it will continue to cook and the temperature will increase by about 10 degrees. So, you want to pull your meat out of the oven about 10 degrees before you reach your desired doneness.
For more great tips on creating the perfect roast, check out our Keys To The Perfect Roast Beef article.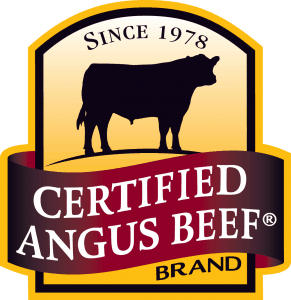 So, where can you find this wonderful app? It is FREE from the iTunes store (for iPhone and iPad) and from Google Play (for Android). Just download it like you would any other app and get roasting!
To find Certified Angus Beef® brand beef near you, you can use the Store Locator section of the Roast Perfect App or search their site for where to buy.
For more great recipes for beef, check out the Certified Angus Beef® brand Roast Perfect Pinterest Board and for more great tips and information about Certified Angus Beef® brand check out their social media channels: Twitter, Facebook, Pinterest, Instagram, and YouTube.
Mustard Crusted Roast Beef
Make roasting easy with this Mustard Crusted Roast Beef, simple to make, big on flavor, and the perfect recipe for any holiday meal.
Ingredients
3

lb

Top Round Roast or Top Sirloin Roast*

1

tsp

salt

½

tsp

ground black pepper

3

Tbsp

Dijon mustard

2

garlic cloves,

crushed
Instructions
Preheat your oven to 450F.

Season the roast with salt and pepper. In a small bowl, mix together mustard and crushed garlic. Rub the roast with the garlic-mustard mixture.

Place the roast on a rack in a roasting pan and place in the oven for 15 minutes.

After 15 minutes, reduce the heat to 325F and continue roasting for an additional 35-45 minutes, until an insta-read thermometer inserted into the center of the roast reads 120-125F. (This will give you a medium rare ending roast.)

Remove the roast from the oven and let it rest for 10 minutes. After resting, the internal temperature should read around 135F.

Carve and serve immediately.
Notes
*If your roast has been refrigerated, let it come to room temperature on the counter, covered, for 1 hour before roasting.
---
More great roasting tips and recipes from some of our favorite bloggers:
Holiday Roasts
Disclosure: This post is sponsored by Certified Angus Beef in conjunction with a social media campaign through Sunday Supper LLC. All opinions are our own.
If you liked this recipe, here are some similar dishes you may enjoy!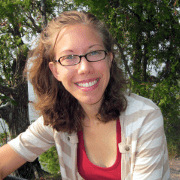 Sarah is one of Curious Cuisiniere's founding duo. Her love for cultural cuisines was instilled early by her French Canadian Grandmother. Her experience in the kitchen and in recipe development comes from years working in professional kitchens. She has traveled extensively and enjoys bringing the flavors of her travels back to create easy-to-make recipes.