This Greek Pork Souvlaki recipe brings tender, grilled meat together with fresh Greek flavors of lemon and herbs. 
Greek Soulvaki
Souvlaki (soo-VLA-kee), meaning "little skewer,"  is a classic Greek dish of cubed, marinated meat that is skewered and grilled over charcoal. The meat can be eaten alone,often with potatoes and a creamy tzatziki sauce, or piled onto a soft pita bread and wrapped with veggies and sauce for a popular street food version.
While pork is most traditional, you can also find souvlaki made with chicken or lamb. The chunks of meat are left to marinate overnight in a mixture of lemon juice, olive oil, and oregano. The long marinating time with the acidic lemon juice works to tenderize the meat and thoroughly infuse it with the strong flavor of the seasonings.
You will find these skewers throughout Greece, but depending on the region, they might be topped differently. While much of Greece prefers to serve their souvlaki with tzatziki, in northern Greece you won't find them topped with the creamy, cucumber yogurt sauce. Instead, they like to serve their souvlaki with mustard, which sounds like a pretty tasty version too!
Souvlaki vs Gyro
If you're going to eat a Greek meat-filled pita, be sure you're calling it the right thing!
The Gyro (yE-ro, similar to hero) has gained incredible popularity in the States and around the world. While gyro can be served similar to souvlaki, wrapped in a pita and topped with tzatziki and veggies, that's about as far as the similarity goes. The meat is a whole different animal. (Forgive the pun.) For Gyros, minced lamb or beef is seasoned and pressed into a large cone shape and grilled on a vertical rotisserie. Think of it like a delicious, rotisserie-cooked, Greek meatloaf. (Sorry if that makes it a bit less appetizing, but it's true.)
Souvlaki, like we've been discussing, is chunks of pork (or chicken and even less commonly, lamb) that has been marinated and grilled.
Two completely different meat preparations, both equally as delicious with a soft, chewy pita and creamy tzatziki.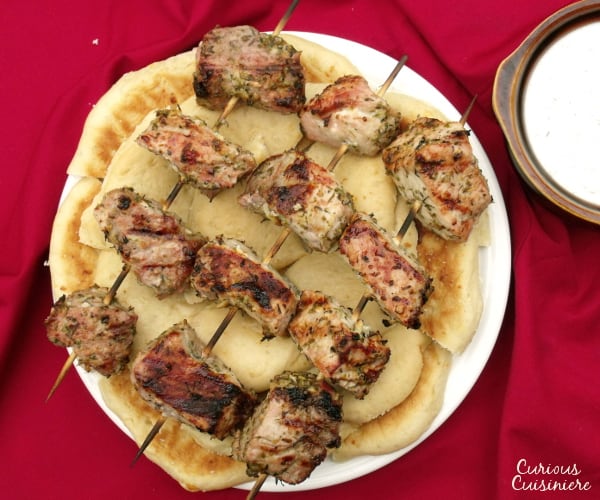 Grilled Pork Souvlaki
This Greek Pork Souvlaki recipe brings tender, grilled meat together with fresh Greek flavors of lemon and herbs.
Ingredients
1

lemon,

juiced (roughly ¼ c juice)

2

Tbsp

olive oil

4

garlic cloves,

minced

1 ½

Tbsp

oregano

½

tsp

salt

½

tsp

pepper

¼

tsp

red pepper flakes

1 ½

lbs

pork tenderloin or shoulder,

cubed 1-1 ½"
To serve
Instructions
In a small bowl whisk together lemon juice, olive oil, minced garlic, oregano, salt, pepper, and red pepper flakes. Place the pork cubes in a flat baking dish or Ziploc bag and pour the marinade over the cubes. Refrigerate 24 hours or more to marinade.*

Preheat your grill to medium-low heat (300-350F). (You should be able to hold your hand over the grilling grates for 7-8 seconds.)

While the grill is preheating, place the meat cubes on wooden skewers that have been soaked in water for 1-2 minutes.

Grill the pork skewers for 4-6 minutes. Flip and grill for an additional 4-6 minutes on the second side. The meat is done when it has a nice sear and feels firm.

Remove the skewers from the grill and serve with pita and tzatziki sauce.
Notes
*The meat can be frozen in the marinade for later use. Simply thaw in the refrigerator overnight before grilling.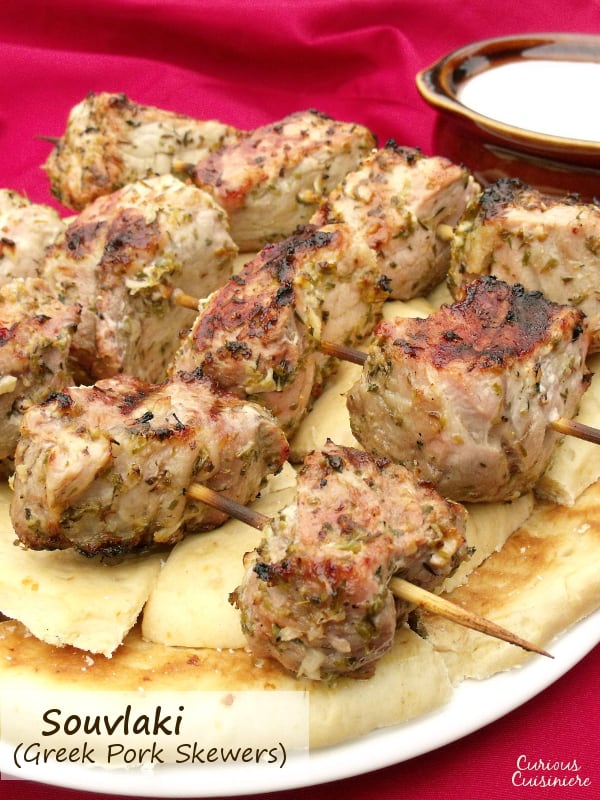 If you liked this recipe, here are some similar dishes you may enjoy!