A soft and fluffy bread great for dipping or stuffing, this whole wheat Pita Bread Recipe combines the goodness of whole wheat with a fantastic texture and flavor.
Traditional Middle Eastern Pita Bread
Traditional Middle Eastern pita is made in very hot brick ovens. We crank the temperature of our conventional oven up to 500°F to mimic the high heat which works to puff up the bread, creating fun little air pockets.
Once baked and cooled, the layers of bread remain separated, allowing each halved round to create a nice little pocket.
For us, the pockets can be a bit elusive. We always end up with an incredibly tasty flatbread, but getting the pockets can be a bit tricky.
Here are a few tips that we've found help in achieving that pesky pocket.
Soft Pita Bread Dough
Your goal is a dough that is soft, but holds its shape. A soft dough will make it easier for the gasses the yeast releases in the oven to lift the dough and create that nice bubble.
As you knead, the dough should stick to your hand slightly. If it is leaving sticky dough bits all over the counter and your hands, then you need to add (a little) more flour.
(The type of flour you use and the humidity of your kitchen will all have an effect on the amount of flour you need, so keep an eye on the dough and add more flour if necessary!)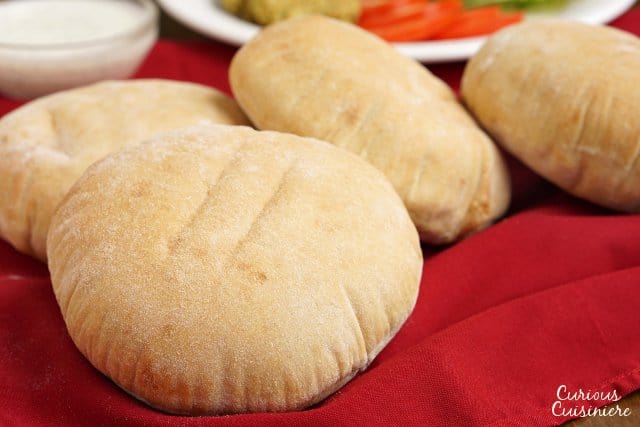 Knead, Knead, Knead
Get those arms ready!
Kneading develops the gluten in the flour (and it develops the extra gluten we're adding to give the whole wheat pitas a nice and chewy texture).
The gluten is the protein that creates a nice and elastic dough. The more elastic the gluten becomes through kneading, the better the strands of protein will hold together and puff to form those pockets.
Your goal is to knead the dough until its surface is as smooth as the skin on a fresh peach. No mottling or tearing!
If you'd prefer, this bread is a good candidate for kneading with a dough hook in your stand mixer. Let the dough hook do its thing on a medium-low speed for 3-5 minutes.
Get Your Whole Wheat Pita Bread Hot!
A hot oven will really puff life into the pitas, creating that nice interior bubble that will become the pocket.
We also recommend preheating you baking sheet in your oven for a little while. This way, the bread rounds will go directly onto a hot surface.
If you have an oven thermometer, use it to make sure your oven is up to 500ºF before putting the proofed pitas into the oven.
Then, cross your fingers and watch them grow!
We can never resist tearing into a fresh, still-warm pita and devouring it plain.
But, pita is wonderful for dipping into fresh hummus and for making gyros or other wrapped sandwiches.
Yield: 8 (5 inch) round pitas (roughly 3 oz each)
Whole Wheat Pita Bread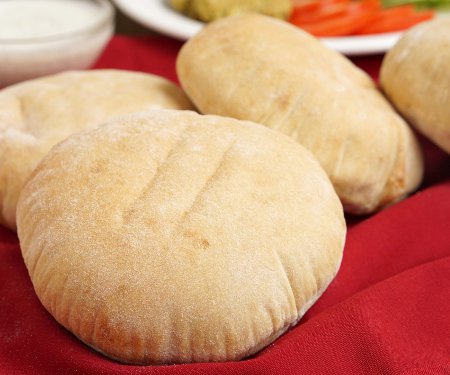 A soft and fluffy bread great for dipping or stuffing, this pita bread combines the goodness of whole wheat with a fantastic texture and flavor.
Prep Time
1 hour
15 minutes
Total Time
1 hour
25 minutes
Ingredients
1 1/2 cups water, warmed to 80-90F
1 1/2 tsp honey
1 teaspoon salt
Instructions
Dissolve the honey in warm water and sprinkle the yeast over top. Let stand 5 minutes, until the yeast begins to foam.
Stir the mixture together and add the white wheat flour, vital wheat gluten, and salt. Mix until combined. Mix in 1/2 cup of all-purpose flour, stirring until a soft dough comes together.
Turn the dough out onto the counter and begin to knead, adding additional all-purpose flour as needed to keep the dough from sticking to your hands or to the counter. (You want a dough that is soft and a bit tacky.)
Continue to knead the dough until it is smooth, 7-10 minutes. (Alternately, put the dough in your stand mixer with a dough hook and knead on medium-low for 3-5 minutes.)
On a well-floured surface, divide the dough into eight, roughly even, pieces. Roll each piece into a ball and then roll or gently stretch each ball out into a disk that is slightly less than 1/4 inch thick.
Place the rolled-out pita on a well floured counter top. Cover them with a damp tea towel and let them rise for 30 minutes.
While the dough is rising, place a sturdy baking sheet in the oven and preheat it to 500F. **
Once the pita have risen and the oven is hot, carefully remove the baking sheet from the oven and gently place the risen pita rounds onto the hot sheet. Return the baking sheet to the oven and bake the pita for 7-10 minutes, until golden and puffy.
Remove the pita from the oven and wrap them in a clean kitchen towel or place them in a paper bag to let them steam as they cool. (This will keep them soft and pliable.)
If you are looking to use the pita for their pita pocket
If your oven conditions were hot enough, the pita should have puffed nicely in the oven.
Once the pita are cool enough to handle, cut the pitas into two halves and gently open the pocket. (These pitas don't always create a pocket like store-bought pita breads. When they do get a pocket, the pocket may be a bit more fragile.)
Once cut, wrap the pita back in the towel or place them back in the brown paper bag to finish cooling.
Pita will keep fresh on the counter for 2-3 days. They will keep in the refrigerator for 4-5 days.
Notes
*You can use unbleached all-purpose flour for a softer flatbread, but you may need slightly more flour than called for. You could also use traditional (red) what flour for these pitas, but they might not puff quite as well because of the heavier flour.
**We have best luck getting a pocket in these when we place our oven rack in either its highest or lowest position to bake the pitas.
This recipe was updated March 2017. We made a few tweaks to make the pitas even better. Enjoy!
Nutrition Information:
Yield:
8
Serving Size:
8 pita
Amount Per Serving:
Calories:

60
---
We've updated our pictures since we first shared this recipe, but we've left the original images here as a fun throwback and shout out to how far we've come. Enjoy!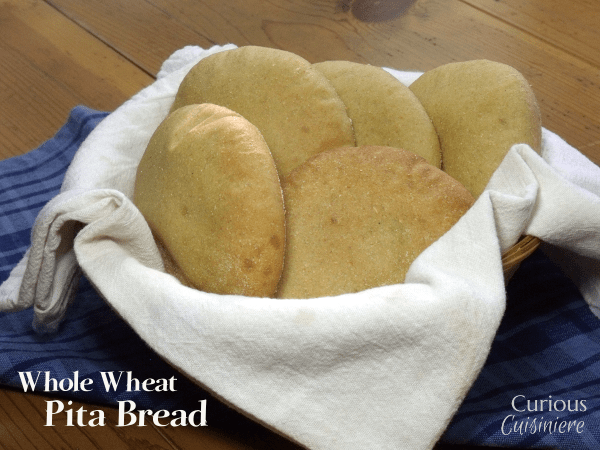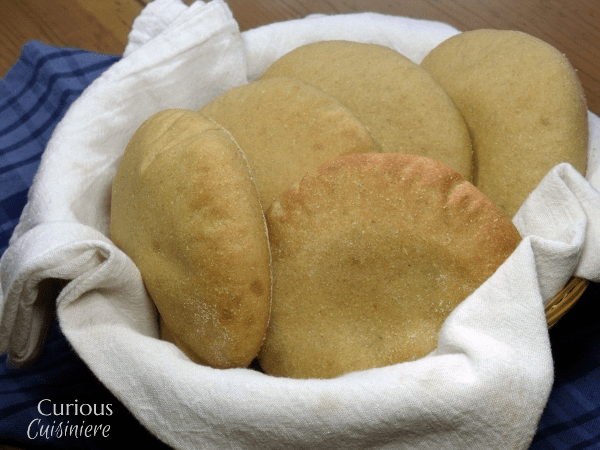 ---
DISCLOSURE: This post contains Amazon affiliate links. These links are provided to help you find some of the more specialty products we mention in the recipe. If you make any purchase clicking through our links, we receive a small commission from Amazon, at no extra cost to you. Thank you for supporting Curious Cuisiniere!
If you liked this recipe, here are some similar dishes you may enjoy!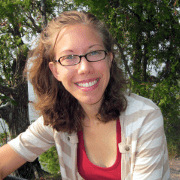 Sarah is one of Curious Cuisiniere's founding duo. Her love for cultural cuisines was instilled early by her French Canadian Grandmother. Her experience in the kitchen and in recipe development comes from years working in professional kitchens. She has traveled extensively and enjoys bringing the flavors of her travels back to create easy-to-make recipes.