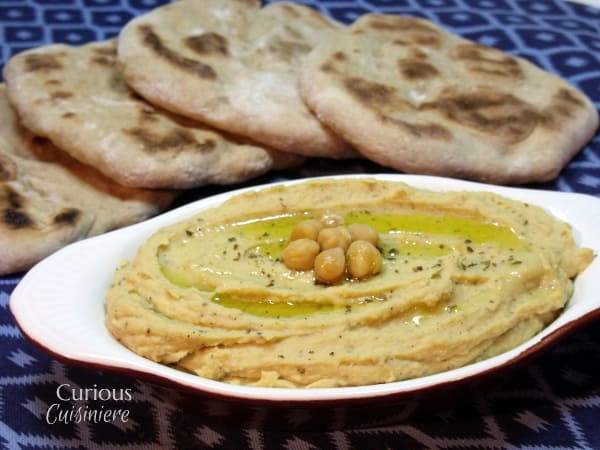 Do you ever just crave a good dip?
Hummus is creamy, flavorful and quite satisfying due to the nutrition benefits of the chickpeas, which makes it a great snack or addition to a meal.
The fiber content of chickpeas (or garbanzo beans) is outrageous: nearly 50% of your daily value in a cup of chickpeas. Plus, most of the fiber is insoluble, which means it doesn't get broken down until it makes it most of the way through our bodies, providing valuable nutrients to the colon.
And then there's the tahini. This paste made from sesame seeds is very popular in Middle Eastern Cuisine. It has a nutty flavor, and is similar in flavor and consistency to peanut butter. But, it is higher in calcium and fiber.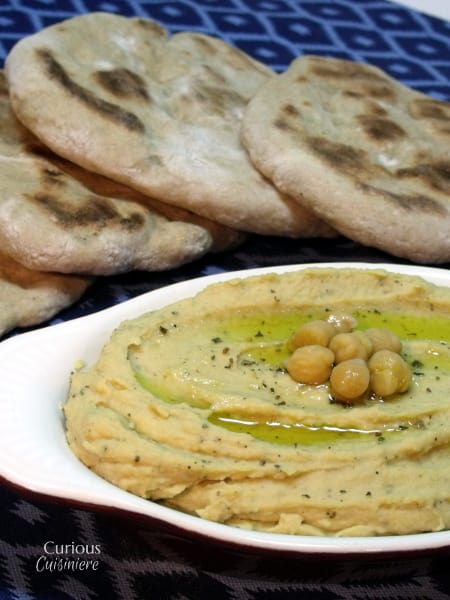 In most cases, we boil our beans from dry, rather than getting canned beans. (Canned beans are softer, which means they do work well for hummus, though.) Normally, we like our beans with a bit of firm-ness, but when we boil up a batch of chickpeas for hummus, we'll boil them until they are quite mushy. When we drain the beans, we reserve the liquid. Adding the boiling liquid to the hummus lets us use less olive oil, while still creating smooth and creamy hummus. (The liquid from the canned beans could be used to do the same thing.)
We love eating this with pita bread, or any other flat bread for that matter.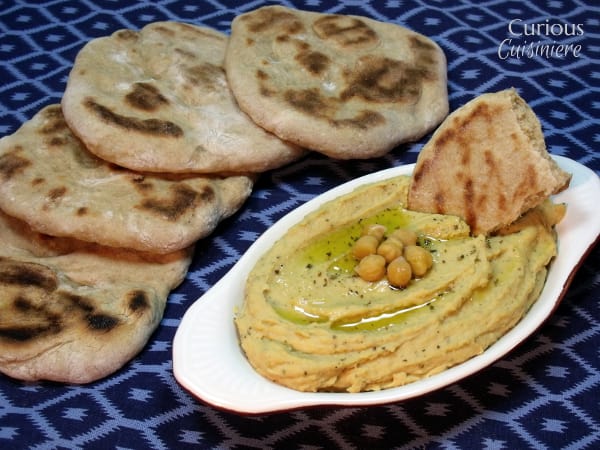 Oregano Hummus
Yield roughly 1 c
Author:
Sarah | Curious Cuisiniere
Ingredients
1 ½ c chickpeas, cooked (or canned and drained- liquid reserved)
½-3/4 c reserved chickpea liquid (boiling liquid if you cook your beans or reserved liquid from the can plus water)
1 Tbsp olive oil
1 Tbsp tahini
1 clove garlic, minced
1 tsp oregano
½ tsp cumin
½ tsp salt
2 dashes hot sauce
Splash lemon juice
Instructions
In the bowl of a food processor, blend chickpeas with remaining ingredients, except reserved chickpea liquid.
Add liquid a little at a time until a smooth consistency is reached.
Serve as a dip for veggies or pita bread.
Nutrition Information
Serving size:
2 Tbsp
Calories:
88
Fat:
3.7g
Carbohydrates:
10.9g
Sugar:
1.9g
Sodium:
158mg
Fiber:
3.3g
Protein:
3.6g
If you liked this recipe, here are some similar dishes you may enjoy!