A soft and chewy, this easy to make Greek Flatbread is the perfect base for a gyro and is great for dipping in creamy hummus.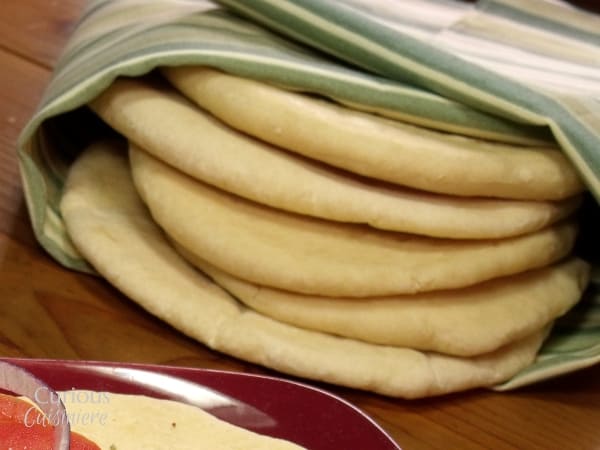 Are Flatbread And Pita The Same?
This pocket-less pita bread more closely resembles the flatbread that has been around for centuries.
You can find similar versions of this around the globe, like naan in India or focaccia in Italy.
Classic pocket pita bread is leavened slightly and cooked over high heat, creating an air-pocket inside the cooked bread that makes it quite easy to separate and stuff with fillings.
This Greek flatbread (also sometimes called pocketless pita, Mediterranean pita, or gyro flatbread) doesn't have a pocket, which makes it a bit sturdier. Its texture is also softer and more chewy than a traditional pita.
How To Serve This Pocketless Pita Bread
While we love homemade pita bread, we find that this flatbread is ideal for topping with gyro or souvlaki meat and folding up for a delicious sandwich. (We often find that pita bread with a pocket often isn't sturdy enough to hold up to the weight and juices from these meats.)
There's a reason it's often called gyro flatbread!
Another great way to eat this pocketless pita bread is as an appetizer. It is the bread that is traditionally cut into sections and served with tzatziki sauce, other spreads, or creamy cheeses.
Making Our Easy Greek Flatbread Recipe
The dough for this Greek flatbread is incredibly basic to make.
Dissolve your yeast in honey water.
Mix flour and salt.
Add yeast mixture, oil, and milk to the dry ingredients.
Mix until the dough comes together and knead until soft and smooth.
We like to add a touch of honey and a splash of milk to our dough for a slight sweetness and a creamy texture. It just gives the flatbreads something a little extra!
It is a simple dough that kneads well, and after resting is very easy to roll out. Don't worry about rolling your flatbread perfectly round. A rustic shape gives them character!
They bake up quickly on a baking sheet in the oven. So, they are great to roll out is batches and roll more while you have some in the oven!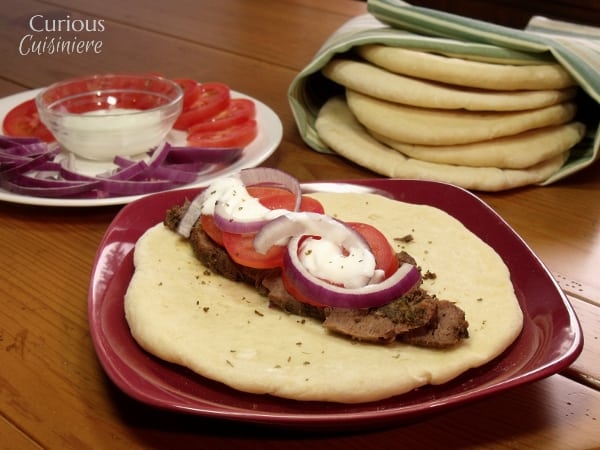 Another nice thing about these flatbreads is that they will keep for a couple of days, staying nice and tender, ready to be filled with your choice of meat, or dunked in some hummus or tzatziki.
So, make a big batch and get ready to enjoy some soft and fluffy flatbread!
Greek Flatbread
A soft and chewy, this easy to make Greek Flatbread is the perfect base for a gyro and is great for dipping in creamy hummus.
Yield: 8 flatbread
Instructions
Dissolve honey in the warm water.

Add yeast and let it dissolve and start to foam.

In a large bowl, mix together salt and 3 1/2 cups of flour. Add the yeast mixture, oil, and milk.

Mix with a wooden spoon until the dough begins to come together. Then, turn the dough out onto the counter and knead until smooth, adding the remaining flour as needed to create a soft dough that doesn't stick to your hands.

Place the dough back in the bowl, and let set, covered, for 1 hour, until doubled in bulk.

When you are ready to cook the flatbread, preheat your oven to 375F.

Knock back the dough and divide it into 8 equal pieces. Shape each piece into a ball.

Roll the pieces out into circles ¼" thick using short strokes of the rolling pin.

Place the rolled out flatbread on a greased baking sheet and let rest for 10 minutes.

Bake for 7-8 minutes, until cooked through and springy to the touch.

Remove the cooked flatbread from the baking pan and immediately place them in a paper bag to cool. (The steam from the cooling bread in the bag will keep the flatbread soft and pliable.)
Notes
This recipe from 2013 was slightly updated in 2018. We made the bread even easier! Enjoy!
If you liked this recipe, here are some similar dishes you may enjoy!