Our easy Naan recipe gives you perfectly textured, lightly charred, soft and chewy homemade Naan that is the perfect accompaniment to a saucy curry or lentil dal.
What is Naan?
In Northern India, saucy curries and dals are served with bread to soak up the sauce. One of the most popular Indian breads is Naan, a soft and chewy flat bread that makes the perfect accompaniment to any saucy dish.
Naan is a leavened flatbread made from white flour. Typically, yeast and yogurt are used to leaven the bread. The yogurt also gives the naan its characteristic texture and flavor.
Traditional Naan is baked in a clay oven, called a tandoor. The flattened pieces of dough are slapped onto the sides of the oven and cooked until puffy and blistering like you see in the picture below.
Finding a replacement for a tandor
The trick when making homemade naan, is that most people don't have a large clay tandor in their backyard just waiting for some fresh naan dough. To remedy this, we use cast iron skillet or griddle to cook our naan. The cast iron imparts that characteristic smoky flavor and gives the bread the classic blistered look.
Our easy Naan recipe
The key to making great naan is a very soft dough. The dough should almost be sticky and you should need to flour your hands and the counter well in order to tame the dough. Having a soft and sticky dough helps it to puff when it cooks.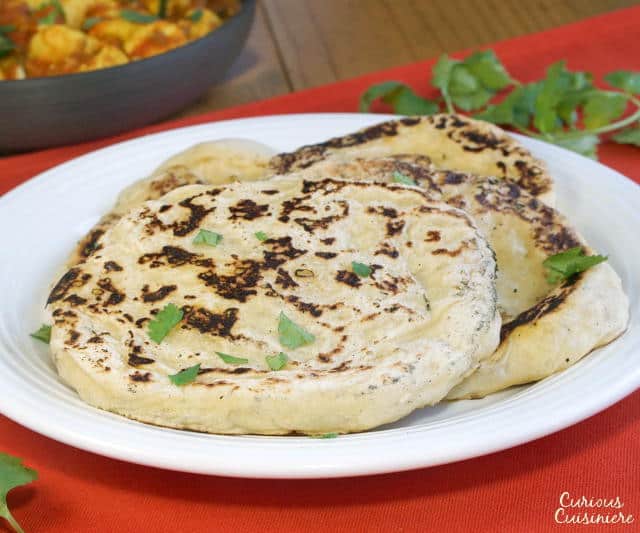 Shaping the dough is also key to making good naan. The dough should be rolled out to 1/8 – 1/4 inch thickness before being placed on the dry, hot skillet.
Traditionally, naan is shaped like a teardrop. This is probably because of the way the dough stretches as it is slapped against the walls of the tandor. You can shape your naan into any shape you like, but try to make some into a teardrop to give yourself a feel for the authentic shape!
Cooking Naan Bread
Perfect naan will have a crispy exterior and a fluffy interior that is filled with air pockets and has a chewy texture. To achieve this you enter into a fun little dance with the cooking time and temperature.
The goal is to have a skillet that is hot enough that the bread will cook quickly, but not so hot that the outside burns before the inside has time to cook through to puffy perfection. We have found that you really want your skillet at that point just before it starts to smoke. So, if your skillet (or bread) starts to smoke, turn the heat down a bit. If you aren't sure, err on the side of a little cooler. Your bread might take a little longer to cook, but at least you wont have a burnt crust and doughy interior.
While it may seem intimidating at first, don't worry. With a little practice, you will quickly get a feel for how you need to adjust your burner's heat and your cooking time.
Naan
Yield: 8 (6x4 inch) naan breads
Instructions
In a large bowl, mix together the water and sugar. Sprinkle the yeast over top of the water and let it stand until frothy, 10 min.

Mix the yeast mixture and add the yogurt and oil. Mix well.

Add the flour and salt. Mixing until the dough comes together. Turn the dough onto a well, floured surface and knead just until it becomes smooth and only slightly sticky, 3-4 minutes.

Place the kneaded dough into a clean, greased bowl. Cover the dough with a damp tea towel and place it in a warm, draft free place to rise for 1-2 hours.

Once the dough has risen, turn it out on a floured surface and divide it into 8, roughly even, pieces. Shape each piece into a ball and roll the ball in flour to keep it from sticking.

Preheat your cast iron skillet or griddle over medium high heat. Roll each piece to 1/8 - 1/4 inch thick.

When your skillet is hot, almost to the smoking point, stretch one piece of rolled out dough into a teardrop shape. Spray or brush both sides of the dough with a little water and place the shaped dough onto the preheated skillet.

Cook the naan for 1 minute, until bubbly. Flip it and cook for an additional 30 sec to 1 minute on the second side.

Remove the naan from the skillet and wrap it in a tea towel to keep it warm.

Repeat with the remaining dough. (As your skillet or griddle heats, you may find that you need to decrease the heat of your burner. Do this if you find the naan is cooking too quickly or burning.)

Naan is best served immediately with a thick curry or other stew.
If you liked this recipe, here are some similar dishes you may enjoy!